This post may contain affiliate links, which means I may receive a small commission, at no cost to you, if you make a purchase.
Plus, a peek at Illume Cream to Powder Bronzer Duo in Sunset.
I've read fanatical fan reviews of high-end line Hourglass Cosmetics, and wht reviewers have given their products nothing but raves, so the sight of not one but two Hourglass items in my mailbox made me jump up and down (and scare my neighbor, who was mowing his lawn). After I composed myself a bit, it didn't take long for me to understand all the hoopla. Hourglass have made everything else in my makeup bag feel a little shoddy and substandard.
I first pounced on the most gorgeous gloss I've ever seen, Extreme Sheen High Shine Lip Gloss ($28) in an otherworldly golden pink called Fortune
. This is a new, improved version of Extreme Sheen, "with unprecedented and multidimensional shine." Sounds like a typical empty advertising claim, right? So wrong!
Even in the tube, the color is luminous and inviting, the pink seeming to be lit from within with a golden sheen. When I applied it, I realized how unique and stunning this product really is. The hydrating gloss is not at all sticky and blends like a dream, and the metallic color manages to appear both sheer and be heavily pigmented.
For evening, I put on a full coating of Fortune and the shine was blinding in a perfectly wonderful way (just take a look at it in the image below). For day, I used just a dab and it was subtle and pretty. My only minor complaint is that I can't quite master the brush applicator, which picks up more gloss than I need for one application. I've been dabbing the gloss on with the brush, then blending with my pinky, and that works better and wastes less product.
Rich in super-antioxidant vitamin E and free of nasty chemicals, Extreme Sheen comes in eleven colors and I long to own every single one of them.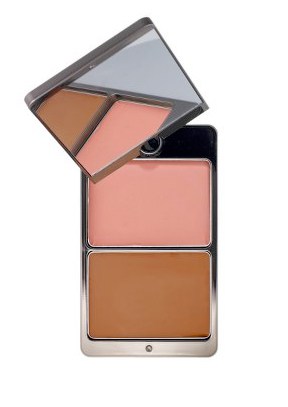 The second product I received was Illume Cream to Powder Bronzer Duo in Sunset
($40), their new packaged duo (instead of the highlighter that comes with Illume Bronze Light, this comes with a blush).
Let's start with the packaging (insert squeal of joy here). I have never, ever seen a compact like this: it shines, it swivels 360 degrees, it contains a mirror that works from every possible angle. (It's been over a year since we first laid eyes on this incredible compact design and we are still bowled over by them! ~wht) I would love the compact even if the product didn't measure up… but it does, and then some.
This duo, which would probably be best for a medium complexion, but works well even on my fair skin. The bronzer blends like a dream, its creamy texture magically turning into a powdery finish. The pink blush is sheer and pretty. For both, a little goes a long way. Illume is free of oil, wax, fragrance and parabens, and full of vitamins that hydrate and protect the skin.
The wht review team tested Extreme Sheen in Fortune, and I can't wait to hear if they share my Super Fan sentiments for Hourglass'. we heartsters, has anyone tried and fell for Fortune yet?
Disclosure: This review includes products that were provided by the manufacturer/PR firm for our consideration. It also contains an affiliate link, a link that gives us a small commission if you purchase the item. For more info, or any questions, please see our disclosure policy.
Latest posts by turboterp
(see all)