This post may contain affiliate links, which means I may receive a small commission, at no cost to you, if you make a purchase.
Premium Fuel for a Lip Balm Addiction
I've seen many people outing themselves as lip balm addicts here on we heart this. There is no shame in it. Truth is, lip moisturizing is big business with Americans spending two hundred million bucks a year on balm products alone. Addicts apply and re-apply obsessively – compulsively – seeking to retain that first swipe of suppleness.
Truth is, most lip balms and moisturizers contain petroleum which actually does nothing to retain moisture or nourish lips. So, we apply the product over and over, constantly seeking the softness we always seem to lack, spending more and more money along the way. Immediate gratification, lackluster results. Well, move over petroleum, Hourglass has got your number and it's 28 – No. 28 Lip Treatment Oil, that is.
As many already know, Hourglass is a luxury line and it's no surprise that their No. 28 Lip Treatment Oil ($42) is a luxury product. This lip treatment is free of parabens, phthalates, sulfates, synthetic dyes and petroleum derivatives and like all Hourglass products it's cruelty free.
Instead of petroleum, this anti-aging lip oil contains 14 essential oils (like lemon and orange seed oil and clove and sweet almond oil to name a few) along with Salipornine 8, a succulent derivative that studies have shown to increase moisture in the skin 6000 percent if used consecutively for 28 days. There are other fancy-schmancy proven wrinkle reducers and skin volumizers as well.
The performance of Hourglass No. 28 Lip Treatment Oil is outstanding. The oil dispenses in a gel-like consistency and a little goes a long way. Lips look as though coated in a thick gloss but the oil is soaked up throughout the day.
A few hours after application the thick glossiness is gone but lips are left to feel soft and smooth. I did want to reapply the oil, but only because the scent is so deliciously soothing. The scent lingers only until the oil is absorbed, even if you lick your lips.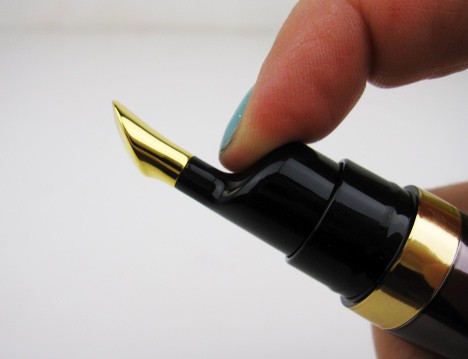 And, just so you won't confuse the No. 28 Lip Treatment Oil with the other sticks and balms in your bag, Hourglass has devoted itself to its usual superstar packaging, a sturdy pump dispenser with a 24-carat gold antibacterial applicator that soothes lips as it looks regal. Gimmicky? Maybe, but gold really does have antibacterial qualities and that smooth, cool tip is quite soothing. This is a gimmick I can fall for.
The only con? Though this is totally worth the $42 price tag in my book, it's still FORTY-TWO BUCKS! However, I would happily shell out for it. I loved all the natural essential oils and scientifically proven skin smoothers that look and feel great from the first application, yet continue to work to improve skin from the inside out. Also, that antibacterial gold tip is a showstopper that both germophobes and lovers of pretty, shiny things will adore.
My question for you all is, would an addict pay big bucks for a superior quality product like Hourglass? Or do you go for the cheap, quick fix? Social balmers, how 'bout you?
photos: we heart this
Disclosure: This review includes products that were provided by the manufacturer/PR firm for our consideration. It also contains an affiliate link, a link that gives us a small commission if you purchase the item. For more info, or any questions, please see our disclosure policy.
Latest posts by sherrishera
(see all)