This post may contain affiliate links, which means I may receive a small commission, at no cost to you, if you make a purchase.
Bold, long-wearing color that doesn't dry out your lips
photos: we heart this
I am a lazy lipstick wearer. Like, the laziest. It's gotten worse as I've gotten older – I just don't have the kind of patience required to constantly reapply my lipstick every hour, on the hour. Lately I've been drawn to long-wearing brands; the longer, the better. There normally is a trade-off, though. You might get long-wearing color, but your lips feel like a raisin in the Sahara Desert or you get flaking or chunking, which is oh-so pretty.
Imagine my delight when I received Hourglass's Opaque Rouge Liquid Lipstick
($28) for review. This liquid lip provides not only strong color payoff in a modern, matte finish, but promises up to 14 hours of comfortable, continuous wear. Winner, winner, chicken dinner.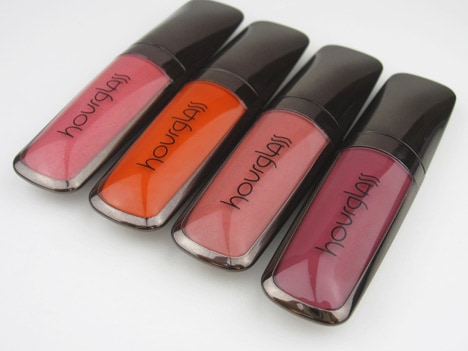 This latest offering from Hourglass is designed to not only give excellent wear time, but for that wear time to feel good. The Opaque Rouge Liquid Lipstick formula contains a "breathable film of intense pigment that instantly bonds to the lips and seals in moisture with skin-conditioning emollients, fruit extracts, and vitamins". That sounds so much better than the liquid lipstick in my current rotation that involves a clear coat, much like paint (insert a yuck face here).
These liquid lipsticks are cased in sleek tubes that are so modern and chic, I almost wish I needed to reapply this product throughout the day – just so I could pull it out of my purse and show it off a little. The twist-off cap pulls out to reveal a slender, doe-foot applicator.
This velvety formula contains cili fruit and goji berry extracts and Vitamins A, C, and E and is completely free of parabens, phthalates, sulfates, and lanolin. Hourglass Opaque Rouge looks gorgeous, but feels even better, while delivering what seems like never-ending wear!
Hourglass Opaque Rouge
comes in nine vivid, envy-inducing shades and we had the chance to check out five of them:
Edition – Yellow Pink with gold shimmer
Riviera – Pure, Bright Orange
Rose – Medium Dusty Pink with bright pink flecks
Empress – Deep Plum Berry
Icon – Dark Cherry Red
I received Empress and Icon to test and these colors were practically made for me. Empress is a deep plummy berry shade that is, in my opinion, a must-have. If you are drawn to berry shades, you kind of need Empress because it is just that fabulous.
Icon is a deep, blue-based red on me, my kind of red. Think vintage vixen red. If you want to channel your inner sex kitten, let Icon help you. I was a little concerned that a deeply pigmented, matte lip product might be aging, but this seems to fill my lips in a bit and doesn't feather at all–the product applies so seamlessly, it really looks like your lips magically became the colors in the tube.
Opaque Rouge Liquid Lipstick in Edition, Riviera, Rose and Empress (click here to see a swatch of Icon)
Besides the bold and beautiful shades, the feel of this formula is unbelievable – they almost feel like a thin balm at the end of the day and they don't get the same tackiness as other longwearing lip products and they don't flake, chunk, or dry out my lips. AMAZING!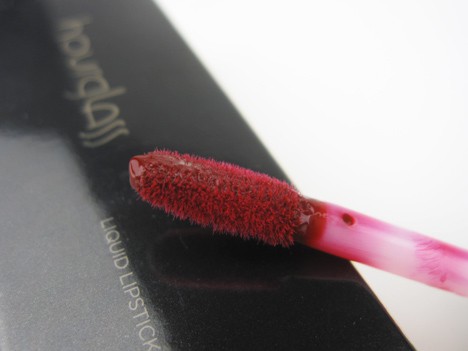 The doe-foot applicator is a wee bit bendy, so apply this to clean, dry lips with a steady hand. I find it's best to line the lips with the skinny tip of the applicator and then fill the lips in. Let the product set for about a minute and then forget about it. Seriously, I managed a solid 10 hours of wear and still looked like I had recently applied this and at the end of the day, my lips were still soft and smooth. In fact, the longer I wore this, the less I felt like I was wearing anything, it was THAT comfortable on.
The only noticeable difference I had in this is when I went from newly applied to after I ate – it then looked more like a freshly applied lip stain instead of a lipstick. This is seriously the best longwearing lip product I've EVER used. 5 stars from this girl!
Pros:
• You can get a solid 10-14 hours of wear without needing to reapply
• Colors remain intense and vivid throughout wear time
• Product leaves lips feeling soft and smooth
Cons:
• The $28 price tag may be a little steep for some (But if you stop and think about how you'll probably only need to apply this in the morning and how this will probably last you much longer than any other lip products you own, you can probably justify this purchase.)
we heartsters and Reviewers – Am I the only other lazy lipstick wearer? And have you fallen in love with Hourglass's Opaque Rouge Liquid Lipstick?
Krista resides in the middle of nowhere with her bff/hubby, an obscenely big-eared dog, and a puppy that makes feral capuchins seem mellow. She has an irrational fear of ax murder, owns more than one machete for home defense/the zombie apocalypse, and goes to sleep serenaded by the sounds of the Chupagobbler, a mythical turkey beast that roams the woods around her house. She also has an obsessive love of Tom Selleck's moustache that is, quite frankly, alarming.
Disclosure: This review includes products that were provided by the manufacturer/PR firm for our consideration. It also contains an affiliate link, a link that gives us a small commission if you purchase the item. For more info, or any questions, please see our disclosure policy.