This post may contain affiliate links, which means I may receive a small commission, at no cost to you, if you make a purchase.
Get ready to get crafty, beauty junkies!
photos: Katie G for we heart this
Our DIY expert, Katie G has really outdone herself with this adorable, affordable, and totally do-able project for even novice crafters. All you need is some basic sewing skills (or a helpful friend that can sew a straight line.) How can you resist trying our latest How to: Create a customizable makeup brush travel bag ~ wht
This may be the easiest, most satisfying DIY ever! There are so many ways to customize this basic idea to your liking. And who doesn't want a cheap, roll-up travel bag? Especially if you already have a nice one – this can be your back up for less luxurious trips like camping (Yes, I bring my makeup on camping trips – don't act like you haven't done that before!) Or just to toss in your daily tote bag.
Supplies:

• Canvas work belt (I got mine for $1 in the hardware area of Wal-Mart)
• Sewing machine or go with the classic thread and needle.
• Embellishments to customize your project (bits of fabric, lace, ribbon – whatever you have squirreled away)
• Buttons or other closure items (optional)
Step 1:
Use your brushes to measure how far apart you want your seams. This is the best part! Every pouch will be exactly the size needed for each brush.
Place your brushes (in the order you prefer) in the large pouches and then mark your stitching lines with pencil or chalk. (I was lazy and just eyeballed where to stitch.).
Stitch straight down your lines.
Step 2:
Now, the is the fun part! Embellish the inside of your bag however you'd like.
I used vintage lace and cut a heart and bow from vintage ribbon. You could embellish the outside too, as long as you secure any hanging embellishments that might get knocked off in your suitcase (beads, tassels, etc).
Step 3:
I don't have enough brushes to fill the entire bag, so I left some of the large pouches for random necessities. One pouch fits my little jewelry bag and the other fits ALL of my makeup essentials (Of course, I'm a minimalist when it comes to makeup).
These larger pouches will need some type of closure to secure your items. Your options include a button or two, some snaps or magnets or even velcro. I used a vintage pin to close mine.


And here it is – the finished product! I'm so happy with it.
Finally, here's a look at my new makeup brush travel bag all rolled up.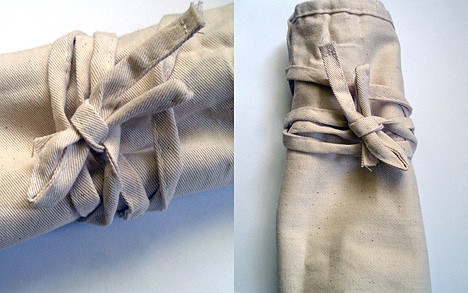 Tips & Extras:
•• To make this look even cooler, you can dye the entire bag before you begin sewing. I wish I thought of this earlier! (I was totally thinking of iDye before I read this tip! ~T)
•• If you are feeling extra crafty, you can remove and restitch the strings to the middle of one side of the bag. This way the roll-up will be perfect. As is, with the strings up top, the roll-up is a bit wonky (but not too bad to use!)
•• Remove the strings and replace with jute twine or ribbon for an extra touch.
I think these make great gifts, especially for all the people in your life; the crafty person, a painter, makeup fiends, the student (school supply pouch), kids (crayons), etc. Even better how about making these as a project for a girl's spa night? Or a rainy day art project with the kids? Share your ideas below!
Any questions? Ask me in the comments. I hope you enjoy this How to and your new bag!