This post may contain affiliate links, which means I may receive a small commission, at no cost to you, if you make a purchase.
Plus a Look at Summer 2012 Nail Polish Trends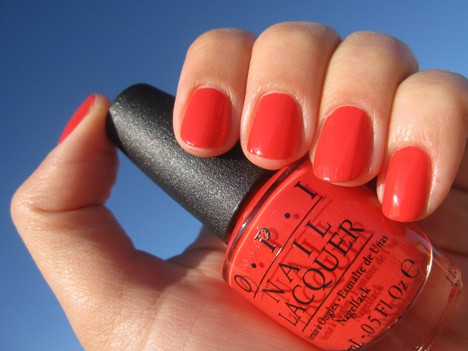 photos: we heart this – Polish: OPI's Red Lights Ahead. Where?
Chipped nails are one of my biggest pet peeves. Having perfectly manicured digits helps me feel pulled together and completes any outfit. But, going to the salon once a week can get pricey, and really who has the patience to sit under the nail dryer?
Relax – you can give yourself a salon-quality manicure in 6-easy steps. Give yourself 20 minutes to apply and dry, and put that $20 toward your next shopping trip!
Supplies:
A few of our fave manicure supplies from OPI
• Nail polish remover
• Cotton balls
• Bowl of warm water
• Nail file
• Nail buffer
• Small paint brush
• Your favorite nail color
• A good top coat
Six Steps to a Salon Quality Manicure
1. Remove old nail color – you want to make sure you're working on a clean canvas.
2. Submerge fingertips in water for approximately 2 minutes — this is just to soften the nails and make them a little bit easier to shape.
3. Buff and shape: Carefully and quickly buff the nails so they are smooth. Then shape the tips with a file. I prefer an oval shape, as it looks more natural and won't snag on my clothes.
4. Apply 2 to 3 coats of polish. Hands down (no pun intended), my favorite colors for summer are corals and peaches:
Right now, I am loving Essie's A Crewed Interest
and OPI's I Eat Mainely Lobster
. Both are bold, beautiful and perfectly compliment the whites and turquoises of summer!
5. Apply 1 to 2 coats of topcoat: Topcoat is a MUST for every at-home manicure. It adds a little bit of shine and helps ward off chips. Make your color last longer by reapplying topcoat every 3 days. My favorite: Revlon's Quick Dry Top Coat
.
6. To seal in the color and help the polish dry faster, run your hands under your hair dryer for 2 minutes on warm, followed by a 1 minute shot of cool air.
Made a mistake? Don't fret! Doing your own nails is tough, and it takes awhile to get a steady hand, especially when painting with your non-dominant hand. Here are 3 fast fixes:
1. Dip a small paintbrush in a little bit of remover and use it to clean up excess on your skin. Picture perfect in minutes!
2. The Statement Nail – this is especially good for when you chip a nail a day or two after your manicure. I recently visited a friend in Los Angeles and immediately claimed the statement nail as my own. This quick fix involves painting the flawed nail in a different (yet complimentary shade) from your other digits. Later, back on the East Coast, my friend Meg accidentally chipped her pedicure, so she added a statement nail on each foot to balance it out. Perfect solution!
3. Go for the glitter! Last year, Stef shared her secret for hiding bubbles, smudges and chips – a topcoat of glitter (click here for the details) will hide almost any imperfection.
we heartsters—are you willing to give an at-home manicure a go? What are your favorite nail polish trends this summer? Tell us in the comments!
Disclosure: This post contains an affiliate link, a link that gives us a small commission if you purchase the item. For more info, or any questions, please see our disclosure policy.