This post may contain affiliate links, which means I may receive a small commission, at no cost to you, if you make a purchase.
photos: dana for we heart this
Variety is the spice of life. If that's true, I have way to much spice in my life. When I started the Art of Accessories, I decided to blog about accessories and makeup because that's what I've always had an abundance of in my closet. Since I was probably 15, I've owned over a hundred pairs of shoes and as I've gotten older, my handbag collection has also grown in leaps and bounds.
One of the questions I get asked frequently is how do I pick a handbag. Well, that's a tough question to answer but I thought I'd explore that a bit here.
First, I don't believe there is a single handbag out there that can do everything for all occasions. So now you can breathe a sigh of relief over the 5 to 10 bags you've got in your closet. In my experience, the bags I carry fit into one (or more) of these four categories:
• Evening bag – Every woman needs at least one handbag that she can carry when she's totally glammed up or going out for a night with the girls. A sparkly clutch is always a good closet staple.
•Day bag – This is the staple bag that you'll carry the most, whether it's to the grocery store or the office. This bag is sturdy, compliments your wardrobe and can be paired with most outfits.
• Work bag/tote – Depending on your job – this one may differ from your Day Bag. If you carry a lot to and from the office, this will most likely be the biggest bag you own, so that you can carry all your necessities and more.
• Fun bag – Keep your mind out of the gutter! This is the bag that you buy just because it calls to you. It may not fit into any of the categories above or even your normal style, but I always believe in buying a few of those things that just speak to you. This also allows you to purchase that trendy bag or impulse bag that you aren't sure how you'll wear it but all you know is you must have it.
What bag do I give the most emphasis? The day bag. It's probably the most used bag in your closet and there are TONS of options out there for you. So how do you pick a bag that's going to be a go-to in most scenarios? This is where I tend to stick with classic shapes but with a color that will work with your wardrobe. I have two day time go-to bags in my current rotations:
The first one I reach for is usually my Lesportsac Daphne Shoulder bag (I'm carrying it in the left side, top image). I know I need at least one bag in my wardrobe that I can toss on my shoulder and go.
I love LeSportsac bags because they're fun, durable and washable. A big plus, as in the summertime I hate feeling sweaty and yucky on a hot day and getting that on my bag. The Daphne is roomy, has tons of pockets and I own it in a fairly neutral black and gold heart print. But the really great thing about LeSportSac is each bag shape is available in a ton of prints (prices vary from $68 to $78 depending on your fabric) – so you'll be sure to find something you love. I wear mine to work, carry it to the store and everywhere in between. It's a really versatile shape.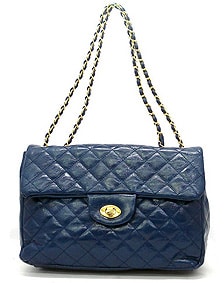 My other high use bag is the Alex Shoulder bag , a classically shaped, quilted handbag with chain link handle (as seen above and at right) but in a deep purple. I wear lots of reds, pinks and greens and I think purple is such a complimentary color.
I love this bag because it's a shoulder bag but it has just a bit more polish to it than my Daphne bag. It dresses up a simple tee shirt and jeans and fits seamlessly into my work wardrobe too. Sadly, it is now sold out, but you can find similar on trend and reasonably priced bags in oodles of shapes and colors from the Shop Suey Boutique.
Happy Bag Hunting!
So that's how I pick my staple handbags – how do you choose your bag?
DWJ is an accessories and beauty blogger for The Art of Accessories and is also sharing her love of cooking on Crumbs & Creativity.