This post may contain affiliate links, which means I may receive a small commission, at no cost to you, if you make a purchase.
Get Your Hands on These Hummus Filled Pies
Though it tends to occupy a space in peoples' brains reserved for condiments and dips, hummus is a pretty handy staple to keep around the kitchen. Sure, it makes a great sub for mayo on a sandwich (and more flavorful too!), but it's pretty versatile to cook with too. Here at we heart this, we love us some Sabra hummus. Last year we used Sabra to show you how to make a delicious hummus cornbread, and now we're going to take it up a notch with some hummus chicken hand pies.
Hand pies are filled pastries that…well, fit in your hand. Think empanadas, tiny calzones, or a much healthier homemade version of Hot Pockets. They can be sweet or savory. The sweet ones are usually filled with fruit or jam, while the savory hand pies are hearty and filling.
These cute little pies are great to serve a crowd at a party or freeze for easy weeknight dinners. We know how you feel – sometimes turning on the oven is all the strength you can muster after a long day at work. That doesn't mean you have to be stuck with some sad frozen dinner! Enter: the hummus and chicken hand pie.
Hummus Chicken Hand Pies
Makes 9 to 10 hand pies
Cream Cheese Pastry Dough (Via Martha Stewart)
Ingredients:
• 8 tbsp unsalted butter, room temperature
• 4 oz cream cheese, room temperature
• ¼ c heavy cream
• 1 ½ c all-purpose flour plus 2 tbsp, plus more for rolling out the dough
• ½ tsp coarse salt
1. Process the butter, cream cheese, and cream in a food processor, electric mixer, or by hand to thoroughly combine.
2. Add the flour and salt. Process just until combined and the dough holds together in a ball.
3. Turn the dough out onto a well-floured surface. Divide into 2 pieces. Flatten into disks and wrap each in plastic wrap. Refrigerate for at least 30 minutes before rolling out. If the dough is chilled overnight, take it out 15 minutes before rolling out.
Tip: Although this classic cream cheese pastry dough courtesy of Martha is a cinch (I swear!), if you are still concerned about your baking abilities or just strapped for time, buy pre-made pie crust and go right to the filling directions.
Hummus Chicken Filling
Ingredients:
• 3 tbsp olive oil, divided
• 1 large or 2 small sweet potatoes
• 1 small yellow onion
• 1/2 lb chicken breasts
• 1/4 c flour
• 1 tsp mild chile flakes
• salt and black pepper to taste
• 5 oz Sabra Roasted Garlic Hummus (half tub)
• 1 egg, beaten (when ready to bake)
Note: Hummus gives the hand pie filling creaminess and flavor. I chose the Sabra Roasted Garlic Hummus for theses hand pies because the garlic flavor is nice and strong and holds up against other ingredients.
Directions:
1. Preheat oven to 375°.
2. Peel the sweet potato(es) and cut into ¼ inch cubes. Toss the cubes with 1 tbsp of the olive oil, ¼ tsp salt and ¼ tsp black pepper.
3. Spread the potatoes in an even layer on a baking sheet (foil lining recommended) and bake for 20 minutes. Stir the potatoes and cook for another 20 minutes.
4. While the potatoes are cooking, thinly slice the onion. Put 1 tbsp of olive oil in a medium skillet and stir in the onions to coat. Cook them on medium heat until soft and translucent, approximately 20 minutes, stirring occasionally.
5. While the potatoes are in the oven and the onions are cooking down, prepare the chicken breasts by sprinkling them lightly with salt and pepper. Dredge each one in flour so they are entirely covered in a light coat.
6. Put 1 tbsp of olive oil in a large skillet and tilt to coat the bottom in an even layer. Sautee on medium-high for 5 minutes and then flip. Sautee for another 5 minutes (if your chicken breasts are thicker give them an extra minute or two on each side). Cut into the thickest part to make sure they are cooked through – there should be no pink inside and the juices should be clear. Transfer to a cutting board or plate and set aside to cool.
7. Mix together the sweet potatoes and onions in a large bowl.
8. Once the chicken has cooled enough to handle, chop into ½ inch cubes and add to the potatoes and onions.
9. Stir the container of hummus to mix in the garlic and add half of the standard tub (about 5 oz) to the chicken, potato, and onion mixture. This can be eyeballed – measurement is not necessary. (Save the other half of the tub of hummus for snacking!)
10. Add 1 tsp mild chile flake, ½ tsp black pepper, and 1 tsp coarse salt, and stir the mixture thoroughly to mix in the hummus and spices.
Making The Hand Pies:
1. Roll out the dough 1 disk at a time to ¼ inch thick.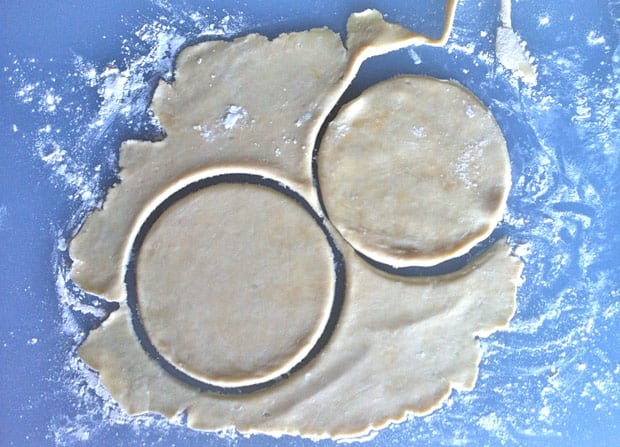 2. Use a bowl approximately 5 inches across to cut uniform circles. Flip it upside down and cut circles out of the dough, re-rolling it until all of the dough has been used. (The last one will likely be a bit deformed, but that's okay! It will still taste delicious.)
3. Spoon a generous heap of filling onto only one half of each pastry circle, leaving room at the edges.
4. Fold the extra dough half over the filling and pinch the edges to help it seal.
5. Use a fork to crimp the folded over edges by gently pressing down, being careful not to stab holes into the filling pocket.
6. Poke an air vent into the top of each pie with the fork.
Note: At this point you can freeze the hand pies for baking at a later time – or any extras that won't be consumed right away.
7. Spray a baking sheet or line with parchment. Place the hand pies at least one inch away from each other.
8. Using a pastry brush, coat the top of each pie with a light coat of the egg wash.
9. Bake for 25 minutes. [If baking frozen hand pies, bake for 30 minutes.]
You can eat these pies with your hands, or if you are feeling fancy give your guests a knife and fork. Either way these Hummus & Chicken Hand Pies will delight with their unique and flavorful fillings!
we heartsters – What's the most unusual ingredient you've ever discovered inside a pie?
photos: Heather for we heart this
Heather is a midwesterner living in Los Angeles and enjoys concocting weird flavor combinations and exploring delicious ethnic foods. She blogs at foodforfunandpleasure and knows her way around the spice cabinet like nobody's business.