This post may contain affiliate links, which means I may receive a small commission, at no cost to you, if you make a purchase.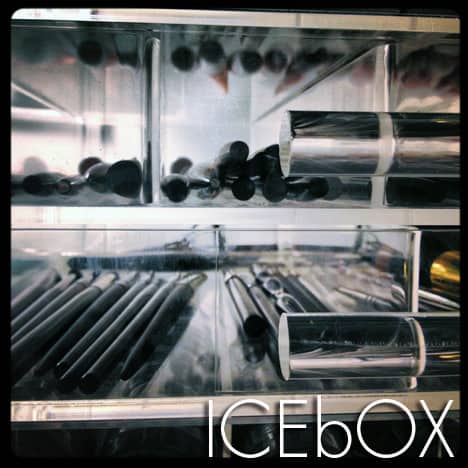 press sample
A messy makeup hoarder finds clear salvation
I've got a confession to make. All those pictures I've shared before today of my pretty vintage vanity? The ones that show the makeup all neatly lined up and organized? It pretty much only looks like that the minute before I have to take a photo.
neatly arranged lies…
Truth be told, this is what my vanity used to look like 95% of the time. Brace yourself.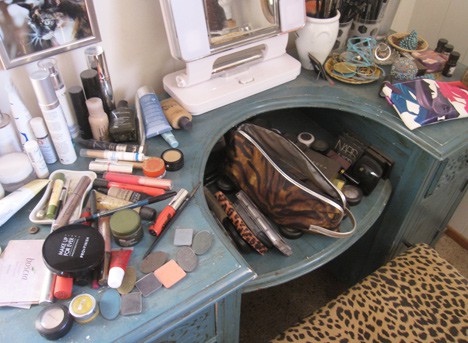 Ugh. But oh, it gets worse…
Yep, that's depotted shadows covered in dust. Oh, the shame!
I got some wooden drawers to help, but they don't close tightly so dust is still an issue. And because they don't have any kind of dividers, they just look like a heaping mess of products most times.
Or, there are the bags of makeup (shown above, bottom left) that I simply just don't have any room to store. They get stuffed in the vanity cabinets. Gulp.
But not anymore, my friends. For now I have the Icebox Skinny by Sherrieblossom. And I am not exaggerating when I say it changed my life. There's not a day that goes by since its arrival that I am not glad to have it.
That's it in all its crystal clear glory, a five drawer, six tier thing of beauty (one of five design available.) It measures 12L x 12W x 15H. There are two main reasons I chose this model. First, because it's tall but takes up less counter real estate that the wide models.
But the biggest reason I chose it is because of the top tier; a 5″ tall area with a lid that allows for taller products to stand upright (and even taller products if you keep the lid open.)
Like so!
But I knew exactly what was going in my top tier, lipstick. Oh, to see all of my lipsticks clearly, organized by color, names prominently displayed! It comes with a removable X-shaped divider that helps you to section off items. Or, stack both pieces on the same side (like a triangle) to create a higher wall and larger spaces.
The remain five drawers are each 2″ high and come with two additional types of inserts to help you organize. Slides are adjustable, vertical inserts that separate the drawer into 3 long columns. Grids create a six squarish spaces. Plus, drawers they close tightly so products don't get dusty! That makes this desert dweller very happy.
I was honestly a bit overwhelmed when this arrived. It was both a makeup lover and an organizer's dream! You simply can not even imagine how much makeup it holds. I couldn't. I still can't. I spent a 6 weeks organizing it. I couldn't stop. Different set-ups and configurations, I became a bit obsessed. Here's what I came up with…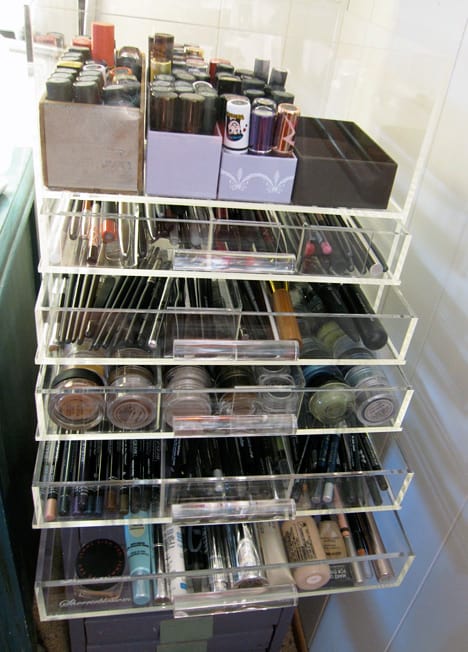 Is that a thing of beauty or what? It holds:
83 lipsticks
16 lip tars
35 lip liners
32 brushes and tools
57 loose pigments and cream shadows
61 eye liners
13 foundations and powders
And there's room for more!
My favorite drawers…
lipsticks
pigments and creams
eye liners
I do wish they sold better inserts for lipstick. A small grid that held them singularly, upright would be amazing. I had to use small boxes to group the lipsticks so they wouldn't all topple when one is removed.
Then there's the price. There's no getting around that $395 is a GIANT splurge. But I'm also a big believer in saving for big purchases. You'd be surprised what you can squirrel away when you try! And though I can't speak first hand, you can check out video reviews of cheaper brands on their site and see that you truly do get what you pay for.
And now thanks to the Icebox Skinny, my vanity looks like this, ALL the time. Oh, the joy!
we heartsters, what's your biggest makeup storage woe?
Stef is many things. Amongst them: co-editor of we heart this, photographer, condiment connoisseur, Philly girl in the California desert, borderline hoarder and a hardcore beauty junkie.
skin tone: NC 25/30
skin type: oily with a fear of rosacea
favorite beauty product: high end skincare and lip products