This post may contain affiliate links, which means I may receive a small commission, at no cost to you, if you make a purchase.
photos: we heart this
Hubby, did you hear that? Someone outside just called you. It sounded urgent too. You really should stop reading this and go see what's up….
Is he gone? Oh, good – it's time for my IMATS haul post! And he doesn't need to see this. Read on for a closer look.
I've always wanted one of these Illumin8 Anastasia Beverly Hills palettes. But for some reason the $40 price tag was always a tough one for me. They were $24 at IMATS and No. 4 (called Carnival) became mine. But wow, was it a hard choice, they're all stunning.
I ended up coming home with five OCC Loose Color Pigments. The colors are bright and amazing, and the formula is the best loose powder I have EVER tried. I choose four greens (yes, I need help) and one cornflower blue. Clockwise from the top left, they are: Nori, Wasabi, Static, Lafayette and Bitmap. These were gifted by the uber fab founder David.
And you know I couldn't leave without some Lip Tars. I couldn't resist Cha Cha, Trollop and Trick. Holy heck, wait till I show you the Lip Tar trick I learned from the fab Rachel Rose Desimone. You'll die, literally.
I was surprisingly restrained at Make Up For Ever (maybe because it was our first stop). But I couldn't resist Lab Shine Diamond Collection gloss in DS a sheer, glittery magenta (omg, I just realized that's a Duran Duran reference! No wonder I felt drawn to buy it.) and Aqua Liner in #6, a glittery, dark navy.
I also picked up an Aqua Cream in #5, which is NARS Orgasm in a gorgeous, creamy pot.
The Canadian line Lise Waiter is one I had heard of, but never tired. This lil' bit of gorgeous is called the Duo Shadow and Glitter and my selection is called Golden Taupe. As if the cream portion wasn't pretty enough, check out the glitter side…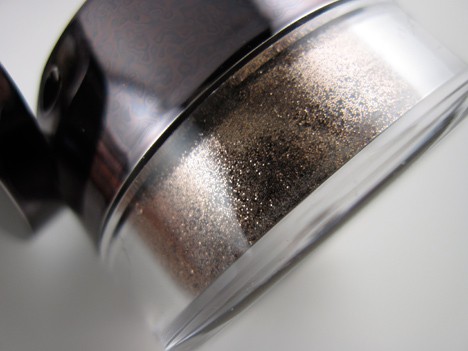 I know! These are regularly $25, but were $15 at IMATS. I bought the last one and Tyna was totally jealous!
This Royal and Langnickel brush set was a gift to everyone who attended their kick off party on Friday night. It's a 12 piece limited edition set of their synthetic silk brushes, similar to this one, but with rubberized handles and a silver case. It's pretty much perfection!
I did have to buy this Royal and Langnickel Kabuki brush too. $7, as soft as a bunny…
Oh Inglot, how I love thee! Picking the shadows that went in this customized palette was one of my favorite moments of IMATS. It didn't hurt that this five pan was only $24 (almost 50% off).
I'll admit, I was convinced I was going to skip Naked Cosmetics the first time we stopped at the booth. I was kind of annoyed that you had to buy the colors in sets of six. But then I got a demo of the Ebony set, and that was all she wrote.
Check that out.
And a bit of water turns them into this. I was slayed by visions of eye lining with these. They were also only $30 (half off the regular price).
Kleancolor nail lacquers were three for $5, what did I have to lose? Shown from left: Neon Blue, Shooting Star and Neon Yellow.
These LA Splash lipglosses in Barely There and Lover's Lane are like me in gloss form. They were $7 each, which annoys me now, as I paid full price. But the prettiness of them helps soothe my pain.
These Cinema Secrets Micro Scissors had me at hello. The blades are only a quarter of an inch long and perfect for any delicate place you'd like to rid of hair. I paid $20 for them ($5 off).
Finally, as proof of how sweet, generous and utterly fabulous the Napoleon Perdis crew were, press received the Swept Away Kit in Coral. What's in it?
A shadow quad, a blush duo and…
…this little bit of perfect.
I urge everyone within the sound of my tapping keyboard to visit IMATS when it rolls through your town. I haven't had this much fun in ages!