This post may contain affiliate links, which means I may receive a small commission, at no cost to you, if you make a purchase.
Indie polish with a punk edge
Our Indie Nail Polish Spotlight is a new ongoing series that highlights not only the new and upcoming stars in the indie nail polish world, but the entrepreneurs behind them. These small business owners are making their dreams come true by starting their own lines and we heart this believes that you do not need a big name to make a big splash in the beauty world!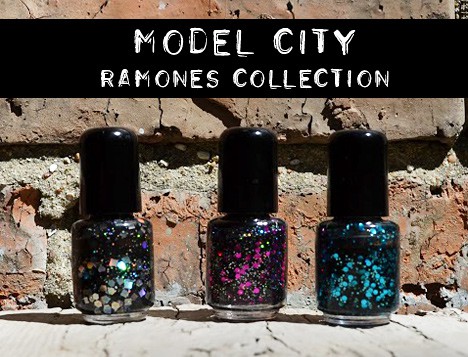 You can't say the word "punk" without thinking of the Ramones. (And if you don't, we should talk. I have a playlist and some homework for you.) Spearheading the punk revolution, the Ramones burst onto the scene in the mid-70's and influenced an entire generation with their simple but hard driving guitar chords and general badass attitudes. Their influence today isn't always a hit (I'm looking at you, Met Gala) but sometimes it's as cool as the originals, as evidenced by indie nail polish maker Nina of Model City and her Ramones Inspired Collection!
I purchased these for myself and went with the Complete Ramones Inspired Mini Size Collection ($12) so I could have all three colors – and because I have an obsession with all things wee. I especially love Model City's logo; slick and interesting, it tells you right away that Nina is the right person to create a collection based on punk icons.
All swatches shown: index and ring finger are three coats by themselves, middle and pinky are two coats over black. All have Nail Pattern Boldness Glitter Food and a top coat.
First up is Wanna Be Your Boyfriend ($8 full sized), a stunner in black and blue. Model City describes it as "a black jelly base filled with bright blue dots and small holographic teal glitter." This applies like a dream; smooth with no digging around to get the larger glitter out of the bottle.
I found that when I applied it lightly, I got mostly the jelly base and a teeny bit of glitter. More pressure with the brush revealed more of the blue dots, like they were hiding in the bristles. I really liked this aspect because it let me build up a nice base with the jelly without overloading my nail with glitter.
Sheena Is A Punk Rocker is a "black jelly base filled with bright pink dots, fine silver glitter, and fine silver holographic glitter." And just like its namesake, Sheena will rock your face off.
Again, easy application, no digging and a little pressure releases the glittery goodness. This is no pink twin of Wanna Be Your Boyfriend, though; the itty bitty silver glitter gives this baby it's own look.
Despite loving all of this entire collection, I think Hey Ho, Let's Go! is my favorite. A "black jelly base filled with square, large hex, small hex, and fine silver holographic glitter," those bigger hexes are a show-stopper, like little shards of broken mirror with the black jelly dirtying to make it truly punk.
I did have to place the hexes a bit on my nail, to get them where I wanted, but that's a minor inconvenience that I'm willing to trade for getting to walk around with dirty sparkles on my fingers.
Pros:
• Incredible colors and formula
• Professional, slick packaging
• Mini sizes offered in nearly every polish collection
Cons:
• A little placement needed with larger glitter
• No polish named after my favorite Ramones song, I Wanna Be Sedated
I am a huge fan of Model City, and you should be too. This is indie polish done right and I cannot wait to see what Nina brings us in her upcoming collections. (Post-punk and the Violent Femmes, pretty please?)
What do you think, we heartsters? Is the Ramones Inspired Collection punk enough for you?
If you know of an indie brand that you think would be a great fit for we heart this, please contact Stef and Tyna at [email protected]
photos: alyssa for we heart this
Alyssa is kinda geeky, kinda girly and all the way in love with her cowboy husband who can say words like, "ornery" with a straight face. She live in Texas and is working on her Masters, being a good cook and the art of looking cute in the morning AND being on time for work. Visit her blog Kind of a Mess.
Latest posts by lyssachelle
(see all)