This post may contain affiliate links, which means I may receive a small commission, at no cost to you, if you make a purchase.
Soft, Yet Strong with a Dramatic Flair
When I decided to dedicate my makeup-loving life to the world of mineral foundation, little did I know that I would become an expert on the special brushes I would need to apply it.
Special indeed! These brushes need to be big enough to cover large areas, sturdy enough to buff foundation into the skin for good coverage, and soft enough to be gentle on the skin for everyday use. I expect a lot from my brushes, so I was happy to test the 4-piece It Cosmetics Buki Brush Box ($48). Spoiler: it doesn't disappoint.
Can we first talk about presentation? The four silver-toned, short-handled brushes come in a satin-lined, silver-colored box with a magnetic enclosure. The brushes are laid out exquisitely, suggesting a soft and delicate nature. Soft, yes…delicate, no. These brushes are the Honky Tonk Woman of Buki.
For the uninitiated, Buki (short for Kabuki) brushes are those with full, dense heads intended to deposit powder makeup onto the skin for full coverage and maximum impact. Derived from the ancient Japanese Theater, Kabuki actors pressed powder into their greased skin for dramatic impact. Today, we swirl, tap and buff mineral makeup, and the Buki brush is perfect for that.
Usually, Buki brushes have short handles that make it easier to press the powder into the skin and these are no exception. The stubby handles also make for a very compact brush that travels well.
The brushes all are custom cut and cruelty free, of man-made ultra plush fibers. Each brush in the Buki box is made for a particular purpose.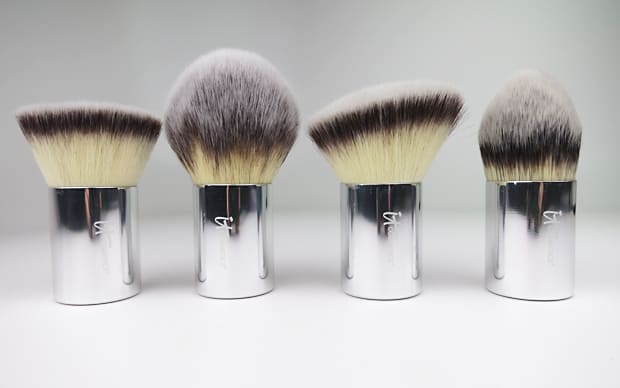 IT Cosmetics Buki Brush Box; Buffing Buki, Powder Ball Buki, Radiance Buki, Complexion Perfection Buki
The Buffing Buki is the traditional blunt Buki designed for buffing powder foundations into the skin in small circular motions.
The Powder Ball Buki is my new favorite brush. A tapered "ball" of compact fibers lushly applies all-over finishing powders.
The Radiance Buki is an angled brush meant for applying bronzers and luminizers with precision.
The Complexion Perfection Buki has a small, firm, tapered head and is meant for applying cream and liquid concealers and highlighters. I love how this swept perfectly beneath my eye, corner to corner.
These brushes in the Buki Brush Box are tough, too. Just like that well-worn, gin-soaked Honky Tonk Woman, these take a beating and lose none of their appeal – or bristles. Buffing is hard on a brush, and these can stand the fight.
A handy brush guide is included as well!
Cleaning with soap and water, these also retain the plush softness that many brushes seem to lose. All in all, these brushes are exceptional (flawless, even), and quite a value.
Gimme, gimme, gimme the honky tonk blues.
we heartsters – has mineral makeup made you a brush expert as well? And are you a fan of IT Cosmetics' brushes?
photos: we heart this
Latest posts by sherrishera
(see all)