This post may contain affiliate links, which means I may receive a small commission, at no cost to you, if you make a purchase.
We've got a FAB sneak peek for you today! Remember the IT Cosmetics Naturally Pretty Vol. 1 matte eyeshadow palette of 2014? Well, there's a Naturally Pretty Vol. 2 coming to QVC in August and I am ecstatic to be one of the first beauty editors to get it in my hands. You KNOW I just had to drop all and shoot it pronto for you. Because dear we heartsters, it's a goodie!
Like its predecessor, Naturally Pretty Vol. 2, dubbed Romantics, contains 14 luxe matte anti-aging eye shadows and one transforming pearl shade. All shades can also be used wet or dry. This means that there are 56 possible colors/finishes (matte, pearl, wet, dry) That's a lot of bang for your $42 bucks!
Formulated without talc and with Peptides, Collagen, Silk and Antioxidants, the shadows diffuse lines and feel all around fabulous when applying and wearing; they're finely milled and smooth. Because of all those great ingredients, the finish isn't a typical matte, which can tend to be flat and even hard to blend at times. I'd even go so far as calling these buttery. Really, they're more of a satin matte finish. And VERY pigmented (sans one shade, as you'll see).
Romantics is packaged in a pink velour palette with a magnetic flap that is super easy to open, yet still feels secure. Inside, it's a silver lining (versus the gold in Vol. 1) and a generously-sized mirror.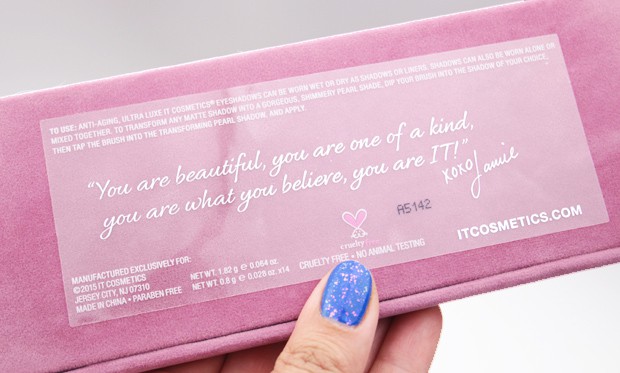 IT Cosmetics always includes an empowering message on it's packaging too, which I always appreciate. It's nice to feel good before you even get your eye shadow on!
Without further ado, here are the IT Cosmetics Naturally Pretty Vol. 2 Matte Eyeshadow Palette swatches…
Peaceful – cool light nude
Hope – warm light creamy nude
Sweetness – pale pink
Enchanting – cool medium orchid plum
Adore – medium nude
Tranquility – light sage green
Desire – medium rose
Romance – cool light dirty plum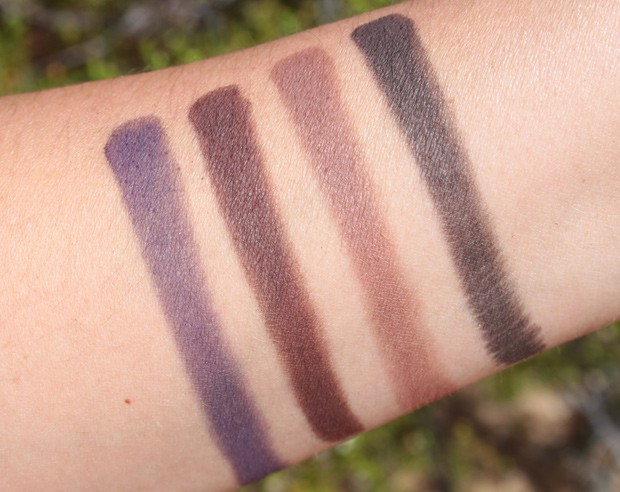 Devotion – deep purple
Fate – dark chocolate
Embrace – milk chocolate
Mystery – dark charcoal
Trust – medium smoky purple
Poetic – cool light grey (the ONLY shade that lacked pigment when worn dry)
Transforming Pearl – shimmery champagne beige
Adore, Fate and Enchanting shown dry, then with the Transforming Pearl
So, how do use that Transforming Pearl, you ask? First apply your desired shade to your brush, then tap the brush against the pearl. It adds a tiny bit of radiance to the shade and lightens it a bit. It's VERY subtle, don't expect full of shimmer.
Tranquility, Mystery and Poetic dry and wet
If you'd rather make the shade darker than lighter, use it wet. The color intensifies and thankfully, the shadow pans remain unscathed. (There's nothing that I like less than messing up shadows!) Check out how pretty the already pretty shadows get!
IT Cosmetics call the shadow shades universally flattering. I will absolutely agree with that, but I do find the palette leans a bit to the cool side. But, where as I normally can't pull off cool shades, these look good even on my warm skin. Hence, universally flattering!
The IT Cosmetics Naturally Pretty Vol. 2 Romantics palette is set to launch in August on QVC. It will be packaged with the dual sided No Tug Eye Shadow Brush and sell for approximately $43.50, which is like getting the brush for $1.50!
So IT girls – do you want this palette or what?
Stef is many things. Amongst them: co-editor of we heart this, photographer, condiment connoisseur, Philly girl in the California desert, borderline hoarder and a hardcore beauty junkie.
skin tone: NC 25/30
skin type: oily with a fear of rosacea
favorite beauty product: high end skincare and lip products