This post may contain affiliate links, which means I may receive a small commission, at no cost to you, if you make a purchase.
Our Review Of – And Your Chance To Win – This New Beauty Game Changer!
This giveaway is now over, congrats to Emily C!
I love multitasking. My theory is, why do a bunch of things when you can do one and get the same result? Sometimes my attempts at time saving aren't so successful – like rollerblading with a 90 pound dog running beside (and eventually over) me. It's best, I've painfully discovered, to leave the multitasking expertise to the professionals – like It Cosmetics.
The It Cosmetics Tightline Full Lash Length Black Mascara Primer ($24) is being touted as a "true game changer in mascara and eyeliner technology." This combination of eyeliner, black mascara primer and mascara sounds too good to be true. Could one slim tube really do everything necessary for long, dark, lined lashes?
The secret to Tightline's effectiveness is the wand, an ultra-skinny creation that lets you get to the root of the lashes and apply product where most mascara brushes only pretend to reach. According to It Cosmetics, most brushes leave a full 1/3 of the lashes – the entire root area – bare. That's a whole lot of lash real estate that's we've been neglecting.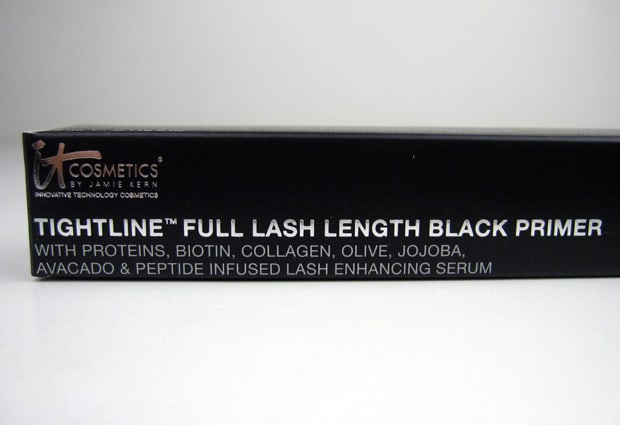 Besides the cosmetic benefits, Tightline contains conditioning agents – Peptides, Collagen, Proteins, Biotin, Nettle Extract, Green Tea, Jojoba, and Vitamins – designed to enhance and protect lashes right at the root.
This all sounded so exciting, I couldn't wait to get testing (and stay tuned to try your luck at winner a tube!). As instructed, I held the super-skinny Tightline wand horizontally against the base of my lashes and wiggled it, then swept it through to the ends, then repeated this several times to completely coat my lashes. I also pressed and wiggled the brush into my lash line where I had sparse spots, creating the illusion of thicker lashes – the "tightline" itself.
The result: very natural-looking lashes and a definition at my lash line that mimicked eyeliner. My lashes are already black, and I suspect fairer lashes would have more dramatic results. I wore Tightline alone the first day, and did have flaking and smudging under my eyes after a few hours.
I repeated the process the next day, but applied a separate mascara on top, and that's when I saw more obvious results. My lashes looked long and dark, and I did not have as much of a problem with flaking or smudging. My other minor complaint, though, was the difficulty of removing Tightline. I found it harder to get off than most waterproof makeup, so I'll probably be saving Tightline for special occasions.
A standard mascara wand next to the IT Cosmetics Tightline Mascara Primer wand
Pros:
• Combines three steps in one for a natural lash/liner look
• Layering mascara over it results in va-va-voom lashes
• Skinny brush fills in areas where there are sparse or missing lashes
• Enhances lashes with a bevy of conditioning ingredients
• Free of Parabens, fragrances, phthalates and sulfates
• Safe for sensitive eyes
• Like everything from It Cosmetics, cruelty-free
Cons:
• Removal is challenging even with makeup remover designed for waterproof mascara
• When I wore it without mascara on top, it flaked by the end of the day
Ready to win? We've got an It Cosmetics Tightline Full Lash Length Black Mascara Primer up for grabs for one lucky winner! Just follow the instructions below and you'll be tightlining in no time!
photos: we heart this
Latest posts by turboterp
(see all)