This post may contain affiliate links, which means I may receive a small commission, at no cost to you, if you make a purchase.
photos: we heart this
Welcome to part two of our amazing John Frieda Precision Foam Colour makeover. When Stef and I first heard from Glam about this once in a lifetime chance to fly to NYC and be completely made over (clothes, make up and hair) by a team of top notch stylists courtesy of John Frieda International, we couldn't say "Yes!" fast enough.
Who doesn't love a makeover? Since my teens, I've dreamed of one day being made over by a celeb hair stylist who could give my fine, limp hair a color, cut and life of its own (and some styling tips along the way). Thanks to the team at John Frieda International and Glam.com, I can now check this fantasy off of my Lifetime To Do list.
Since you have already heard all about our whirlwind day of shopping on Broadway like rock stars and relaxing manicures, let's get right to fun stuff – the make over!
One question I heard often before our makeover, was if we had any say in our new look. While we didn't get to pick our fashion style (what kind of makeover is that?), we were able to request that certain styles and cuts be avoided. I asked our fashion gurus to please try to hide my arms (my latest body worry) and to try to keep me in boots (because Tyna in heels always ends in Tyna on the floor – terrible ankles).
We also were asked to visit the John Frieda site and spend a few seconds completing the Precision Foam Colour Shade Selecter survey to find our ideal shade. This simple and fast survey advised me by best hue would be 4BG Brilliant Brunette, a Dark Chocolate Brown and supplied four back up choices as well.
Satisfied with the pretty, deep, warm shade I sent my requests and waited for the big day. It wasn't until I hit "send" that I realized I forgot to mention my hair and clothing color nemesis – red. While I love the vibrant hue, it just doesn't go with my complexion. "Oh well" I said to Stef, "as long as they don't put me in a red dress, I'll be fine."
Smashcut to our first meeting with both India-Jewel Jackson (Glam's Beauty Editor) and Nola Weinstein (Glam's Fashion editor) in Soho where we learned we had each been paired with a fall trend – I'm afraid I may have shown some doubt on my face when I learned I had been assigned "the color of the season" – RED.
That's my "keep calm and carry on" face
Determined to full heartedly take the advise of these two impeccably put together, fashion vixens, I swallowed my fears, put a smile on my face and dashed off in pursuit of Nola and India who had already started our shopping rampage and were pulling clothes with a purpose from the racks for me and my fellow bloggers.
I definitely relaxed a little when I saw the dress Nola and India had already placed aside with me in mind; a deep rich red silk dress with a soft 1970s vibe modernized with a delicate key-hole neckline, sweet gold tipped tassels and a tailored yet flowing cut.
Even better, the dress had flattering long sleeves, while its knee length hemline would pair well with a fierce pair of brown knee high boots. My look would be stylized with matching gold accessories like a vintage influenced, gold chained purse, as well as another fall trend – the faux fur vest.
India and Nola plot my introduction to red….
Now that the outfits and accessories were finalized, it was time for for the action to begin. We arrived bright and early the next morning at the NYC shoot location, fueled on coffee and excitement. First things first, we all jumped in front of the camera (gulp) and filmed our "Before" segment.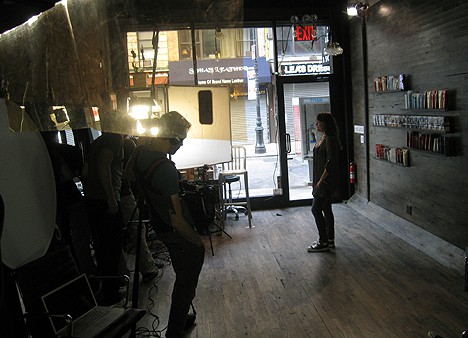 While the cameras, lights and controlled chaos of the shoot all combined to make me super nervous, the friendliness and good vibes among the entire crew helped to loosen me up. And what a crew it was! Headed by internationally renowned stylist Harry Josh, John Frieda's International Creative Consultant, there was a team of six hair stylists, two fashion stylists and one make up artist, all working together to make us our best.
Add in our director, Max Dione (working those lights, cameras, booms and mikes), and his capable crew, plus a number of representatives from John Frieda International and Glam…it could have easily been overwhelming. But the good cheer and enthusiasm for our "mission" was palpable, and I soon relaxed, ready to face the camera.
Next, a final consultation with the absolutely amazing Harry (seriously, check out his work – he's a hair god) and my "personal" stylist for the day, the super sweet and very talented Kate Hanley.
As Stef mentioned earlier, Harry really knows his stuff. Before I could even begin to explain my hair woes (it always looks thin and limp…and I'm starting to see more and more gray), Harry had a handle on my main issues.
Problem number one: while my hair is thin in volume, I actually have a decent amount. Sadly, my hair is thicker at the base of my head and more thin along the scalp. My thin line of bangs, severe part and long grown out layers only highlighted that top level of thinness.
Ahh, yes, I see the problem here
Harry and Kate assured me, that thicker, slightly tapered bangs would be a revolution – making my whole head of hair appear more full. He also advised me to skip the face framing layers other stylists always insist will add volume, as they only emphasis my thin locks. The John Frieda team decided all one length, with just a touch of of cutting-in at the very ends for flow and movement was the way to go.
Saying goodbye to my sectioned off long strands, soon to be bangs
When Harry asked how I handled my grays, I informed him I stopped coloring my hair years ago, and relied on my tweezers to pluck those stray silver strands. Sadly, I am seeing more and more (and can only pluck so much – thin hair, remember), but was reluctant to start coloring at home.
Why? Because I am a terrible at home dyer. I could never get the color evenly in my hair, I always stained my neck, forehead and clothes with the drippy mess and the whole procedure left my bathroom a wreck. Harry was happy to inform me that John Frieda's Precision Foam Colour could be my salvation.
Once again, Harry knows best! John Frieda's Precision Foam Colour is some pretty amazing stuff. First launched in Japan five years ago, this unique foam colour is now the number one seller in that country. And for good reason; this at home colour is so simple to use and the rich foam makes it almost impossible to make a mess of your home, clothes or body.
Harry walked me through the simple, preparation steps and left me to it. Firstly, I was impressed with the salon quality gloves included in each box. Finally, a decent, non flimsy pair that fit my hands (I can't be the only one that wears rubber bands on my wrists over the gigantic "gloves" found in all the other home coloring kits to keep them on my hands).
Once I added one solution to another and tilted the bottle five times (no need for shaking). I was ready to go. All you need to do is gently squeeze the upright bottle and the foam begins to flow. Then start working it into your hair. The dense, thick foam sticks to your head, and doesn't run down your neck, ears and forehead or drip on your bathroom floors and counter.
That foamy texture also helps to really cover stubborn gray hairs. The unique formula surrounds and coats those wirey suckers, getting great color – instead of "sliding off" like typical liquid dyes.
And for those that are "two bottle dyers" good news – you'll find a full two liters of foam dye inside the unassuming bottles – more than enough to cover almost any thick mane of hair.
Next, it was back to Kate for my cut, blow out and styling. We ohhed and ahhed over my color – deep, rich and completely natural – while she worked her magic. My thin locks soon transformed into a shiny, thicker looking hairstyle. The deep bangs added depth to my hair, and the shorter length added volume and swing. Love it.
I then made the trip to the chair of makeup artist extraordinaire Nam Vo. Nam evened out my skin tone with just a touch of foundation and to counter the bold red dress, she went with a smokey brownish bronze eye and a soft neutral lip.
And suddenly, it was time to slip into that red dress and get ready for my big reveal!
Back in front of the cameras I went, just bursting to share my completed look with Harry, India and Nola.
Surprise! I can wear red. With my slightly darker hair color, defined eyes and even skin tone, red actually looked pretty good on me. Hooray – I've always wanted to be "the lady in red" at an event – and now I know how to pull it off.
I can't wait to share my new look with friends and family – and I'm actually looking forward to those few grays coming back. Now that I have Precision Foam Colour in my arsenal, colouring my hair at home should be a breeze.
Thanks to the amazing, hard working team at Glam and John Frieda International for this incredible experience – we loved every minute of it. And we both love our new, "me, just much better" style.
Stay tuned for more details on our makeovers, as well as the videos documenting our day in an upcoming wht post….


Precision Foam Colour is the first ever premium permanent home hair colour from the John Frieda® Hair Care Experts that uses foam technology to deliver a luxurious at-home colouring experience. Demand gorgeous, salon-quality results — 100% grey coverage and vibrant shine. With 20 flattering shades to choose from, achieving natural-looking hair colour perfection is in your hands.
The product reviewed in this post was provided gratis by the John Frieda® Hair Care team. The opinions expressed herein are those of the author and are not indicative of the opinions or positions of the John Frieda® Hair Care team.