This post may contain affiliate links, which means I may receive a small commission, at no cost to you, if you make a purchase.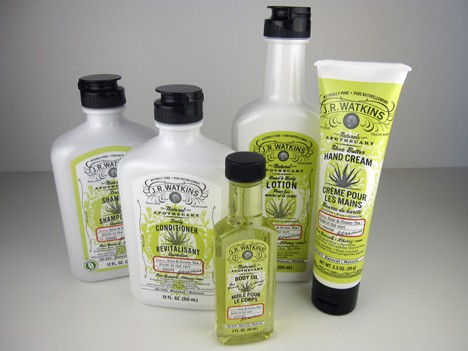 It's hard to be at any store that sells body, hair and home products, and not find a few classic JR Watkins products on the shelves.
We're talking about a brand that has some serious staying power. Watkins launched in 1868 (can you believe that?!), and was America's first natural apothecary manufacturer.
Any company that's been around that long HAS to be doing something right!
I can actually say I consistently grab for their products when I see them on the shelves.
Whether it be a lotion or a household cleaner, I just love their packaging – it's so simple and elegant – it makes me feel like I walked right into to an old world apothecary.
The fact that everything is made with natural, basic ingredients is also very appealing.
And Watkins is a company that was green long before it became trendy.
From the beginning, they have been proud to create hundreds of products that contain only the finest natural ingredients, while avoiding chemicals like parabens, sulfates, phthalates etc.
The best part though is their wallet friendly prices, making them an easy choice.
I've used JR Watkins shampoos, soaps and cleaning products and I've been happy with everything I've used from them.
Our review team had the opportunity to test their JR Watkins Aloe and Green Tea Line, (doesn't that combination sound divine?), and it yet again, did not disappoint!
JR Watkins Shampoo & Conditioner Review
This bath and body collection includes hand and body lotions, hair care and body oils.
I tried out the JR Watkins Aloe & Green Tea Shampoo (found here) and the (found here) for a few weeks and was completely intoxicated by the scent.
With definite hints of aloe, this shampoo and conditioner smells like you just walked into a spa and got the royal treatment. They have a fresh, subtle and clean scent.
I have to again mention the packaging… they come in very nice sized bottles (12 oz) that are solid white, with bright lime green labels and scrolled writing.
If I had to go by looks alone, these had me at hello and look great sitting out on my bathroom counter.
JR Watkins Shampoo Aloe & Green Tea
The Aloe & Green Tea Shampoo ($9.99) has a nice texture and lather, and got my hair really clean.
I will say, I felt like maybe it didn't preserve my color as well as some of my color sensitive shampoos, so that was my only concern, if I keep using this regularly. I gave it to my husband to try out though and it has become his daily shampoo.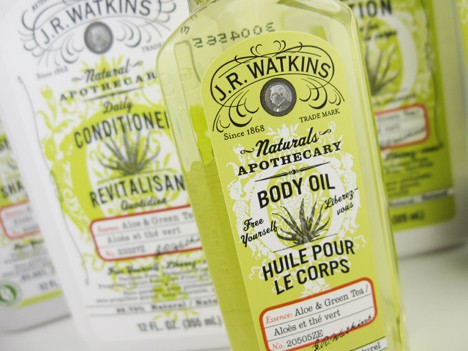 JR Watkins Aloe & Green Tea Conditioner
The Aloe & Green Tea Conditioner ($9.99) leaves a subtle scent and left my hair soft and smooth. It's not an extremely rich conditioner, but for a basic, daily conditioner, it worked well.
JR Watkins Aloe & Green Tea Body Oil
The Aloe & Green Tea Body Oil ($7.99) is a 2 oz bottle packed with aloe leaf, grape seed, apricot and avocado oils, and has that same wonderful scent.
You can put these oils in a bath, or rub them on after a shower or bath. At first it felt a little bit sticky, but after a couple minutes, it blended right in and left my skin really smooth.
JR Watkins Aloe & Green Tea Hand & Body Lotion
The review team had a chance to try the Aloe & Green Tea Hand and Body Lotion ($8.99) and a rich Hand Cream ($9.99) both also have the line's signature scent, and are chemical free and packed with natural ingredients.
I can't wait to hear what the testers had to say about these.
This is a great collection and with prices like these, you can stock up on the ENTIRE collection for under $50!
JR Watkins Natural Products Review
Pros:
• Can't beat the price,
• Great, vintage looking packaging,
• A clean, fresh, fab scent.
Greens:
• All natural and free of irritating chemicals
• Formulated with essential oils, vitamins and shea & cocoa butters
• SLS, paraben and dye free
• Beautiful, BPA free packaging
Cons:
• The shampoo may not be the top choice for color treated hair.
Do you have a JR Watkins review?
Share your experience in the comments below.
Disclosure: This review includes products that were provided by the manufacturer/PR firm for our consideration. For more info, or any questions, please see our disclosure policy.
Latest posts by spitfire77
(see all)