This post may contain affiliate links, which means I may receive a small commission, at no cost to you, if you make a purchase.
Pomegranate, Argan Oil & Grapeseed Collection review
photos: we heart this
I adore the scent of pomegranates. The tart and fruity smell is just so me. If the world were pomegranate-scented, it would be a better place. I'm pretty sure. Imagine my delight when I received not one, but two items from Crabtree & Evelyn's new Pomegranate, Argan Oil & Grapeseed collection!
Infused with the antioxidant power of pomegranates and the restorative properties of argan and grapeseed oils, these new products from Crabtree & Evelyn not only smell divine, they nourish your body, too. There is a complete line of bath and body goodies in this intoxicating scent and for our reviewing pleasure, we received four items.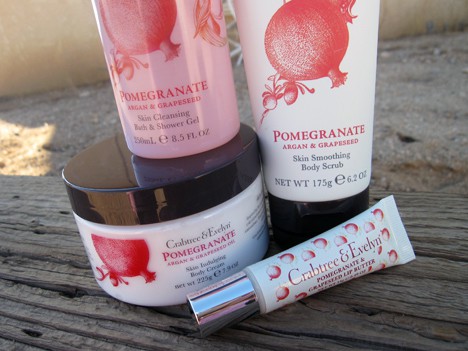 The fragrance is described as pomegranate with a hint of citrus and fig. Is your mouth watering yet? Even better, all items are free of parabens, phthalates, propylene glycol and mineral oil, so for those of you who prefer things a little more eco and body friendly, these are products for you.
The Pomegranate & Grapeseed Lip Butter is just what my lips have been craving lately. My lips were so chapped that despite trying most balms in my arsenal, it bordered on painful. Ouch.
One slick of this fruity (not perfumed like the body butter) lip balm and I was the happiest camper to ever camp in the history of camping. My lips smelled like candy and were so richly moisturized and smooth–I nearly swooned. Repeated use has totally reconditioned my lips.
While the Crabtree & Evelyn site says this provides some tint, I will warn that the product is actually sheer, bordering on white, with some shimmer, which when applied pales the color of my lips a bit, while leaving behind some shine and shimmer. I found that this worked best when applied before any other lip products and then topping it with some color. At a reasonable $9, I am convinced that pretty much everyone needs one of these beauties.
I also tested the Skin Indulging Body Cream which is packaged in a generously sized tub. The cream is rich and thick and applies like a dream.
I put this on immediately after showering and it sealed in moisture while absorbing quickly and kept my skin soft and smelling fresh for hours. It was pretty terrific on my dry, winter skin; New England winter skin requires a heavy-duty moisturizer and this one fits the bill.
The scent on this reminds me of Elizabeth Arden's Green Tea fragrance, which for me is a good thing; I used to wear that fragrance many years ago and felt a hint of nostalgia when I put this on. It's a tart, slightly fruity, invigorating scent. The only thing that would make this better would be if Crabtree & Evelyn had released this sooner!
I'll also add I wish the price was a bit lower – the $34 tag makes this definitely an indulgence. At the rate at which I go through body butter, I definitely could not use this everyday. But I very much want to. *pouts*
Fellow wht team members had the chance to try other goods from the Pomegranate, Argan Oil & Grapeseed line including the Bath & Shower Gel ($20) which promises soft skin and 'copious bubbles' (yay!) as well as the Skin Smoothing Body Scrub ($26) containing sunflower wax beads for a super gentle exfoliation. (Make sure to check the comments for their thoughts.)
Overall, I was really impressed with the items I got to try. Crabtree & Evelyn has a tradition of creating fabulous bath and body products and it was a nice change of pace to have a fruitier offering from a company that tends towards floral and herbal fragrances. This new fragrance definitely fills a void in their selection. I really can't wait to try their Pomegranate, Argan, & Grapeseed Oil Bath & Shower Gel next!
Pros:
• No parabens, phthalates, propylene glycol or mineral oil
• Body Butter is very moisturizing and the scent is intoxicating
• Lip Butter saved my dry and cracked winter lips
• Lip Butter is a highly affordable $9
Cons:
• I wince when I see that this lovely body butter is priced at $34
we heartsters: Am I the only person who is stoked that Crabtree & Evelyn is offering a fragrance that's off the floral or herbal path? Share your fave C&E scent in the comments.
Krista currently lives in a semi-haunted house in New England with her hubby/best friend and obscenely big-eared dog. She thinks the world would be a better place if people smiled more and ate more dark chocolate. She is a firm believer that humor can be found in everything and that Tom Selleck's moustache has healing properties…
Disclosure: This review includes products that were provided by the manufacturer/PR firm for our consideration. For more info, or any questions, please see our disclosure policy.