This post may contain affiliate links, which means I may receive a small commission, at no cost to you, if you make a purchase.
Gone but not forgotten, Kevyn Aucoin was a true genius at his craft – the man knew his makeup. One of his biggest gifts was the ability to use contouring to alter one's appearance. If you've seen the examples of his work from his book "Making Faces", you know that he was truly a makeup artist. I've long been a fan of his makeup line and I was extremely excited to see the latest product from his eponymous line: The Creamy Glow Duo.
I already love Kevyn Aucoin's cream blush, The Creamy Glow, so I felt very lucky to receive Duo #1 Nuelle/Bloodroses and Duo #4 Candlelight/Sculpting. The first is a lip and cheek duo and the other is the contouring palette I never knew I needed. I had never contoured before using this product and now I will not be without it – I HAVE CHEEKBONES, Y'ALL! Who knew?
Housed in a sleek, burgundy compact, The Creamy Glow Duo ($30) screams "LUXURY" before you even open it. Once you push the gold bar button in, the compact opens to reveal a generously sized mirror and two pans of The Creamy Glow.
Duo #4 Sculpting Medium/Candlelight – matte, medium brown/shimmery pale gold
Duo #1 Nuelle/Bloodroses – soft nude with a hint of peach/deep rosy red
The formula on these is a cream that dries to a powdery finish. The wear time is excellent – I got a solid six hours of wear on my oily skin, which is excellent (for me) for a cream product.
Kevyn Aucoin The Creamy Glow Duo #4 Candlelight/Sculpting
With the contouring palette, I did apply a light dusting of powder on top of my handiwork and it lasted all day. As with all Kevyn Aucoin products I've ever used: no breakouts. I have sensitive skin, so this is major for me.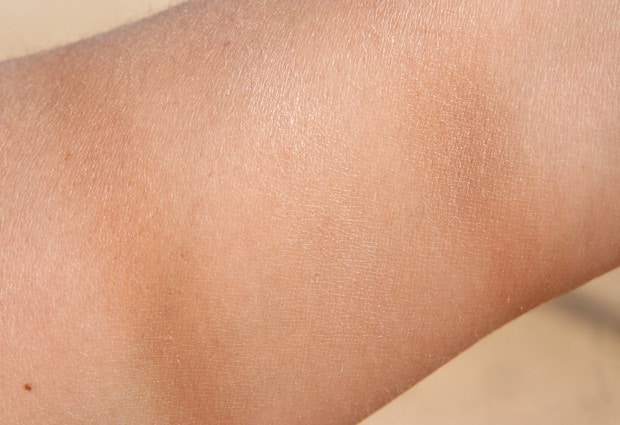 Kevyn Aucoin The Creamy Glow Duo #4 Candlelight/Sculpting, separate then blended together
I used the contouring duo to contour my entire face for the very first time and not only did this blend impeccably, but I finally got to see what the contouring hype is all about. My husband didn't know I'd used this, but he did comment that I looked "different, but better", which is really what most of us strive for, isn't it?
Kevyn Aucoin The Creamy Glow Duo #1 Nuelle/Bloodroses, separate then blended together
These two palettes are amazing together. I love Nuelle on cheeks with Sculpting Medium contoured along the underside of my cheekbones, then I dab some Candlelight on the tops of my cheeks and finish my look with Bloodroses on my lips and more Candlelight dabbed on my Cupid's Bow – the end result is so flattering.I really recommend you promptly order these for yourselves to experience it.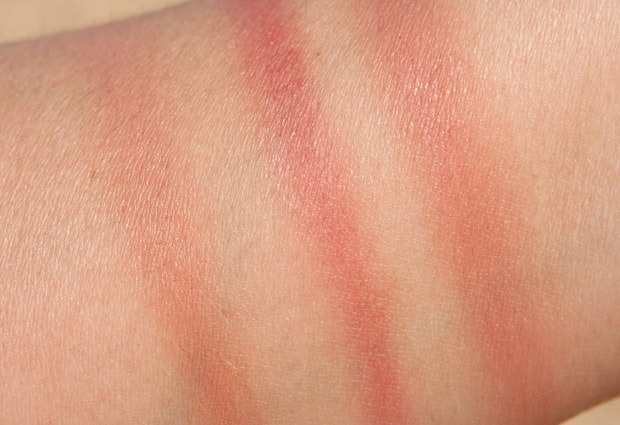 Kevyn Aucoin The Creamy Glow Duo #1 Nuelle/Bloodroses
PROS:
• Duo #4 gives excellent results in contouring. I'm a contouring novice and I achieved professional results using this.
• The small compact is extremely portable and perfect for travel or for popping in your purse for touch-ups
CON:
• I wish both pans were the same size. One pan is smaller than the other and both sides are equally gorgeous. I hate that I'll run out of one side before the other.
we heartsters – Are there any other Kevyn Aucoin devotees out there? What is your favorite product from his line? Am I the only person who was a contouring virgin?
photos: we heart this, swatches shown on NC25/30 skin tone
Krista resides in the middle of nowhere with her bff/hubby and a puppy that makes feral capuchins seem mellow. She has an irrational fear of ax murder, owns more than one machete for home defense/the zombie apocalypse, and goes to sleep serenaded by the sounds of the Chupagobbler, a mythical turkey beast that roams the woods around her house. Krista has been in the Bermuda Triangle twice and still hasn't vanished. She is super proud of that.
skin tone: NW15
skin type: sensitive/oily
favorite beauty product: Blush, lots and lots of blush