This post may contain affiliate links, which means I may receive a small commission, at no cost to you, if you make a purchase.
Planning for an entire day of fun under the sun? While a great day out usually involves a sunny day, many of us know that the sun damages our skin.
That's why sunscreens are a must-have for your everyday skincare routine. The key to effective sun protection is to reapply it every few hours, but that's usually not an easy thing to do in public.
Enter Korean sunscreen sticks. These are made and packaged to be travel-friendly and convenient to use! Applying is as easy as a swipe across your skin.
Interested in finding one for your on-the-go makeup bag? Read on for our list of the best K-beauty sunscreen sticks!
SPF 50+ PA+++
Gives a soft finish
Provides oil control
Effective sun protection
Absorbs excess sebum
Lightweight and waterproof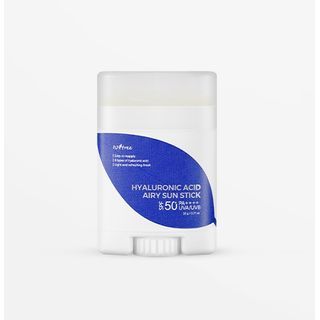 Hydrates the skin
Protects from harmful UV rays
Lightweight formula
9 Korean Sunscreen Sticks for Effective Skin Protection
1
We love this amazing sunscreen stick because it provides excellent sun protection and it's convenient to carry.
Key Benefits: SPF 50 sun protection, gives a soft finish, provides oil control
Features:
SPF 50+, PA ++++
Non-greasy, no-white-cast formula
Convenient applicator and easy to carry
Protect yourself from the sun even while on the go with AHC's Natural Perfection Double Shield Sun Stick.
Looking for a travel-friendly sun stick that works? Try out AHC's Natural Perfection Sun Stick.
Apart from having SPF 50, which effectively protects you from the sun's UV rays, it also applies smoothly.
The lightweight and smooth formula doesn't move or affect your makeup, whether you apply it underneath or over it.
It's also waterproof and easy to apply, so you don't have to fuss over applying sunscreen on the go!
2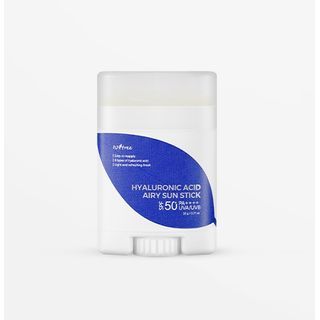 We love this incredible sunscreen stick for its hydrating properties and affordability.
Key Benefits: Hydrates the skin, protects from harmful UV rays
Features:
SPF 50+
Contains hyaluronic acid for hydration
Non-greasy, with no white cast finish
Hydrate and protect your skin from the sun with Isntree's Hyaluronic Acid Airy Sun Stick!
Afraid of drying out your skin while adding sunscreen? Don't be! Protect your skin while keeping it hydrated with Isntree's Hyaluronic Acid Airy Sun Stick.
This sunscreen stick has SPF50, providing excellent protection from the sun's harmful rays.
Other than that, Isntree's sun stick also contains hyaluronic acid, so it keeps your skin hydrated. It also has a lightweight texture that's not greasy and doesn't leave a white cast finish.
The best part? It has minimal irritants, so you don't have to worry about breakouts!
3
We love this excellent sunscreen product because it's water-resistant and effective in protecting our skin.
Key Benefits: Effectively protects skin from the sun
Features:
Mineral sunscreen with SPF50+ PA++++ protection
Contains antioxidants and nourishing ingredients
Smooth and soft texture
Stay active under the sun without fear of harmful damage with Benton's Sun Stick!
If you're looking for effective mineral sunscreen to try out, make sure to grab Benton's Sun Stick. It has SPF50+ and PA++++ protection provided by a physical sunscreen ingredient, titanium dioxide.
Apart from excellent UV protection, this sunscreen has ingredients that nourish your skin. It has antioxidants, such as vitamin E and tocopherol, that help slow skin aging and nourishing ingredients, such as hyaluronic acid.
This sunscreen stick applies smoothly across the skin, making it easy to use. The layer of balm it leaves is lightweight, and you won't even feel like you have it on! It's also a proven non-irritant and is waterproof.
4
We love this effective sunscreen stick for its smooth finish and long-lasting protection!
Key Benefits: Effective protection against UV rays, helps slow skin aging
Features:
SPF 50+ PA++++
Non-sticky, smooth finish
Contains Spanish moss concentrate, moringa, ceramide MP, and more!
Be outdoor-ready without any sticky feeling with Make p:rem UV Defense Me Mild Sun Stick!
Want a sunscreen stick that can keep you protected for a long time? Check out Make p:rem UV Defense Me Mild Sun Stick! Apart from having SPF50+ PA++++ to shield your skin from sun harm, it also stays on for 12 hours.
Apart from excellent protection, it has added ingredients, such as Spanish moss concentrate, ceramide MP, and moringa, that help slow skin aging.
It has a light, non-tacky finish, which doesn't leave your skin with white blotches when applied. It's also perfect for every type of skin type.
5
We love this light sunscreen stick because it's effective, affordable, and easy to use!
Key Benefits: Effective sun protection, absorbs excess sebum
Features:
Lightweight formula
Water-resistant
Convenient to carry around
Enjoy the outdoors without any worry of sun damage by using SCINIC's Enjoy Super Active Airy Sun Stick!
SCINIC's incredible K-beauty sunscreen is a true multitasker.
It protects you from the sun, purifies your skin, and absorbs any excess sebum that may clog your pores. It even protects your skin from any dust sticking to it.
On top of that, it also leaves your skin feeling hydrated when you apply it.
When you use this, you'll find it easy to spread over and absorb by your skin. This non-sticky, non-greasy sunscreen is the best to get, especially if you have oily skin!
6
We love this excellent sunscreen for having an ultra-lightweight formula that still protects our skin from sun damage!
Key Benefits: Effective sun protection, calms irritated screen, controls oil and moisture balance
Features:
Lightweight formula with no white cast
Has antioxidants and herbal extracts
SPF 50+ PA++++ protection
You don't have to fear a sunny day with Tocobo's Cotton Soft Sun Stick!
Lightweight and works like a charm, if you're looking for one of the best Korean sunscreen sticks you can use, check out TOCOBO's Cotton Soft Sun Stick.
It has one of the most lightweight finishes, leaving no white cast. It also has antioxidants and calming herbal extracts that ensure your skin is in tip-top shape.
Offering SPF 50 and PA++++ protection from the sun, this sunscreen has a primer-like finish that can work underneath and/or over your makeup!
7
We love this refreshing sun stick because it protects and soothes troubled skin!
Key Benefits: Protects from the sun, helps brighten skin, helps prevent wrinkles
Features:
Lightweight, long-lasting formula
Waterproof
Has skin-cooling properties
Stay worry-free about irritated and sun-damaged skin with Carezon'es Doctor Solution Derma Repair Cica Sun Stick!
People with sensitive skin don't have to worry too much about irritating sunscreen with this Carezone sun stick!
It uses Titanium Dioxide as its sunscreen element, providing an effective barrier against harmful UV rays on our skin.
Apart from that, it also has Centella asiatica, which soothes irritated skin and helps heal it.
It also has minimal irritants and is considered an emollient, keeping your skin hydrated. It leaves a luxurious, delicate finish when applied.
8
We love this popular sun stick because of its ultra-lightweight and nourishing formula.
Key Benefits: Protects skin from UV rays, hydrates skin, calms skin
Features:
SPF 50+ PA+++
Has hydrating and soothing ingredients like ceramides and Centella
Easy to apply and leaves no white cast
Have fun under the sun while staying protected with Abib's Quick Sunstick Protection Bar!
Thanks to social media, one of the most popular Korean sunscreen sticks in recent memory is Abib's Quick Sunstick Protection Bar.
Apart from the protection it brings, this sun stick is also loved by many for being ultra-lightweight.
This sun stick primarily uses chemical sunscreen to protect your skin against harmful UV rays. Additionally, it helps keep it healthy and hydrated with ingredients like ceramide, Centella, and green tea extract.
It's also easy to use and convenient to carry around!
9
We love this sun stick for its skin-calming and protective properties!
Key Benefits: brings excellent sun protection, calms irritated skin
Features:
SPF50+ PA++++
Has anti-inflammatory ingredients
Contains antimicrobial and antioxidant ingredients
Keep your skin protected and soothed with Holika Holika's Less On Skin Redness Calming CICA Sun Stick!
Soothe your irritated skin while keeping safe from UV rays with Holika Holika's sun stick offering.
It's an easy-to-use, effective sunscreen that you can reapply every three to four hours. It also has Centella asiatica that helps in calming down already-irritated skin.
It has added green tea extract that also serves as an anti-inflammatory agent and antioxidant, keeping your skin healthy at all times.
Things To Consider When Buying Korean Sunscreen Sticks
Not all products that advertise themselves as "sunscreen" are made perfect. Here are the things you need to consider when choosing a sunscreen to use.
SPF and/or PA Rating
Whether you're looking for a K-beauty sunscreen stick or a run-of-the-mill sunblock lotion, you need to know the product's SPF or PA rating.
PA stands for "protection grade of UVA." It is a system used to measure the level of protection that a sunscreen provides against UVA rays. The more plus signs after the PA label, the higher the level of UVA protection.

UVA rays can cause premature aging of the skin and are also associated with an increased risk of skin cancer.
SPF stands for "sun protection factor" and measures the protection against UVB rays. Dermatologists advise looking for sunscreen products with SPF 30 at the very least. The higher the SPF, the greater the protection.

UVB rays are responsible for causing sunburn.
A broad-spectrum sunscreen that protects against both UVA and UVB rays is recommended for comprehensive sun protection.
Type of Sunscreen
Yes, you can choose from types of sunscreens. While they are usually sold as lotions, creams, and balm sticks, they can be made with physical or chemical sunscreen components.
Physical sunscreens provide a physical barrier that protects your skin from the sun. Such sunscreens include zinc oxide or titanium dioxide, which makes a physical barrier against UVA and UVB rays.
On the other hand, chemical sunscreens work by converting the sun's UV rays into heat so they won't damage your skin. These sunscreens' active ingredients are avobenzone, octocrylene, octinoxate, or oxybenzone.
Quick Tip
For best results, you can choose to get a hybrid sunscreen with physical and chemical sunscreen ingredients protecting your skin.
Extra Ingredients
In skincare, sunscreen products don't just have UV-blocking ingredients; they also have added ingredients that help nourish, hydrate, and/or protect your skin.
This makes your sunscreen product a multitasker, keeping your skin healthy and glowing.
Some popular added ingredients include hyaluronic acid for hydration, niacinamide for its brightening properties, and Centella asiatica for calming irritated skin.
Frequently Asked Questions
Are Korean Sunscreen Sticks as Effective as Normal Sunscreen Products?
While it does have a different, more convenient consistency, thanks to modern science, these products perform just as well as typical sunblock lotions and creams.
They offer the same protection while being lightweight and easy to use.
Can Korean Sunscreen Sticks Be Used on the Face and Body?
Yes, many Korean sunscreen sticks are versatile and can be used on both the face and body. However, it's essential to check the product's instructions for any specific recommendations.
Can Korean Sunscreen Sticks Be Used During Outdoor Activities?
Yes, Korean sunscreen sticks are suitable for outdoor activities. Choose a water-resistant formula if you'll be swimming or sweating, and reapply as needed for prolonged sun exposure.
Convenient Sun Protection
While many people sometimes just do without it, sun protection for your skin is essential. Don't skip out on wearing SPF when doing your daytime routine, as it makes a huge difference in the long run.
If you find applying SPF time-consuming, Korean sunscreen sticks would be the best thing to get. They usually come in compact packaging and easy-to-apply formulas.
Hopefully, this list has helped you find a sunscreen stick that you may consider buying. Keep your skin healthy by shielding it from UV rays. Try out one of the best Korean sunscreen sticks that people swear by!
Learn More About the World of K-Beauty!
Read these helpful articles: