This post may contain affiliate links, which means I may receive a small commission, at no cost to you, if you make a purchase.
And a peek at Lancôme Hypnose Instant Full Body Volume Mascara
I've always thought of Lancôme as a sophisticated and elegant brand. But admittedly, I also thought of it as a brand that's was maybe a smidge…boring. Neutral shades, a lot of fancy perfumes, and honestly, I could never quite pronounce "Lancôme" with the correct flair; that slightly breathlessness that you hear in their TV ads! Over the years, I've tried a few of their products, and found them to be of very high quality, but nothing that truly appealed to my personal makeup preferences (which tends to lean towards the more colorful options offered by artistry brands)
Oh, how that has changed!
I was pleasantly surprised when I got to try the Lancôme Drama Liqui-Pencil ($23), sixteen shades that ranged from shimmery nude to a primary yellow. Yellow? That's about as far from boring as you can get. And I pronounce them MAGNIFIQUE!
One thing I love about these is the packaging–I love that the pencil and cap are color coded to match the eyeliner color–this seems like a little thing, but if you're an eyeliner junkie like me, you want to be able to quickly find the color you're looking for.
The product itself is to die for–the rich, vibrant, highly pigmented forumla glided smoothly to my lids
(No joke ladies–it's like BUTTAH. LIKE. BUTTAH.) And for a hot second, the eyeliner is workable, allowing me to blend and smudge as I pleased. But once the Drama Liqui-Pencil formula sets, it is on LOCKDOWN. I tested it out a few swatches on my hand, and they barely budged even when I rubbed them hard, or scraped them with my nail, but it came off fairly easily with my makeup removing wipes.
Let's look at the shades…
Lamé – white gold shimmer
French Lace – bright white matte
Lumiere – silver metallic
Soliel – bright yellow matte
Macaron – hot pink with micro glitter
Ampoule – pearlized grape with micro glitter
Baroque – lavender matte
Cote d'Azur – bright cobalt shimmer
Cote d'Azur (again) – bright cobalt shimmer
Parisian Night – pearlized navy with bright blue micro glitter
Minut – blackened navy matte
Pluie – medium dove grey satin
Brûlée – blackened brown satin
Embrasé – pearlized golden khaki
Paradis – pearlized emerald
Pacifique – grass green matte
Noir Intense – inky black matte
Lancome Drama Liqui-Pencil swatches:
Of the shades I tried out, Pluie was probably my favorite–a nice medium gray that's perfect for the lower lashline because it's not too harsh, and is a great everyday product. Lumiere is my other favorite–it's a metallic silver that has a glamorous molten look to it. Just a hint of this can take a smokey eye to a whole new level!
Pluie at work, with Hypnose Intense Mascara
I also got the check out the Lancôme Hypnose Instant Full Body Volume Mascara ($27.50), which claims that it will give your lashes volume with just one swipe, and promises to be clump-free. The S-shaped wand has a tendency to pick up extra product (which could potentially make lashes clumpy), but it also distributes the mascara nicely over lashes and allows me to get into the inner and outer corners as well. I personally got the best results by lightly wiping the excess mascara off of the brush before applying two or three coats to my lashes. I really like that the brush and formula work well to make my bottom lashes stand out too. I did not notice any flaking or smudging, even after a full day at work–the mascara stayed on my lashes, and didn't get anywhere else. And the intense black color paired nicely with the vibrant shades of eyeliner.
Drama Liqui-pencil in Lame, Baroque, Pluie, Ampoule, French Lace. Lancome Hypnose Intense Mascara
But to really test Lancôme as an artistry brand, I tried some of the bolder colors and was quite happy with the results.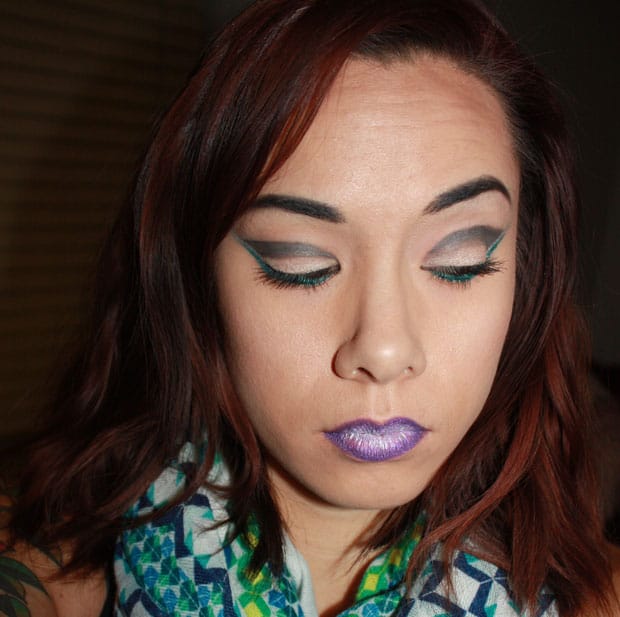 That's Pluie, Lame, Paradis and Lumiere on my eyes. And Ampoule, Baroque and Lumiere on my lips! I'm not sure if it's approved/recommended for lips or not, but they work well.
A close up look
Of course, if purple and white lips is just TOO arty, this colorful eye work well with a neutral lip too.
Pluie, Lame, Paradis and Lumiere on eyes
Or, how about a pink for the lips and even MORE colors on the eyes? This is Macaron, Soleil, Paradis, Parisian Night, Ampoule and Lumiere as a gradient rainbow on the eyes. And Macaron used again for the lips.
we heartsters, what's your favorite shade? Tell us in the comments!
Latest posts by lipglossandspandex
(see all)