This post may contain affiliate links, which means I may receive a small commission, at no cost to you, if you make a purchase.
Press Sample
Lash Sleeve Mascara Review and Photos
I'm the perfect guinea pig for mascaras. With my stick straight lashes and lids that tend to get oily midday, I can really put a mascara to the test. With the summer upon us, I need something that won't stray. Beach time is here so I have to turn to my favorite types of mascara to sport on the beach.
Yes, I said it. I wear a bit of makeup to the beach. Don't say you haven't. That's why I'm way excited that Lash Sleeve Mascara has hit my vanity, ready to hit the sand, and take on summer with me.
Lash Sleeve Mascara ($15) is a summer savior. When sweat, humidity and heat are involved, I mainly gravitate towards tube mascaras. What are tube mascaras? They are made of an innovative, waterproof formula that when applied, forms tubes/sleeves around each individual lashes. No residue is left behind, and it will stay put 'til you wash it off. It's a really cool concept and it really does work!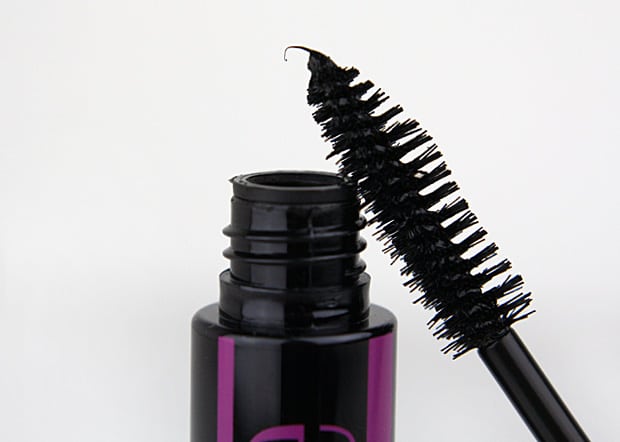 The wand is a very traditional bristled wand. While my lashes actually agree better with the shorter plastic bristled wands, Lash Sleeve's wand didn't interfere with my lashes, or get any product on my lids.
Application Tip: Try to avoid doing the back and forth wiggle move that you usually do with traditional mascaras to build up volume. Tube mascaras work way better when you go with a straight up and down application, allowing the formula to really do its work on your lashes.
Here are some before and after images for you. As you can see in the before, my lashes are very straight (and always in great need of an eyelash curler). After curling them, I then applied Lash Sleeve.
The after photo shows Lash Sleeve freshly applied on my curled lashes. I was expecting a very wet formula, but it was surprisingly quite dry (my personal preference when it comes to mascaras).
Though it was drier, the formula did weigh my lashes down a bit, causing them to lose its curl shortly after I took the photo. I have very fickle, straight lashes that can rarely hold a curl, so I would say this is most likely an occurrence that wouldn't apply to everyone.
Performance wise, it really did stay put. I walked around outside and ran errands on a sunny day, exercised inside when I got home and didn't remove my makeup until around 11 p.m. That's a solid 13 hours of wear and no raccoon eyes to be seen!
To remove, you simply need some warm water and a bit of pressure from your own fingers and then tubes slide off on their own. Like magic.
This mascara is perfect if you are looking for something simple for your lashes when you aren't seeking that va va voom look. That's why I think it's wonderful for summer activities.
Pros:
• Truly waterproof, budge proof formula
• No animal testing involved
• No makeup remover required
Cons:
• Depending on your lashes, it may not hold a curl for long
• Not ideal if you're looking for a volumizing effect
• Limited availability to purchase
You can buy Lash Mascara online at their website. What are you waiting for? Summer's coming!
we heartsters – What are your thoughts on tube mascaras?
photos: we heart this
Latest posts by mandabear
(see all)