This post may contain affiliate links, which means I may receive a small commission, at no cost to you, if you make a purchase.
Looking for Laura Mercier foundation reviews? We've got you covered!
press sample affiliate link sponsored post
One of the questions I'm asked most as a beauty blogger is "what foundation do you recommend?"
I reply with a few questions of my own relating to skin type and coverage.
But my ultimate answer ALWAYS includes three words: Laura Mercier foundation.
I've learned that the quest for flawless skin should start precisely there.
Laura Mercier Tinted Moisturizer Review
For those looking for lighter coverage, I point them towards her Tinted Moisturizer (available here).
I've been a fan from the very first moment I tried it, and it's Mercier's most renowned product with good reason.
With 15 shades to match any tone, this lightweight, buildable wonder gives customized coverage that minimizes flaws while helping skin look naturally radiant.
I and countless other devotees have forever said goodbye to mask-like foundation!
Laura has updated the classic with oil-free and illuminating versions as well, but it's the original formula that I reach for most.
But what woman (me included) doesn't have times when their skin wants/needs a bit more?
Just as you need a heavier jacket on some days, sometimes your skin needs more too. In a similar vein, the flats you wear to work are traded in for heels at night.
With this in mind, my beloved Tinted Moisturizer gets swapped for something with a bit more coverage when I'm going out or my skin is misbehaving.
For that, I look to her newest formula; Smooth Finish Flawless Fluide (available here), an oil-free foundation that is said to help blur the line between real skin and makeup.
Laura Mercier Flawless Fluide Review
I threw out all preconceived notions of what I thought foundation felt like as soon as I applied this.
It feels virtually invisible, truly the next level of lightweight!
It requires some vigorous shaking (10 times) and a few taps to activate the bi-phase, two-part formula.
Those parts?
Colour pigments that rest at the bottom of the package and reflective waters (Hydro-Brilliant Technology) that float at the top.
The shaking blends them and creates a fresh formula every time.
There are 24 shades, with detailed descriptions on color and undertone, so it's easy to pick a shade online.
But if you can get to a counter to be shade-matched, do so!
I promise you'll meet a foundation you'll fall in love with.
top: Smooth Finish Flawless Fluide in Dune, bottom: Tinted Moisturizer in Sand
Tyna visited recently and shared the tips for flawless coverage she learned from her Mercier makeup artist.
3 Tips for Laura Mercier foundation application:
1. Your hands and sponge are the only tools you need.
Laura believes your fingertips are the best tools for a natural look. Brushes can easily use too much makeup and tend to "push" foundation around, rather than blend it into your skin.
2. Tinted Moisturizer
Dab a bit of foundation or tinted moisturizer onto the back of your hand, use a fingertip to mix it up a bit, this will help ensure the color is consistent throughout, while also warming up the product for smoother application.
3. Don't Cover Your Entire Face
Most of us do not need to cover our entire face with product.
Use your fingertips or a sponge to dab the product on areas of concern, paying special attention to the t-zone, those red bits around the nose and any blemishes.
The goal is to blend those areas of concern into your complexion – not to cover the entire face in a layer of makeup.
Another tip for flawless skin?
Her Foundation Primer (available here).
Much like the Tinted Moisturizer, there are different formulas depending on your needs, all providing a smooth base for whichever foundation you choose.
So, just how does Laura Mercier know so much about skin?
Her understanding of color, texture and light began when she was as an art student in Paris. This knowledge was carried into her transition into cosmetics.
Laura's idea of a "flawless face" included skin that looked fresh, dewy, even and glowing, without ever looking heavy or made up.
Back when she began her career in the 80's and early 90's, Laura aimed to create shades that were truly classic; flattering to all women, current with the times but never trendy. In a time not known for "natural" colors in makeup (or a light touch in foundation) her philosophy took the beauty industry by surprise.
Classic is exactly how I'd describe the other products I got a chance to check out, including:
Laura Mercier Caviar Stick Eye Colour
Caviar Stick Eye Colour (available here) – creamy, blendable and long-wearing, in a gorgeous range of shades.
Caviar Stick Eye Colour Shades
Amethyst – brown-kissed plum shimmer
Tuxedo – rich black creme
Rose Gold – light rose gold shimmer
from bottom: Laura Mercier Amethyst, Tuxedo and Rose Gold
Laura Mercier Lip Glace Swatches
Lip Glacé (available here) – shiny, sheer and pretty!
Bare Baby – pale pinky nude shimmer
Orchid – rich purple berry creme
Nectar – sheer coral creme
Pink Pop – bright pink grapefruit creme
from bottom: Bare Baby, Orchid, Nectar and Pink Pop
Laura Mercier Crème Smooth Lip Colour
Crème Smooth Lip Colour (available here) – the easiest way to describe this is perfect; beautifully pigmented with a creamy rich feel.
Spiced Rose – cool, medium pink nude
Red Amour – bright, clean and classic red
Crème Coral – medium apricot
Laura Mercier Crème Smooth Lip Colour Swatches
from bottom: Spiced Rose, Red Amour and Crème Coral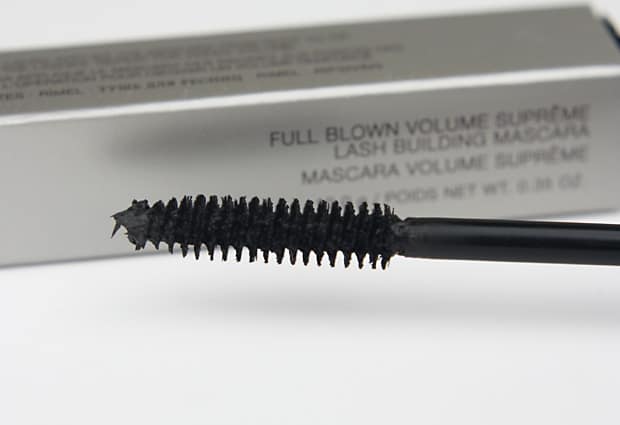 Full Blown Lash Volume Building Supreme Mascara
Full Blown Lash Volume Building Supreme Mascara (available here) – a lightweight mascara that provides thickening and lengthening, and soft and shiny lashes.
Conclusion: Laura Mercier Review
Visit LauraMercier.com, Nordstrom, Bloomingdale's or Sephora, or any of the many locations Laura Mercier is sold, so you too can have flawless and fresh face!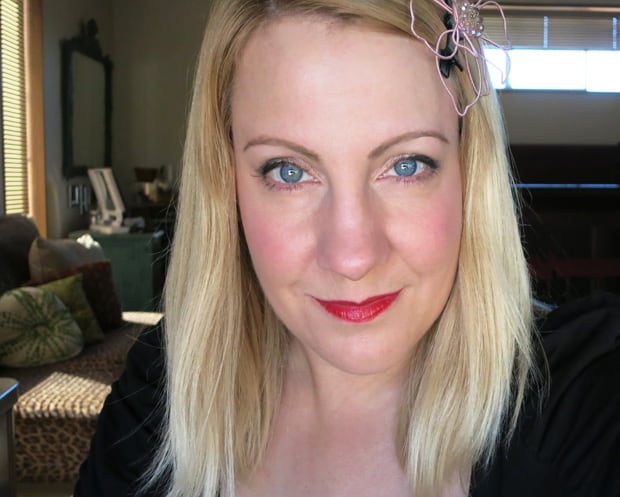 Here's my fresh face, which came in under 6 minutes flat!
I used Smooth Finish Flawless Fluide Foundation, blended Rose Gold Caviar Stick from lash line to crease and Tuxedo in the outer corners, topped it with Full Blown Lash Volume Building Supreme Mascara and applied Red Amour Creme Smooth Lip Colour.
(A quick swipe of a pink blush and some eyebrow pencil got added in the last 30 seconds.)
Do you heart Laura Mercier?
Tell us your favorite products in the comments.
You May Also Like These Laura Mercier Reviews:
"Disclosure: This post was sponsored by Laura Mercier through their partnership with POPSUGAR Select. While I was compensated to write a post about Laura Mercier, all opinions are my own."