This post may contain affiliate links, which means I may receive a small commission, at no cost to you, if you make a purchase.
Luxury and the Common Girl
It has become common for skincare and makeup lines to categorize themselves as "luxury." "Common" is, in fact, the opposite of luxury and, even as drugstore brands increase in quality and good brands become better, the meaning of luxury is sometimes lost. Le Metier de Beaute is one brand out there that continues to define the term luxury in the makeup and beauty world. Peau Vierge Anti-Aging Complex Tinted Treatment is the line's superstar, a leader on skincare and makeup fronts that has earned its stripes.
Created in 2006, Le Metier de Beaute or "The Craft of Beauty" is a fairly new brand that has risen to the top to become the crème de la crème of the beauty world, selling in many of the world's finest department stores. Marchesa has collaborated with LMdB to create haute couture palettes, while Harper's Bazaar and Vanity Fair magazines have sung its praises. InStyle magazine named Peau Vierge a Best of Beauty award in 2010, the year it debuted. The accolades and endorsements have come fast and furious, and I am about to add mine.
Peau Vierge says luxury at first sight. The slender, elegant chrome canister gives away its star status. The all-metal container won't break before you've pumped your last pump.
The Peau Vierge Anti-Aging Complex Tinted Treatment ($125) is a middle-aged girl's dream, an anti-aging complexe with a patented proprietary delivery system (Syntoc Actif) that gets the most efficacy from the active ingredients, retinol being the primary one.
Retinol has long been proven to plump and smooth skin from deep down under while stimulating collagen production. All this and tint, too! A little color will make sure you put on your best face while Peau Vierge creates a better one from the inside.
Peau Vierge does such a great job in the coverage department that this Anti-Aging Complexe is being hailed by many as an incredible foundation, too. The tinted Peau Vierge comes in three shades…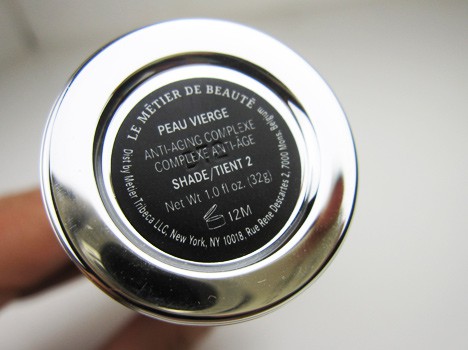 Shade 1 -very fair; peaches and cream complexions
Shade 2 – neutral beige that works for the widest range of skin tones (and is what I use)
Shade 3 – deep golden base that can be blended with deeper foundations for darker complexions
Shade 2, lightly blended
Fully blended, shown in sunlight to catch the light diffusing shimmer
Pros:
• Texture is incredibly rich yet feels lightweight on the skin
• Coverage is comparable to a light foundation; skin looks luminescent and improved immediately.
• In less than a week skin appears much more hydrated and more even-toned
• Pump dispenser is beautiful, sturdy and sanitary
• Built-in SPF
• Lasts for months
Cons:
• Some may be sensitive to Retinol, its active ingredient
• Though it does have SPF 20, sunlight and Retinol generally don't mix
• Luxury isn't cheap
Peau Vierge Anti-Aging Complexe Tinted Treatment is definitely a luxury worth exploring. I for one am chopping my weekly Champagne allowance in half to save up for my next supply. Sometimes you've just got to have beer with caviar. How common of me.
Ladies – do you save for luxuries like Le Metier de Beaute products? How much is too much?
photos: we heart this, swatches shown on NC 25/30 skintone
Disclosure: This review includes products that were provided by the manufacturer/PR firm for our consideration. It also contains an affiliate link, a link that gives us a small commission if you purchase the item. For more info, or any questions, please see our disclosure policy.
Latest posts by sherrishera
(see all)