This post may contain affiliate links, which means I may receive a small commission, at no cost to you, if you make a purchase.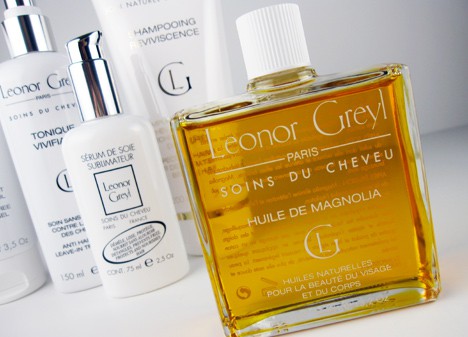 photo: we heart this
I am not fancy. And not just in a modest way, I REALLY am not fancy. Out of all the skin care products I tested, the one that my face seems to like best is a drugstore brand that we've yet to review on we heart this. Nice perfumes fade fast on me and department store lacquers polishes chip just as soon as drugstore polishes. It's irritating and it's sad, but it's the truth…my body is kinda cheap.
So I was a little worried when I received a special package from wht containing a major big deal product from Leonor Greyl.
Leonor. Greyl. As in high-end hair-care from Paris featured in major salons around the world. As in one of the pioneers in natural and botanical products with over 35 years of experience. As in regularly used by high fashion stylists on their celebrity clients. THAT Leonor Greyl.
The wht review team was getting a chance for an up close look at the exclusive hair line, and I was was excited and slightly apprehensive to be one of the lucky testers! The company has a long storied history in natural high-end haircare with innovative, destined to be classic ingredients including palm oil, wheat germ, magnolia. The entire line is safe for color treated hair and free of silicone, SLS, parabens and coal tar and, of course, not tested on animals.
Make sure to check back later in the comments to see their thoughts on lush sounding products like Huile de Magnolia ($47), a rich botanical oil blend for the face and body that is specially formulated for after sun nourishment and pampering. Or see if hair gel is making a comeback with the Gel a la Keratine ($34) which is perfect for shaping any hair type and specifically helps fine hair by adding support at the roots. And the Shampoo Reviviscence ($62), which promises aid for hair in 'desperate need' of help and even the 'lost causes'. I'm so intrigued to hear what our tester thought of this shampoo that claims to be an "incredible REPAIR treatment for the hair fiber, a miraculous conditioner, and 'healer' for dehydrated, damaged and ultra-brittle hair." Now that's some serious haircare!
As for me? Vogue products on my Pennysaver hair? Oh boy, was I in trouble. Such a serious product needed serious testing. I received the Serum de Soie Sublimateur ($42) which is designed to detangle damp hair, and to smooth and condition. I have coarse, naturally curly hair that is not really dry but prone to frizz due to its texture and breakage. No stranger to hair serums, I decided to test this two ways: on damp clean hair, and dry (but not completely clean) straightened hair.
First, the damp and clean hair. Right away I noticed the scent – a creamy jasmine with maybe a hint of lavender. A lush, lingering one that reminds me of old Hollywood, something that would be kept in a lovely glass jar on a siren's dressing table. The texture is a little thick, but not heavy. If you have thinner or greasy hair, I'd advise a very light touch with this. As for my thick mess, I applied four pumps without even blinking. Serum de Soie slipped right through my hair, not weighing it down or feeling too heavy. It kept my curls pretty well, but I have a habit of running my fingers through my hair, which ruined the effect. Had I been able to keep my hands to myself, I think it would have been better. I would rate this at 4 ½ stars, less ½ a star for a less than universal scent and texture.
On my straightened hair, Serum de Soie Sublimateur REALLY shined. It smoothed and calmed any flyaways, plus had the added bonus of adding a slight shine. Most products that add shine make my hair look glassy and artificial, but this just made it look healthy. Any product that can make my hair look healthy after I've attacked it with a straight iron gets 5 stars! – so that's the grade for my second test.
Overall I want to give this 5 stars, but Serum de Soie Sublimateur retails for more than I'd like to spend on a a product (especially one I need to use more than the recommended amount of), so let's call it 4 stars overall (more than I hoped for) from this fabulous high-end French hair-care product! Maybe there's hope for me and my Dollar Store body after all…..
Don't forget to check the comments for the we heart this review team's thoughts and experiences with their Leonor Greyl products.
Disclosure: This review includes products that were provided by the manufacturer/PR firm for our consideration. For more info, or any questions, please see our disclosure policy.
Latest posts by lyssachelle
(see all)