This post may contain affiliate links, which means I may receive a small commission, at no cost to you, if you make a purchase.
Rescuing sweaters from pills and fur one closet at a time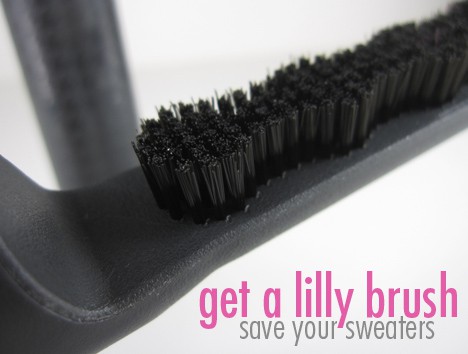 photos: we heart this
The Lilly Brush brings two of my favorite things together. I am passionate about good looking clothes and pets. Sadly, my two biggest passions are not exactly complementary, because no matter how wonderful your outfit looks, pet hair is not a good accessory. (Especially when it's on a pill-y sweater that has seen better days.)
I was so excited when I got the Lilly Brush ($12.95) in the mail. WHY, you may ask? I am the harried mother of two perpetually shedding children, Duke a harlequin Great Dane (read: gray, white and black fur) and Tuba, a very overweight orange tabby. I battle fur in every color.
Fur is a problem because it sticks to clothes, rugs and upholstery. I hate that it makes things appear unclean, unkempt and disheveled. I have unsuccessfully tried a myriad of things to keep things clean and pristine as possible. What is a girl to do?
The Lilly Brush came as a solution to my problem. Lilly Brush is a lightweight, compact bristled brush that removes lint, pills and pet hair from all natural fibers.
This brush won't damage delicate fabric and sweater weaves and does a great job of "clean up" with minimal effort. It reminds me of a modern twist on a brush my Grandfather used to use on his wool blazers.
I hate pills on my sweaters and other clothing items because they make them appear old and abused. I was shocked that with just a few swipes of the Lilly Brush that my woolens and sweaters were resuscitated. This saved me from prematurely donating the items and extended the life span of some pieces that now look practically brand new.
It also does a great job of sweeping up pet hair from clothes and furniture. I'd love to get my hands on a larger sized version for cleaning furniture, but the current size does a fine job. Once "full", the brush head is easily cleaned of fur, and is ready for more. (So much better than trying to remove fur with one of those tape lint rollers!)
Pros:
• Great Green alternative
• No batteries or refills needed
• Works with minimal effort
Cons:
• Anti-pilling only works on natural fibers not acrylic
• I wish there was a larger brush available to use on bigger jobs like my car and couch.
The Lilly Brush is also perfect to have when you are on-the-go to remove lint, fuzz and pet hair. Its sleek design and convenient portability make it easy to toss it into a purse or glove compartment.
Testers, what did you think of the Lilly Brush we heartsters, how do you keep your clothes pill and pet hair free?
Holly is a Midwestern gal living in the beautiful Pacific Northwest. She loves gardening, animals and is a skin care junkie. Holly is always on the quest
Disclosure: This review includes products that were provided by the manufacturer/PR firm for our consideration. For more info, or any questions, please see our disclosure policy. to try something new or old and live the best life possible.