This post may contain affiliate links, which means I may receive a small commission, at no cost to you, if you make a purchase.
London Calling – and it has what you need for strong nails
Color me ashamed. On a recent trip to the drugstore for nail polish remover, I went straight to the cheapest one, mistakenly thinking it wouldn't matter. "I'll save my dollars for a more fun purchases" I thought. What a fool. This bargain basement remover sucked every drop of moisture from my nails and surrounding skin. But I'm an even a bigger fool still; because I kept using it. Then wondered why my already brittle nails seemed even more brittle than usual.
Like a gift from the nail gods, my package arrived from LONDONTOWN containing the Kur System (pronounced "cure"). And I have progressively watched my nails improve with every use.
This 5-step system strengthens, hydrates and restores every part of the nail (from deep within the bed to the delicate cuticles) with a British family concoction of evening primrose oil, rapeseed flower oil, natural extracts, vitamins and minerals.
The founder's grandmother used to blend similar botanicals with oils and massage them into her hands and nails to hydrate and protect them from the cold English air. How luxurious does that sound?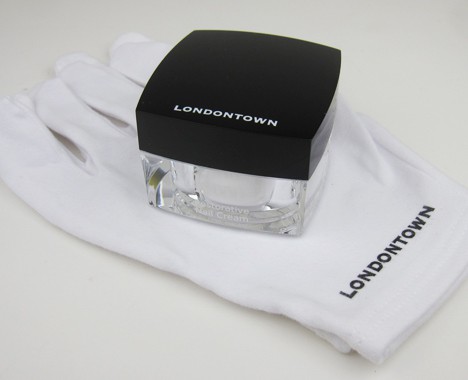 Luxurious is exactly what this set is. But it's so much more than just price (the 5-piece set is $125, though the products can be bought individually for $18 – $35.) There is just something so incredibly decedent about a matching set of nail care products. It's like the ultimate splurge. The fact that they work is just the icing on the cake. And the big sugar flowers reserved for birthday girls is that they're vegan, gluten-free and cruelty-free too!
Here's the lowdown on the products…
Shown above is the Restorative Nail Cream ($35 for 1 oz.). This deliciously scented cream (think of an English Garden) has a whipped, thick and creamy texture that penetrates nails to replenish keratin and balance the natural oils. It comes with gloves and you'll notice an improvement after just one night.
In a tie with the cream for my favorite product is the Strengthening Lacquer Remover ($18 for 4 oz.). If you would have told me a year ago I'd be buying an $18 nail lacquer remover, I would have laughed at you. But the visible difference in your nails after using this versus a cheap one is amazing. Acetone-free and enriched with vitamin and mineral extracts, I can almost hear my nails sigh after usage!
The Nail Hardener and Protective Top Coat ($25 each) carry on the good work of the other products thanks to the good for you, 5-free ingredients. Both work to create a glossy, strong nail that resists chips and peeling.
But if I had to suggest an absolute necessity of the bunch, it would be the Nourishing Cuticle Oil ($25). This instantly hydrates your nails and the rapeseed flower oil makes this as delightful to smell as it is to use. When I have a busy weekend swatching nail lacquers, a cuticle oil is a savior on tender, dry skin. And I love that you can opt for the brush or a dropper.
There's no denying that these products are expensive. I'm not going to sugarcoat it – this isn't going to be an easy purchase. But if you suffer from brittle, dry or weak nails, if you do your nails often, or if you just want to treat yourself – I can't recommend the Kur system highly enough!
we heartsters, are your nails jealous after reading this review? Which product would be a must have for you?
Disclosure: This review includes products that were provided by the manufacturer/PR firm for our consideration. For more info, or any questions, please see our disclosure policy.