press visit
One of the many great things about living in Southern California is its proximity to Las Vegas. For the majority of the country, getting to Vegas is a haul. But for us? A quick flight or drive and we're in one of the most exciting places in the US. I take advantage of this fact often. So much so that I honestly can't even count the number of times I've been to Vegas!
So when Cosmoprof North America (the largest beauty trade show in America) came into town last month, and The Palazzo offered me a room during my visit, I happily packed a bag and headed east once again.
It was my first stay with The Palazzo, but it definitely won't be my last. They're the sister property of The Venetian, a hotel I've stayed in often and loved every time. Just like The Venetian, every room at the Palazzo is a suite. The two properties are connected, and with the addition of The Palazzo, they now have not only more rooms than ANY Vegas property, they have more rooms than any property in the WORLD; over 7000!
So let's go on a tour, shall we?
As mentioned, every room at The Palazzo is a suite, none smaller than 650 sq feet. That's larger than my first apartment! I stayed in a Luxury Suite, with a step down living room, dining table and desk. It also had extravagant touches galore, like remote control curtains and THREE televisions.
I will admit, I contemplated how I could somehow steal this sofa…
But oh, the bathroom. The bathroom alone was 130 sq feet, with a private water closet, double sinks, a roman tub with separate glass shower and (wait for it…) a vanity! You don't know how happy this made this lil' ol' beauty blogger. It was the first thing mentioned when I met up with my two blogger pals who also stayed at the property: Courtney of Phyrra and Emily of Haus of Hounds.
The view wasn't too shabby either! By night, the view of the Strip shined like only the Strip can. And by day, I overlooked the 10 pools that cover over 1 acre of the two hotels. And that's exactly where we headed first.
We were lucky enough to have a private cabana at The Aquatic Club, one of the more secluded pools with atmosphere to spare and a retro vibe. I don't know if it was the old school hip hop the DJ was spinning, the colorful graphic murals on the cabana walls or the fabulous cocktail menu, but I could have stayed there for the full three days!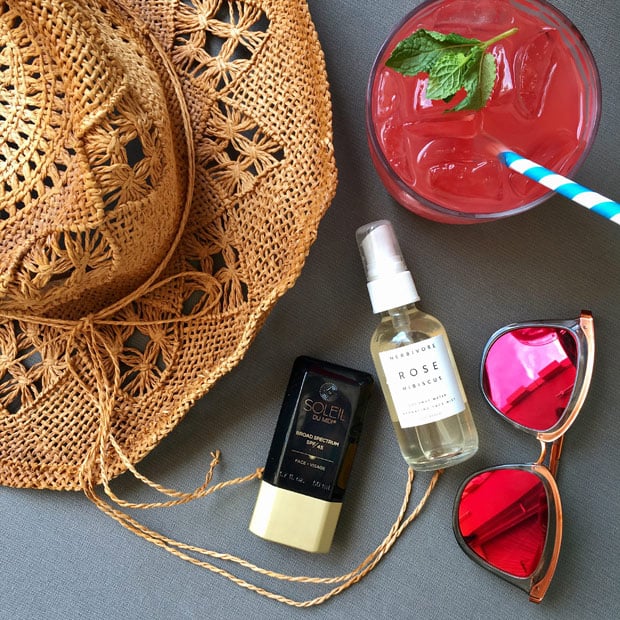 I always try to match my drink to my sunglasses…
Plus, any day that I can have a cocktail served in a fresh fruit bowl is a good day! Emily and I ordered the Tee Time (Absolut Lime, Pok Pok Ginger, Fresh Watermelon Juice, Fresh Lime and Mint) and the Santa Clara (Plantation Pineapple, Banana Liqueur, Fresh Lime and Brazilian Purée) served in a mini watermelon and pineapple.
We were total ballers and ordered a sushi platter too! A shout out to the amazing staff there as well. Our waitress Jessica was so attentive and an absolute sweetheart. Ask for her if you go, especially if you're an animal lover (we bonded over that.)
After some quality time spent at our vanities in those beautiful bathrooms, it was time for a show. I LOVE seeing shows in Vegas, it adds so much to the experience. Lucky for us, The Palazzo has an amazing one: Baz – Star Crossed Love (which just celebrated its one year anniversary.) This musical cabaret is based on three Baz Luhrmann classic films: Romeo + Juliet, Moulin Rouge and The Great Gatsby (that's Daisy, Juliet and Satine in the photo above).
The music, the costumes, the performances; all brilliant! The theater itself is fab too, the way the tables are set up the show surrounds you (some guests even sit ON the stage.) If you're like me, a fool for tragic love stories AND musicals, I highly recommend it.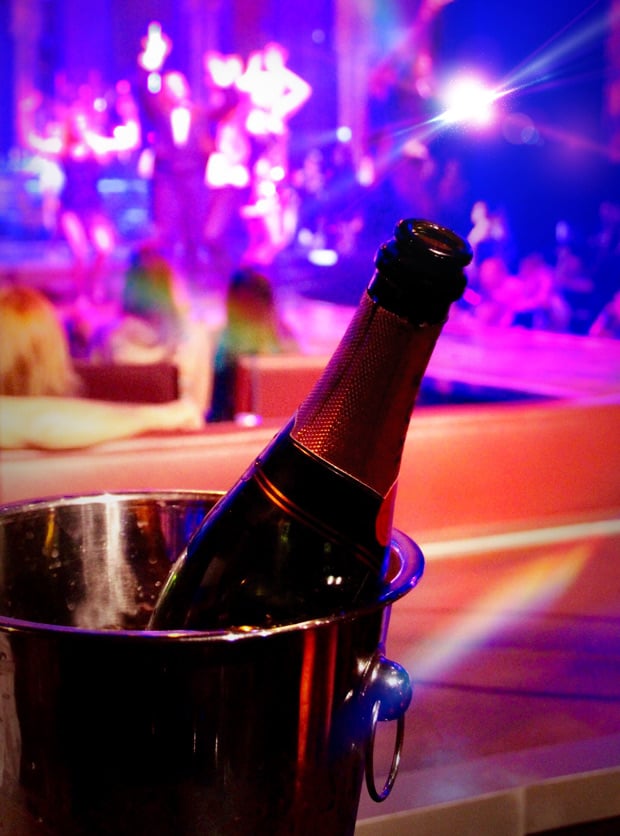 Champagne and a show…
Being total creatures of habit, we found a bar and a restaurant we loved and that's where we went EVERY night. The bar was The Dorsey, which if you haven't heard about yet, you will soon (and not just from me.) It has has some huge names in New York nightlife behind it and you see the influence the moment you enter. The place drips with elegance! Rich tones, plenty of dark corners and the single most stunning punch bowl I've ever seen; a copper swan with matching mugs.
I wish I could say we explored the more than 40 restaurants within the two properties. But once we found SUSHISAMBA we just couldn't quit it! A mix of Brazilian, Peruvian and Japanese, we enjoyed everything we ordered, like the Crispy Yellowtail Taquitos shown above.
But OMG, the Sea Bass…the Miso-Marintaed Chilean Sea Bass! I guarantee I could text either Courtney or Emily right now with just the words "Sea Bass" and their mouths would start to water.
Next time I will make myself branch out more, as there are four James Beard Award-winning chefs at The Venetian and The Palazzo (Wolfgang Puck, Mario Batali, Emeril Lagasse and Thomas Keller).
photo by Phyrra
Shopping in Vegas is always fun, but I must say it's stellar at The Palazzo and The Venetian. The Atrium is really unique; a meandering luxury shopping hall where you'll find MAC, Tom Ford, Burberry and more, and it's practically required that you stop for a sip of champagne in the midst of it.
But, The Venetian is also home to my all-time favorite Sephora (it is HUGE.) And there are few things I love more than a tipsy Sephora visit. That's Emily and me about to head in on the photo above.
There are two impressive art installations that you'll want to see as well. Another Sky is in the Waterfall Atrium of The Palazzo. It has approximately 3,500 satin ribbons (that's 33 miles of ribbon!) hanging from the 55 foot ceiling in 15 colors ranging from navy to plum to turquoise to emerald.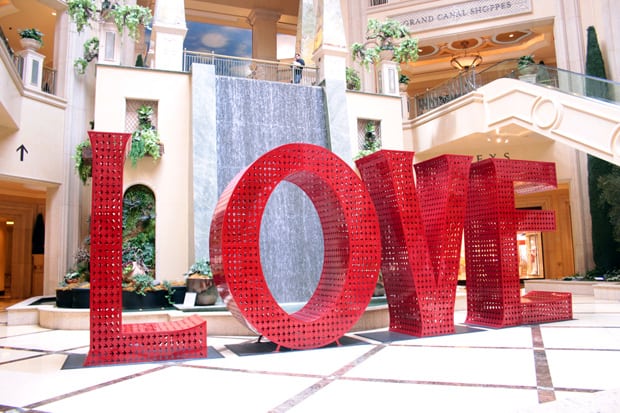 And finally, standing at 12 feet tall and 36 feet wide is the steel LOVE sculpture by Laura Kimpton. It's just begging for selfies, which is exactly what Courtney and I did when we set up shop for awhile right in the "E".
If you're looking for Vegas glamour, look no further than The Palazzo and The Venetian.
Stef is many things. Amongst them: editor-in-chief of we heart this, photographer, condiment connoisseur, Philly girl in the California desert, borderline hoarder and a hardcore beauty junkie. She's also got a touch of wanderlust…
skin tone: NC 25/30
skin type: oily with a fear of rosacea
favorite beauty product: high end skincare and lip products
Stef is a plethora of things. Amongst them: co-founder of we heart this, photographer, condiment connoisseur, Philly girl in the California desert, borderline hoarder and a hardcore beauty junkie. She also has a touch of wanderlust and, arguably,
the cutest dog in the whole world
...
skin tone:
NC 25/30
skin type:
oily with a fear of rosacea
favorite beauty product:
high end skincare and lip products