This post may contain affiliate links, which means I may receive a small commission, at no cost to you, if you make a purchase.
A Dependable Brand Proves Its Worth
Some makeup brands are so iconic that I never have a second thought about reaching for something new of theirs at the drugstore. I mean, before entire stores became dedicated to pricey brands, and dropping a couple of Benjamins for some face paint became d'riguer, I shopped the mean streets of my local pharmacy.
L'Oreal is one of those old school, dependable brands. Long ago they kept telling me "I'm worth it," and it struck a chord of luxury—not bargain—with me. In fact, they've got some serious game in the current competitive cosmetics realm. I recently sampled L'Oreal's Brow Stylist Prep & Shape Pro Kit as well as their Infallible Pro-Contour Palette, and I found there's real quality in them than reasonable prices.
Light to Medium, and Medium to Dark
First, let's talk brows. The L'Oreal Brow Stylist Prep & Shape Pro Kit ($14) has everything you need to create a perfect brow: tinted wax, powder, slanted brush, spoolie—even tweezers! First, tweeze stray hairs with the tiny tweezers, and then use the tinted wax to define and control your brows. Lastly, fill in with the powder and brush with the spoolie for a flawless and fully groomed look. This kit is on par with all the more expensive wax and powder kits, staying put and looking fresh all day long.
The tools provided, while effective, fall prey to drugstore brand problems. Namely size. The tweezers as well as the double-sided angle brush/spoolie are each two inches long. While they do the job (and travel well), I recommend using full-size versions of both. Two inches isn't very long when considering sausage fingers (like mine) or long nails! The Brow Stylist Prep & Shape Pro Kit is available in two color palettes: Light to Medium, and Medium to Dark.
Light to Medium, and Medium to Dark; swatches show tinted wax, powder, then mixed
That brings me to L'Oreal Infallible Pro-Contour Palette ($12.99), available in three, two-color combinations for light, medium, or dark-toned skin. Here we have a relatively small pan (1 1/2X 2 inches), consisting of two triangles of color: a darker, bronzing color for contouring, and a lighter, shimmery shade for highlighting. The powder itself is finely milled and silky smooth, just like its much pricier, haute counterparts in the department and specialty stores. The problem is that there simply isn't enough of it.
Once again, the brush provided, while unique, is largely ineffectual. A small brush, flat and wider than it is long, fits into the compact. The brush is shaped with a "V" cut into the bristles, seemingly to deposit highlighter to the top areas the brush hits (like the top of your cheekbones), and darker, contour color beneath (like the hollows of your cheeks).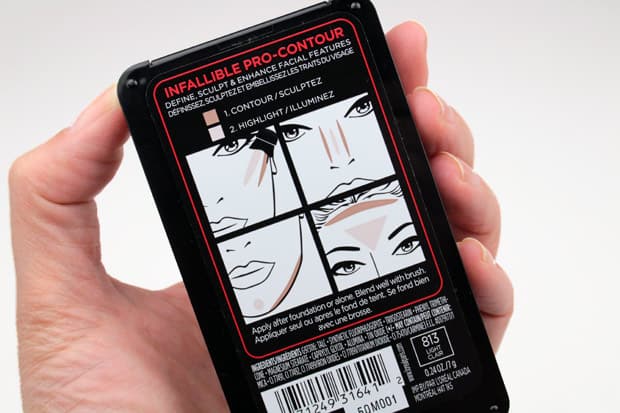 Surprisingly, it works better than I anticipated. Still, I'd much rather use my own contour and highlighting brushes to avoid the embarrassing streaking of small face brushes. Of course, if using larger brushes with a palette as small as this, you would be better off blending the two colors for a bronzing effect.
Light and Medium
Again, L'Oreal Infallible Pro-Contour Palette is a fine quality product with a less-than-stellar applicator. I would recommend this for contouring novices since the brush does help one to know where a highlight should be, and where shadows fall. Just make sure to double check the mirror and blend, blend, blend with your own brush before you leave the house!
Light and Medium, swatches show contour then highlight shades
All said, L'Oreal is really dishing out good products at reasonable prices. Who isn't worth that?
we heartsters, what are your long time favorite drugstore brands? Have they kept up their game?
Latest posts by sherrishera