This post may contain affiliate links, which means I may receive a small commission, at no cost to you, if you make a purchase.
Celebrating color and its everyday expression
I've been saying it a lot, and I'll keep saying for as long as they keep it up: the drugstore brands are REALLY upping their game. The high-quality, unique formulas and the wide range of colors are totally making drugstore brands competitive with their more expensive rivals, and I LOVE it.
L'Oreal is already a budget beauty lovers favorite because of their Infallible shadows, which were a total game changer. And now they've come out with another new formula; the L'Oreal Colour Riche Monos eye shadow. Available in fifteen matte and shimmer shades, these Monos have an "infused gel technology" which gives them a beautifully smooth texture that's very unique. And at $5.99 for 0.12oz of product, it's no wonder people are in a frenzy to get their hands on every single one.
Grand Bleu
Violet Beaute
The instructions on L'Oreal's website specify using your fingertip to apply the shadow directly onto your lids, making it super easy. This method is best for those who just want a single wash of color on their lids, since it's a little difficult to do numerous colors and shading with your fingers. If you prefer not to stick your fingers into your makeup, I would suggest a dense eyeshadow brush or a sponge applicator, but the color will be much more sheer than if you had used your fingers.
The shades used in this look
Browbone: Little Beige Dress
Lid: Pain Au Chocolat
Crease/outer V: Quartz Fume
Lower lashline: Noir Cest Noir layered with Quartz Fume
All of the shadows had a really buttery, velvety soft formula that felt incredible. The finishes were labelled matte or shimmer but there were some that felt more like a satin finish (and we're labeling them as such on the swatches).
The level of pigmentation varied quite a bit between shades, but they were all a bit sheer upon application. To get the intensity of color that you see in the pan, I had to swirl my finger around on the shadow quite a bit, and then gently swipe a layer of color on, and repeat. If you're too firm with your application, it will wipe the previous layer of color off.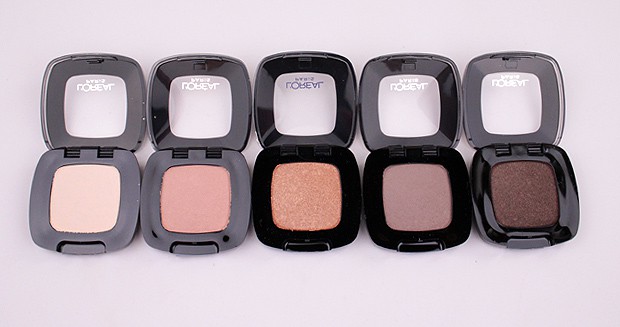 L'Oreal Colour Riche Mono Eye Shadow swatches
200 Paris Beach – pale nude satin
201 Little Beige Dress – pale taupe satin (you'll use this over and over)
202 Sunset Seine – light peachy copper shimmer
203 Cafe Au Lait – light milk chocolate satin
204 Quartz Fume – warm brown shimmer (beautifully pigmented)
Paris Beach, Little Beige Dress, Sunset Seine, Cafe Au Lait, Quartz Fume
205 Petite Pearl – pearly white shimmer
206 Mademoiselle Pink – pale pink satin
207 Pain Au Chocolate – silvery taupe shimmer (one of my favorite of the bunch)
208 Violet Beaute – burgundy with fine gold shimmer
209 Noir C'est Noir – inky black matte (I love the pigmentation on this one. It 'skips' a little when you're applying, so more than one swipe of color is needed, but once you do, it's a really rich shade of black.)
Petite Pearl, Mademoiselle Pink, Pain Au Chocolate, Violet Beaute
210 Argentic – silvery grey shimmer
211 Grand Bleu – metallic cobalt shimmer
212 Green Promenade – sage shimmer
213 Teal Couture – bright teal shimmer
214 Meet Me in Paris – dove grey matte
Argentic, Grand Bleu, Green Promenade, Teal Couture, Meet Me in Paris
The shades used in this look
Browbone: Little Beige Dress
Lid: (none)
Crease: Argentic
Upper lashline accent: Grand Bleu
Lower lashline: Grand Bleu
The Infallible line is still my favorite option for L'Oreal eye color, since I prefer to use brushes.But if you like a quick swipe of a single color across your lids, and using your fingers sounds perfect, the L'Oreal Colour Riche Mono is totally meant for you!
Marilyn is a makeup maniac and slow but stubborn runner. She loves color coding her day planner, reading celebrity gossip and drinking good wine. Marilyn blogs about makeup and fitness over at her blog, Lipgloss and Spandex.
skin tone: NC25
Skin type: oily, acne-prone
Favorite beauty product: eyeshadow
Latest posts by lipglossandspandex
(see all)