This post may contain affiliate links, which means I may receive a small commission, at no cost to you, if you make a purchase.
I love seeing drugstore brands, like L'Oreal push to expand their lines by offering more products, new formulas and increasing their color selection. I think it's great that they've stepped up their game to the point where they're actually competing with some high-end brands.
L'Oreal is definitely attempting to take a big step in that direction by releasing their collection of Colour Riche Ombre Quad eyeshadow palettes ($9.99), with each compact containing four unique shades. That's a lot of color!
Feeling a little intimidated by the gorgeous swirling hues? The Colour Riche Ombre Quads contain directions on the back of each palette – which colors to use where – to help you utilize all four colors into a sophisticated look. Of course, you can also mix things up and use them any way you want.
I had the opportunity to test four of the new L'OrealColour Riche Ombre Quad eyeshadow palettes, and we swatched seven of them.
Rose Nude
300 Rose Nude contains four satin-finish colors: a light peachy-pink shade, a warm camel shade, a warm rose shade and a deep brown shade. It's a very nice basic set of colors, especially for the workplace.
Rose Nude swatches
Wearing Rose Nude
A closer look at Rose Nude
Absolute Taupe
250 Absolute Taupe has a cool ivory and a cool taupe (which were both shimmer/satin), a warm camel and a deep brown shade (which were both almost matte, but with a very slight sheen).
Absolute Taupe swatches
This one is definitely a good basic palette that's versatile enough to create a natural look and a bold look. It's a good "emergency" palette! And the L'Oreal Silkissime eyeliner in Gold pairs nicely with either of these two neutral palettes, particularly on the lower lash line, paired with some of the dark brown eye shadow blending into it.
Wearing Absolute Taupe
A closer look at Absolute Taupe
Eternal Blue
280 Eternal Blue is great for making a dramatic blue eye with a frosty white shade, a frosty light blue, a satin medium navy and a satin blackened navy.
Eternal Blue swatches
This palette pairs well with L'Oreal's Silkissime eyeliner in Cobalt Blue, which adds a nice bright pop of blue to my lower waterline and lash line!
Wearing Eternal Blue
A closer look at Eternal Blue
Incredible Grey
260 Incredible Grey is perfect for the classic smoky eye, with frosty white, silver, gunmetal grey and black.
Incredible Grey swatches
Wearing Incredible Grey
A closer look at Incredible Grey
I paired all of these looks with L'Oreal's Voluminous Butterfly Mascara in Midnight Black ($8.49). Although I was wary of the brush shape at first, I definitely grew to like it, since I felt that it offered more options for applying mascara since you could get all of your lashes by angling the mascara wand in different ways.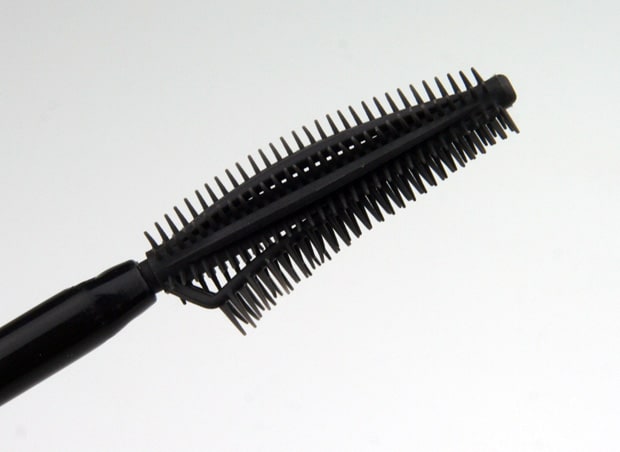 The brush did seem to deposit quite a bit of mascara, so I had to be a little careful about not getting clumps. The formula seemed great though – when layered on thinly, it added both volume and length nicely. It was ever so slightly irritating to my eyes though.
It's awesome that each of these little eyeshadow compacts are affordable and easily accessible. Each of these palettes has a mix of satiny and shimmery shades to them.
The clear front of each mini-palette allows you to easily see which colors you're grabbing, and a mini dual-ended sponge tip applicator is enclosed. Although I rarely end up using those little applicators, they are nice to have on hand when you just want to toss a few makeup items into your purse. And these are particularly nice.
Treasured Bronze
Treasured Bronze swatches
I do wish that the pan shapes for each color was round or square, and not quite so close together. It was a little difficult to really swipe my eyeshadow brush across one color, without getting a bit of another color on the brush as well.
Unforgettable Lilac
You'll want to use eye primer (which I always do anyway, regardless of the brand of eyeshadow). I got the most pigmented results by applying them with a dense brush and layering until the desired color is obtained.
Emerald Conquest
Emerald Conquest swatches
There was ZERO creasing – YAY! – and just a very slight amount of fading by the end of a long day at work and the gym.
Overall, the L'Oreal Colour Riche Ombre Quads are a good value for people looking for multiple colors that pair well together. Grab your favorite on your next drugstore beauty run!
we heartsters – Which L'Oreal Colour Riche Ombre Quad is your drugstore beauty must have?
photos: Stef and Marilyn for we heart this
Marilyn is a makeup maniac and slow but stubborn runner. She loves color coding her day planner, reading celebrity gossip and drinking good wine. Marilyn blogs about makeup and fitness over at her blog, Lipgloss and Spandex.
skin tone: NC25
skin type: oily, acne-prone
favorite beauty product: eyeshadow
Latest posts by lipglossandspandex
(see all)