This post may contain affiliate links, which means I may receive a small commission, at no cost to you, if you make a purchase.
Drugstore Makeup Must Haves…if you can find them!
For Spring 2015, L'Oreal has come out with their very first matte-finish liquid lip color: the Infallible Pro Matte Gloss. You may be thinking, "Matte AND gloss? What doesn't that even MEAN? Isn't 'matte gloss' an oxymoron? How would that even work?!" Honestly, I didn't quite understand until I tried it for myself.
The L'Oreal Infallible Pro Matte Gloss initially applies with a slightly wet, glossy finish and dries down to a demi-matte finish. It's not like any other liquid lip colors that I've tried; with a consistency and feel in between a gel-stain and a long-wearing liquid lipstick, and packed with pigment but still having a good amount of translucency to it. Even with multiple layers, it doesn't reach the level of opacity of a truly matte finish lipstick nor a matte finish liquid lip color.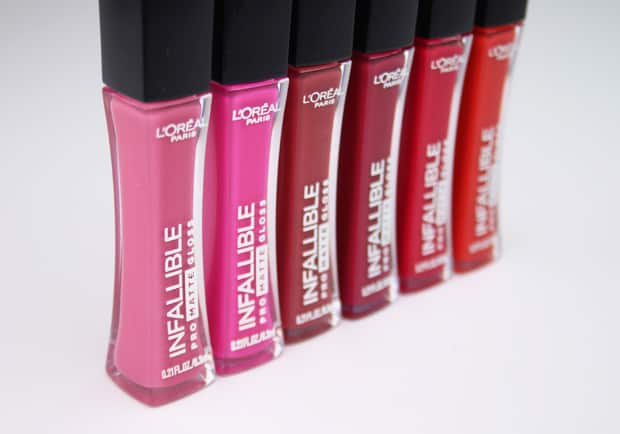 The applicator is a flocked teardrop shape. I haven't seen too many other glosses with this type of applicator. I was skeptical at first, but quickly fell in love with them. They are perfect for applying just the right amount of Matte Gloss, getting your lips lined precisely with the pointed tip and edge, and spreading the gloss evenly and quickly with the flat side.
The Pro Matte Gloss also has a sweet, slightly perfumey scent to it. I didn't mind the scent too much, especially since after a few minutes it had mostly dissipated.
I felt like the formula was neither drying nor moisturizing, but it had a very nice feel on my lips, and it doesn't have that tendency to "ball up" like some long-wearing liquid lipsticks do. These do a good job of staying put, and stain my lips slightly, although it does tend to fade in the middle a little faster than I would prefer. Still, I would say these are a great option for people who prefer to apply lip color using a liquid product with a wand, or for anyone nervous about their bright colored lip product smudging. It will transfer slightly on to a glass or napkin, but it does a nice job of staying put.
There are six shades of Infallible Pro Matte Gloss, and I had the opportunity to try three.
Blushing Ambition, Fuchsia Amnesia and Nude Allude
Shown from left:
Blushing Ambition – A cool medium pink.
Fuchsia Amnesia – This Barbie-esque hot pink color is really pretty, and very bright. Definitely one that will get you noticed!
Nude Allude – Not nude at all, it's a very pretty medium reddish brown.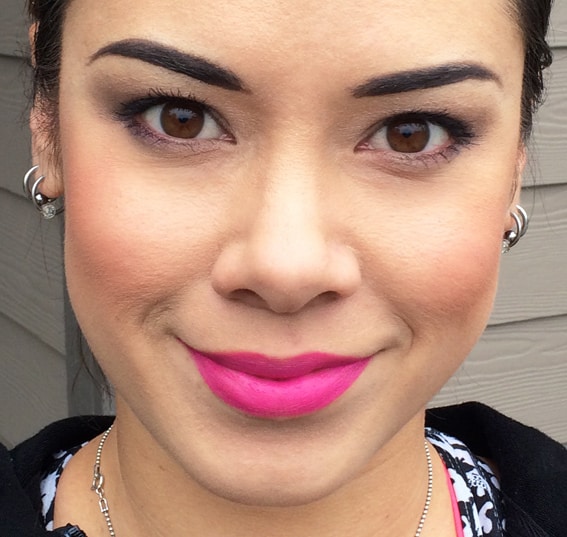 Fuchsia Amnesia applied
Rouge Envy, Aphrodite Kiss and Tantalizing Tangerine
Shown from left:
Rouge Envy – A classic, cool-toned red that is simply glamorous. A good basic bold red, particularly for those nervous about trying a red lip, since this won't budge once it sets.
Aphrodite Kiss – Neon reddish pink (the color our co-editor Stef couldn't pass up!)
Tantalizing Tangerine – This orange-red is gorgeous, and perfect for summer. It's bold and flirty.
Rouge Envy and Tantalizing Tangerine applied
If you tried the L'Oreal Colour Caresse Wet Shine Stain, these are similar in terms of initial texture and applicator, but with a matte finish instead of a glossy finish. Additionally, the Infallible Pro Matte Glosses aren't streaky at all, while I feel that the Wet Shine Stains are very streaky. I definitely feel that the Infallible Pro Matte Gloss formula is much better overall.
If I were to rename these, I would say they're translucent matte liquid lipsticks, but to sum them up in two words, I'd say they're "pretty neat." I definitely prefer them to lip stains in terms of pigmentation, but personally, I prefer a true matte lipstick in a tube.
This limited edition product is no longer listed on the L'Oreal website, but you may still be able to find it at your local drugstore. They're worth purchasing if you can get your hands on them.
Marilyn is a makeup maniac and slow but stubborn runner. She loves color coding her day planner, reading celebrity gossip and drinking good wine. Marilyn blogs about makeup and fitness over at her blog, Lipgloss and Spandex.
skin tone: NC25
Skin type: oily, acne-prone
Favorite beauty product: eyeshadow
Latest posts by lipglossandspandex
(see all)