This post may contain affiliate links, which means I may receive a small commission, at no cost to you, if you make a purchase.
Lip crayons. They are the simplest, fuss-free way to get a good dose of color on those lips. Beauty trends come and go, but I think there's a reason why lip crayons are still around.
They really do make life so easy. The tips are more slender than your standard lipstick and the longer size makes them easy to hold.
I've been obsessed for years now, and I love seeing how different brands reinvent their version of the lip crayon. L'Oreal Glossy Balms (available here) are some of the latest drugstore selections that's not only super accessible but also wallet-friendly.
So how did they weigh in?
L'Oreal Glossy Balms Review
I was lucky enough to try quite a handful of these Glossy Balms (around $7.99 each), which is a great way to see any formula variations between the shades.
With these balms, L'Oreal is offering pigmentation and shine with smoothing and conditioning properties.
At first touch, the packaging for these balms felt a lot like ones I've tried that cost not only double, but triple the price.
I'd say L'Oreal is true to their word about them being pigmented glossy balms. The keyword is balm here.
I was definitely pleased with the pigmentation of these.
However, they are not sticky so don't expect them to last for hours and hours.
They'll last through your work presentation, but through lunch? Probably not.
Color-wise, they are quite true to the colors of the tube. I would say they are slightly sheerer versions of the color you see on the tubes.
I know It's hard to purchase things blindly at the drugstore. I totally understand this dilemma that occurs during every trip to the makeup aisle. But fear not with these balms!
L'Oreal Glossy Balm Shades
We received the following shades:
200 Lovely Mocha – pink nude
210 Ginger Candy – light peachy nude
220 Innocent Coral – pink grapefruit
230 My Babydoll – cool, bright blue pink
240 Pink Me Up – hot pink
250 Baby Berry – bright raspberry pink
260 Vintage Rose – sheer plum rose
270 Petite Plum – deep plum
L'Oreal Glossy Balm Swatches
L'oreal Glossy Balms: Lovely Mocha, Ginger Candy, Innocent Coral, My Babydoll, Pink Me Up, Baby Berry, Vintage Rose, Petite Plum – indoors
I tested a number of these balms and I'm loving Lovely Mocha, a pinky-brown that makes the most perfect MLBB (my lips but better) for me. I've been rocking this one every day.
Ginger Candy, a sheer nude pink, is perfect for those who are scared of nude shades washing them out.
And My Babydoll, a super girly bubblegum pink, is pretty and blendable.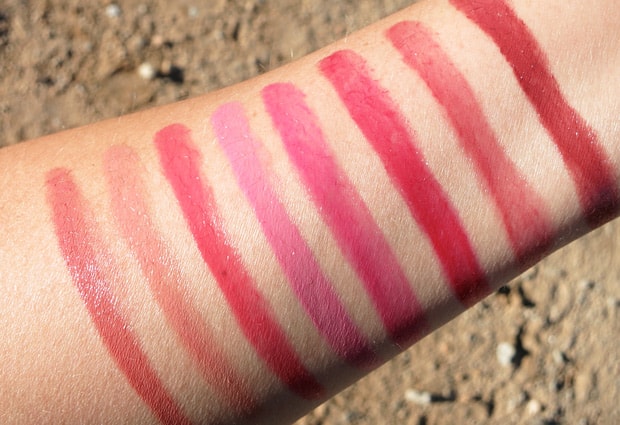 L'oreal Glossy Balms: Lovely Mocha, Ginger Candy, Innocent Coral, My Babydoll, Pink Me Up, Baby Berry, Vintage Rose, Petite Plum – in sunlight
I'm smitten with Pink Me Up, a bright fuchsia that can be applied effortlessly for a pop of color. This one has great pigmentation for sure.
Meanwhile Vintage Rose is a lovely rosy shade that is super flattering without being too showy.
Based on experience, my advice to those looking to try these: don't build on the color.
One layer is ideal for these because the formula does travel.
If you're not careful it can feather, smudge away or get on your teeth (yup, that happened to me). The color payoff is lovely but prone to budging.
While I'm okay with the shorter staying power of these balms, I must say my least favorite thing about them is the scent.
I think L'Oreal had intended on these to be unscented, which they sort of are, but they produce a bit of a plastic-y smell that I don't hate…but I don't love. I can live with it though. The scent doesn't linger for me.
While the L'Oreal Glossy Balms (purchase here) have their pros and cons, I think the true winning feature here is pure ease. I can grab it from my makeup bag when I want to look a bit more polished in just a few seconds.
I think the price is right and if you're a savvy shopper who coupons or waits for sales, you can definitely hit an even bigger jackpot with these!
we heartsters – Will you be getting in on L'Oreal's new addition to the lip crayon craze?
photos: we heart this, swatches shown on NC25/30 skin tone
Latest posts by mandabear
(see all)