This post may contain affiliate links, which means I may receive a small commission, at no cost to you, if you make a purchase.
Want to try M-61's Hydraboost moisturizer and eye cream? Check out what we think in this Hydraboost review.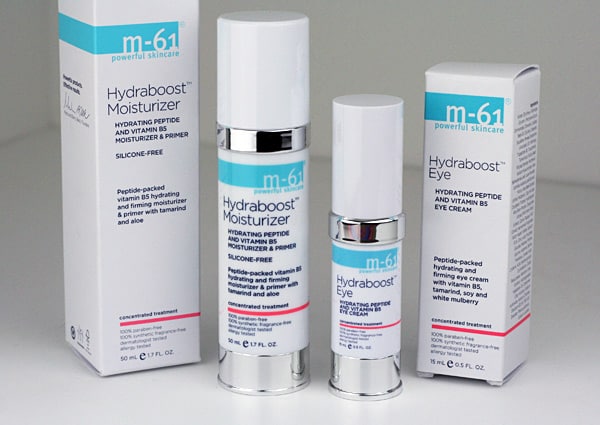 Bluemercury is an awesome beauty boutique – not in a beauty superstore sort of way, but rather in a tried-and-true amazing product sort of way.
Just like your favorite clothing boutique stocks the designers you want to wear, Bluemercury stocks the beauty products you want to use.
With pricing ranging from bargain to blistering, the one thing that can be agreed upon is the quality of the merchandise.
It was only a matter of time before they developed their own signature beauty line, M-61 Skincare, and it is in keeping with their unwavering tradition of quality.
M-61 Skincare Review
M-61 Skincare is a line consisting of cleansers, masks, moisturizers and serums that use organic and chemical compounds to create products with incredible efficacy.
All of M-61's ingredients are in the purest, most highly concentrated form possible. Of these I have tried the Hydraboost Moisturizer as well as the Hydraboost Eye.
The pleasure was definitely mine.
The line was born when Marla Malcolm Beck, founder and CEO of Bluemercury, noticed customers wanting products that utilized modern technology but were as natural as possible. So, the boutique owner became a designer.
Beck got together with a bunch of scientists and developed a line with plant-based ingredients as well as powerful chemical agents.
M-61 Hydraboost Moisturizer Review
The Hydraboost Moisturizer ($72) and Eye Cream that I tried are packed with hydrating vitamins B5 and E, skin plumping hyaluronic acid, and tamarind and aloe, plants long believed to relieve sun damage.
Paraben-free and packed with peptides, they work.
I can count on my hand the number of moisturizing or skincare products that I have tried that have been truly outstanding.
Most of these I can't afford on a regular basis. There have been quite a few that work very well. Some (even some pricey ones) haven't worked at all.
Bluemercury's M-61 is in my all-time top three, and – even at its price point – is the biggest bargain.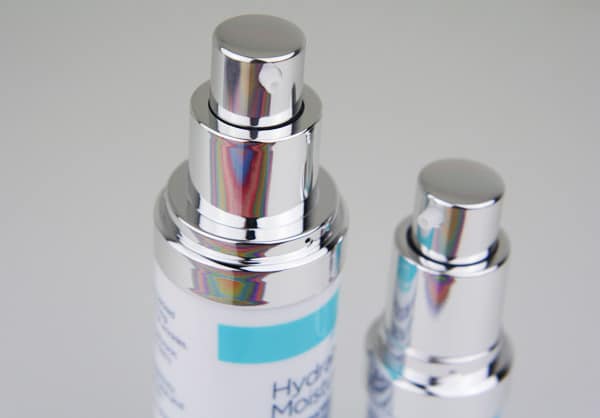 Both the moisturizer and eye cream are remarkably light and non-greasy.
There are anti-inflamatories in all M-61 products that calm the skin. My face really enjoys this. Redness is greatly reduced, as are sunspots and freckles. Crepiness is replaced with plumpness.
Skin certainly looks more youthful in a noticeable way.
How big is the difference?
Even my husband noticed.
That's big.
Want another one?
I went to work without foundation.
That's HUGE.
M-61 Hydraboost Eye Cream Review
I was a little less diligent using the M-61 Hydraboost Eye Cream ($78), as it's just one of those specialty products I never really use (though I have many).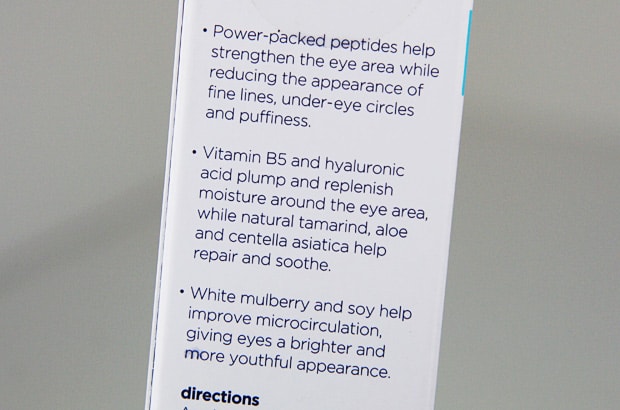 Still, the eye cream is light and refreshing where as I usually find eye creams heavy and irritating.
Designed to help strengthen the eye, reduce appearance of fine lines, under-eye circles and puffiness, while brightening the eye area, this cream does it all.
If you love eye products definitely give this one a go.
Bluemercury, I've loved you for years and M-61 Skincare is giving me new reason to share the love.
Signed, a trusting fan.
Have you tried the M-61 Skincare line from Bluemercury?
photos: we heart this
Latest posts by sherrishera
(see all)