This post may contain affiliate links, which means I may receive a small commission, at no cost to you, if you make a purchase.
Comic book geeks go chic with MAC's latest collection
As a self-confessed comic book geek, my love for the funny pages didn't start in some dark, cramped comic book store; it began in the checkout line at the grocery store. There, nestled next to the Snickers bars and lip balm, was an Archie Comics Digest. Though I often strayed with Katy Keene or Josie and the Pussycats, Archie and his pals and their wacky adventures were often my companion on the bus ride home from middle school.
And I'm not alone; Archie Comics have sold more than 2 billion issues and are distributed in dozens of languages worldwide. Archie Comics started in 1941 as a comic about a relatable character that readers could identify with. Soon the comic grew in popularity, spawning several titles, spin-offs, cartoon and even several albums. (You're humming Sugar, Sugar right now, aren't you?)
Waxing and waning in popularity, Archie came back in a big way recently with the popularity of geek culture and comic books in general. Though the title came from the ginger boy next door, we all know why some of us read the ubiquitous comic – Betty and Veronica. Whether you identified with the sweet blonde Betty or the spoiled raven-haired Veronica, these lovely ladies were the ultimate teens.
The team at MAC agrees and have launched the Archie's Girls, a limited edition line that captures the essence of both of our favorite ladies from Riverdale High. I was lucky enough to test the Archie's Girls Nail Lacquer and as a MAC fan and a nail polish junkie, I was ecstatic. These would be my first MAC polishes and my expectations were high.
First, let's talk packaging. One of my favorite things about MAC limited editions is the packaging is often just as good as the product itself. The Archie's Girls boxes are adorable and I do enjoy the white caps instead of the usual black, but I was really hoping that Betty and Veronica's faces would be on the bottles! It's a minor detail, but it would have really razzed my berries, as Archie would say!
Both Betty and Veronica have two polishes ($17.50 each) in their collection (all creme finish, no sparkle for these clean teens!)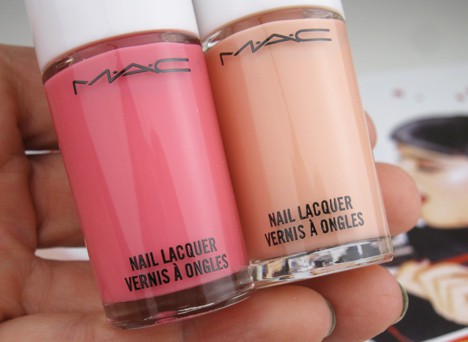 Comic Cute – bright yellow pink
Pep Pep Pep – light apricot nude
Archie's Girls Veronica Nail Lacquers:
Past Curfew – deep berry
Double Trouble – bright navy
Pep Pep Pep
As a Betty girl, I immediately reached for Pep Pep Pep, a creamy peach. Being a light neutral, it applied fairly thin and streaky. I had to use three thick coats to get full opacity, but the formula seemed to dry faster than most polishes so this wasn't too much of a problem.
Comic Cute
Stef tried Comic Cute. Be sure to check the comments to see what she thought of this bright coral, ann oh so ready for spring shade.
Past Curfew
A Veronica color, Past Curfew is a really lovely dark berry that applies and dries like a dream. It's a gorgeous solid color that is fun, but still tame enough for those who don't want to get too wild with their nails.
Double Trouble
But my flat-out favorite was Double Trouble. This deep navy was just gorgeous, dark but still bright and eye-catching. Maybe I'm more of a Veronica than I thought…
I got really great wear out of these polishes; after five days there was some tip wear but no chips. And I'm HARD on my nails – we're talking doing dishes and scrubbing sinks without gloves and letting a teething baby chew on my fingers. If the polish can stand up to my punishment, it can stand up to anything.
My only issue with these polishes was the brush, which reminded me of the kind that come with elementary school watercolor kits, thick and bristly. The formula is a dream, but the brush makes it harder to apply and creates streaks in soft colors like Pep Pep Pep. At this price point, I expect more.
Overall, I really think MAC has hit it out of the park with Archie's Girls. It's a fun and unexpected theme for a makeup line and it captures the spirit of Betty and Veronica perfectly. If the brush quality were improved, this would be an automatic five star review, no questions asked. However, they're still great colors with incredible wear.
we heartsters – Who else is over the moon for this new MAC launch? Let's hear from all our Betty girls and Veronica vixens on which color makes you flip, daddy-o!
Archie's Girls Nail Lacquers
Betty:
Pep Pep Pep – Light peach nude
Comic Cute – Bright coral
Veronica:
Past Curfew – Deep berry
Double Trouble – Deep navy
$17.50 US/$21 CDN
Alyssa is kinda geeky, kinda girly and all the way in love with her cowboy husband who can say words like, "ornery" with a straight face. She live in Texas and is working on her Masters, being a good cook and the art of looking cute in the morning AND being on time for work. Visit her blog Kind of a Mess.
Disclosure: This review includes products that were provided by the manufacturer/PR firm for our consideration. For more info, or any questions, please see our disclosure policy.
Latest posts by lyssachelle
(see all)