This post may contain affiliate links, which means I may receive a small commission, at no cost to you, if you make a purchase.
photos: we heart this
Ever wish you could have a MAC makeup artist give you a one on one tour of their line, pointing out the must have shades? Here's the next best thing, the MAC Basic collection, one of three parts of the MAC Me Over launch.
Developed through an online contest, MAC asked entrants to complete the following statement "MAC Me Over! Because…" Six people were chosen by Vice President and Creative Director James Gager (we'll share two in the bottom of each of the collection's posts), and three collections were created/curated to MAC the winners over. The collections, 51 pieces in total, are a mix of new limited editions, relaunches and permanent colors.
Any MAC lover will recognize some of the standbys in this group (What up Spice? How you doing Teddy?) The Basic collection is the MAC artist's favorite nudes and pinks, the products recommended to build any collection, or round out existing ones. And the products that they reach for again and again, and so will you!
top row: Creamy Bisque, Outré. bottom row: Carbonized, Moleskin
Eye Shadow
I sometimes forget how much I love brown eye shadows. This grouping has reminded me of just how much! Outré is a matte ochre, a light yellow brown. It's very similar to the shade in Double Feature 4 from Colourizations, and I love it just as much as I did that. It's really interesting on it's own, but much like the paint pigment, it can also be used to add depth. Honestly, I know it looks kind of questionable, but this shade is a work horse!
Not to be outdone, Creamy Bisque is an ivory frost with a beautiful pearly glow. A great highlighter. Carbonized is a brown lover's dream, a rich and shimmering chocolate brown. Moleskin is a gorgeous matte medium nude.
Outré, Moleskin, Carbonized, Creamy Bisque
Carbonized, Creamy Bisque
Outré, Moleskin
Oh, Oh, Oh
Lipstick
I predict Oh, Oh, Oh is going to be one of the sellouts of this launch. It's a beautiful plum bronze with gold shimmer. It has a lustre finish so it's on the sheer side, which allows for it to pick up any sort of liner or gloss you pair it with. You can play up the plum, the gold or even the understated brick red hint to it. Reminds me of O, but better. LOVE this.
Curvaceous
Lipglass
Curvaceous is cool grey mauve. Cool toned pink lovers, prepare to fall…hard.
Oh, Oh, Oh, Curvaceous
Seaside
Cream Colour Base
Seaside is a pinky peach shimmer. These have a beautiful creamy consistency and this shade imparts enough color that it can be worn alone or as a highlighter.
Equilibrium
Powder Blush
Equilibrium is one of those shades that surprised me by just how much I like it. It's an unassuming looking light bronzey nude that really is the best of both worlds – a neutral nude blush meets a light (read: not orange) bronzer, that does magical things to cheeks.
Equilibrium, Seaside
Here's a look at two of the six winners and their winning answers…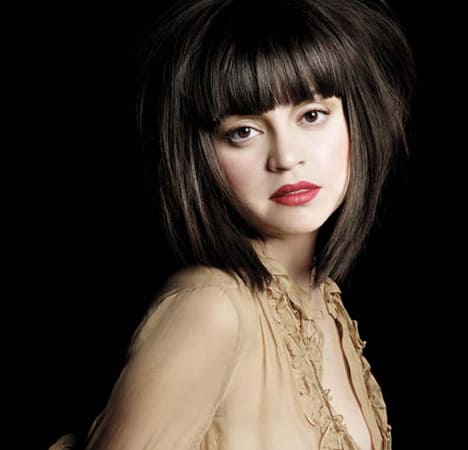 Rachel Martinez:
"I think I have a great personality, and I'm easy to get along with. I love my family and I'm grateful to the people that have stood by my side. I work in a bakery and design the best cupcakes. I have strong values that I inherited from my grandparents."
Sharon Marcus:
"I am 58-and-a-half years of age and I am wearing no face makeup…only M·A·C Cyndi Lipstick…and my hair is uncoloured and in its natural just-shampooed state – and I clean up real nice (I'm serious). I want to be an example to show women my age that a woman can look her best without having to be 20."
So how about it readers, has MAC introduced you to some Basics that you need?
MAC Me Over – MAC Basics Collection
Eye Shadow
Creamy Bisque – dirty ivory with pearl (frost)
Moleskin – nude brown (matte)
Outré – dirty mustard (matte)
Satin Taupe – taupe with silver shimmer (frost)
Mythical – frosty coppery red (vxp)
Carbonized – frosty dark brown (vxp)
$15 US/$18 CDN
Eye Kohl
Teddy – intense bronze
Smolder – intense black
$15 US/$18 CDN
Lipstick
Secret Lover – pale pink with yellow frost (lustre)
Peachstock – neutral peach (satin)
Offshoot – mid-tone neutral pink (cremesheen)
Oh, Oh, Oh – plum bronze with pearl (lustre)
$14.50 US/$17.50 CDN
Cream Colour Base
Take Root – rich red brown (frost)
Seaside – soft peach rose (frost)
$17 US/$20.50 CDN
Powder Blush
Equilibrium – light bronze (satin)
Stunner – light coral pink (satin)
$19.50 US/$23.50 CDN
Lipglass
Illicit – creamy neutral pink
Social Light – neutral pink with pearl
Curvaceous – light grey pink
Plum Fun – neutral plum purple with pearl
$14.50 US/$17.50 CDN
Lip Pencil
Spice – pink cinnamon stick
Chestnut – intense brown
$14 US/$17 CDN
Studio Fix Fluid nw20
$26.50 US/$32 CDN
Studio Fix Powder nc35
$26.50 US/$32 CDN
Studio finish concealer Nw25
$17.00 US/$21 CDN
116 Blush Brush
$34 US/$41 CDN
190 Foundation Brush
$32 US/$38.50 CDN
Disclosure: This review includes products that were provided by the manufacturer/PR firm for our consideration. For more info, or any questions, please see our disclosure policy.