Lip product lovers rejoice: new shades of Cremesheen Glass and Lipstick are here to stay at your MAC counter!
photos: we heart this
I'm the kind of gal that loves a good twist on a classic item, whether it's through clothes, hair or makeup. So when I heard that MAC had released Cremesheen + Pearl, a collection of 15 new shades of Cremesheen lipstick and Cremesheen glass, I was more than a little intrigued.
This Asian influenced line comes in a range of modern pink, coral and nude shades. They've got everything you already love about the MAC Cremesheen Glass and Lipstick, but with the added addition of light reflecting crushed pearl to help you shimmer and glimmer your way through fall.
Pagoda, Double Happiness, Floating Lotus
The we heart this team review team got a look at a few shades of each. Of the Cremesheen Glass, I tested Double Happiness, which MAC describes as a frosted light nude and Floating Lotus, a frosted soft rose. As I'm not really a fan of the frosted look I was relieved to find that these have more of a subtle twinkle than they do a "frosted" sheen.
Floating Lotus
The Cremesheen Glass is, as expected, incredibly lightweight and extremely easy to wear without any stickiness. Double Happiness goes on like a creamy pale, peachy nude. Floating Lotus on the other hand is a hushed bubble gum pink. Much like the pink tips of a lotus blossom! If you're looking for a wild burst of color though, these probably aren't for you. Their focus is on lots of shine and shimmer.
Pagoda, Double Happiness, Floating Lotus
Pagoda – cool lavender pink with silver shimmer
Double Happiness – peachy nude with gold shimmer
Floating Lotus – warm medium pink with gold shimmer
Japanese Maple, Pure Zen, Saigon Summer
From the lipsticks I got to test Pure Zen, a frosted warm nude. Similar to other Cremesheen Lipsticks this goes on smooth and is nicely hydrating. And similar to the Cremesheen Glass, this wasn't so much frosted, as it was slightly shimmery and very, very sheer.
One application created the faintest whisper of color and even after multiple passes, it was still subdued, but in a good way. As I mentioned, the slight shimmer, though not as obvious as the in the Cremesheen Glass, helps brighten your lips and create a tinge of pop for such a reserved shade.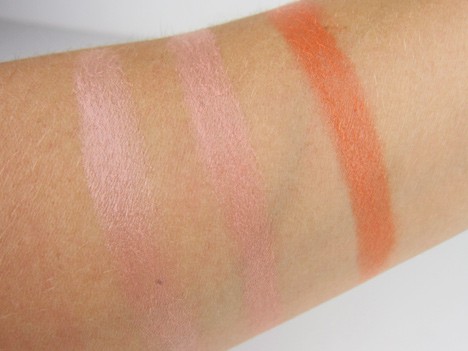 Japanese Maple, Pure Zen, Saigon Summer
Japanese Maple – light warm nude
Pure Zen – medium warm nude with an ever so slight peach tint
Saigon Summer – muted but bright orange
Not sure you'll have a chance to nab the Cremesheen + Pearl collection right away? Never fear, these new shades are permanent! So grab one, or two, or the entire line because the new Cremesheen + Pearl collection will be an essential pairing for every fall smoky eye look.
we heartsters and Testers – are you loving the latest additions to the MAC Cremesheen family?
MAC Cremesheen + Pearl
Cremesheen Glass
$19.50 US/$22.50 CDN
Paper Lantern – Frosted soft warm pink
Double Happiness – Frosted light nude
Dynasty at Dusk – Frosted neutral pink
Imperial Light – Frosted light peach
Pagoda – Frosted cool pink
Floating Lotus – Frosted soft rose
Rising Sun – Frosted bright orange
Cremesheen Lipstick
$14.50 US/$17.50 CDN
Japanese Maple – Frosted light beige
Pure Zen – Frosted warm nude
Peach Blossom – Frosted cool nude
Shanghai Spice – Frosted neutral pink
Sunny Seoul – Frosted light warm pink
Pink Pearl Pop – Frosted mid-tone pink
Coral Bliss – Frosted light coral
Saigon Summer – Frosted bright orange
Disclosure: This review includes products that were provided by the manufacturer/PR firm for our consideration. For more info, or any questions, please see our disclosure policy.
Kari is a Minneapolis based artist who drinks too much coffee and enjoys taking pictures of the strange foods she eats. She's always running 10 minutes behind despite her clock being an hour fast.