This post may contain affiliate links, which means I may receive a small commission, at no cost to you, if you make a purchase.
Makeup, it's the cause of and the solution to all our problems
I have to be honest; I was not expecting to love The Simpsons collection this much. I was totally prepared to chalk it up to a novelty launch, filled with fun but ultimately unnecessary pieces. Wow, was I wrong! This is one of my favorite launches of the year.
The colors are vibrant, the pigments pack a punch and the packaging is stellar; from the illustrated boxes, to the special compacts, to the debossed powders. Whether you're a Simpsons fan, or just a plain ol' makeup lover; it's a can't miss.
But chances are you are a fan. The Simpsons is not only America's longest running animated series, it's both the longest running sitcom and scripted series too. And after 25 years, I don't think it's a stretch to say they are America's favorite family.
For me, I don't think there's any other TV show that's entered my everyday life as much as The Simpsons. I mean, besides thinking of the opening credits and humming the theme song in my head every time I look into a sky of cumulus clouds…
• Homer has made it so I say "D'oh" once a day.

• I find it impossible to make fun of a friend without a Nelson "Ha-ha!"

• I can't order a white wine spritzer without screaming it like Ned Flanders (complete with an echo; spritzer, spritzer, spritzer).
(For some reason, I can only find this in German!)
Speaking of those amazing characters, check out the fabulous boxes with Matt Groening's characters all over them.
Look, it's Apu!
And that's the Crazy Cat Lady!
But it's that shock of blue bouffant and expressive eyes peeking through that this collection is really an ode to; "The most beautiful of Bouviers," Marge Simpson.
The Simpsons MAC eyeshadow swatches
Let's start with the eye shadow palettes, two bright beauties packaged in metal cases that have a very sturdy feel to them.
That Trillion Dollar Look Quad ($44) is a green-lover's dream. And a technicolor, shimmering dream at that! Honestly, stop reading and buy this palette.
From left:
Lisa's Spikes (frost) – shimmering chartreuse
Apple Squishee (frost) – grass green shimmer
2 Dozen and One Greyhounds (veluxe pearl) – golden khaki shimmer
Chalkboard Dreams (velvet) – blackened charcoal green with bright green micro glitter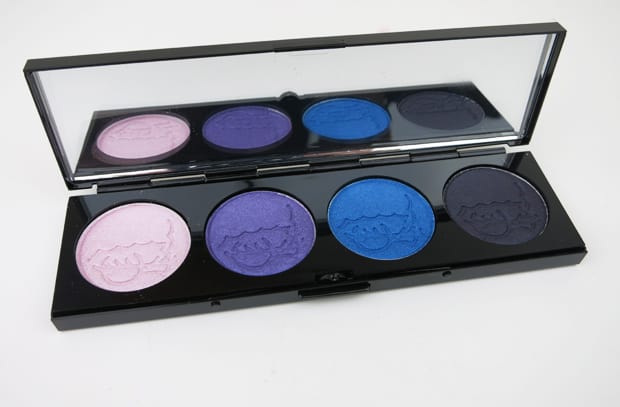 Marge's Extra Ingredients Quad ($44) is just as vibrant, but this time it's in the key of blue and purple.
From left:
Harpooned Heart (lustre) – icy white pink
Sexy PB&J (veluxe pearl) – Grape shimmer
Beehive Blue (veluxe pearl) – Marge's hair; shimmery bright blue
Vivacious Vacuum Cleaner (frost) – blackened bluish-purple with blue micro glitter
Can we talk about the names of the shades for a second? They're a Simpsons fan's dream, one obscure inside joke after another. Harpooned Heart, for example, was the romantic novel Marge wrote. Homer listens to the audio version (read by the Olsen Twins) and becomes convinced Marge is in love with Flanders, who she based a character on.
Check out that sexy Flanders!
The Simpsons MAC lipglass swatches
Oh, the lipglass ($16.50) makes my lipglass-lovin' self squeal with glee! So bright, so pigmented, so absolutely perfect. And in shades I haven't seen a million time either (or, as in the case of Nacho Cheese, ever.)
Don't you love the side-eye Marge is throwing?
Grand Pumpkin – bright, light apricot orange creme
Itchy & Scratchy & Sexy – Magenta with purple pearl
Nacho Cheese Explosion – bright, light yellow shimmer (this tones down your lip tone and ends up looking sort of nude)
Red Blazer – hot pink with purple pearl
The Simpsons MAC blush swatches
I don't know if I can pick a favorite product in a launch I love so much. But if forced, I'd go with the blush ($24) They're some of the prettiest, most pigmented and most wearable blushes in some time.
Pink Sprinkles is as beautiful as the donut for which it's named, it's a bluish-pink with subtle shimmer
Sideshow You is/was the online-only bright peachy coral with subtle shimmer. (It sold quickly, but is worth the hunt.)
Pink Sprinkles, Sideshow You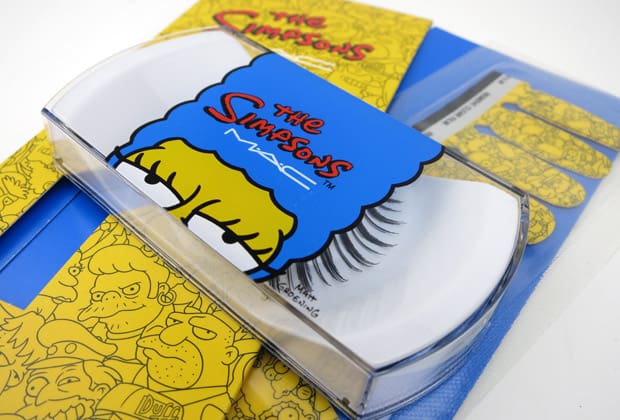 There's a few special pieces in the launch too; gorgeous 7 Lash ($18.50) a permanent product, if you can't find this specially packaged one or don't want to pay the extra $1.50…
…and the utterly adorable nail stickers Marge Simpson's Cutie-cles ($16.50).
The only complaint I can make with this launch is that I wish it would have came out sooner – because this is a summer launch if I've ever seen one.
we heartsters – who's your favorite Simpsons character, and your favorite piece of the collection?
Get The Simpsons collection HERE.
Lipglass
Nacho Cheese Explosion – bright neon lime yellow
Grand Pumpkin – bright creamy orange
Red Blazer – bright fuchsia
Itchy & Scratchy & Sexy – electric blue violet
$16.50 US/$20 CAD
That Trillion Dollar Look Quad
Lisa's Spikes – lime green (frost)
Apple Squishee – mid-tone Kelly green (frost)
2 Dozen and One Greyhounds – dirty olive green (veluxe pearl)
Chalkboard Dreams – deep blackened teak (velvet)
$44 US/$53 CAD
Marge's Extra Ingredients Quad
Harpooned Heart – light baby pink (lustre)
Sexy PB & J – mid-tone bright violet (veluxe pearl)
Beehive Blue – mid-tone bright blue (veluxe pearl)
Vivacious Vacuum Cleaner Bag – deep navy (frost)
$44 US/$53 CAD
Lash
7 Lash
$18.50 US/$22 CAD
Powder Blush
Pink Sprinkles – cute blue pink (satin)
Sideshow You – light peach coral (satin) ONLINE ONLY
$24 US/$28.50 CAD
M·A·C Nail Stickers
Marge Simpson's Cutie-cles
$16.50 US/$19 CAD