This post may contain affiliate links, which means I may receive a small commission, at no cost to you, if you make a purchase.
Taupe lovers, this one's for you…
Have you gathered by day four of our MAC holiday collections week that there's a bit of a retro theme to this year's launches? From the chevron hat boxes of Guilty Passions, to the leopard-print, fishnet and kisslock bags of Primped Out; it's a vintage lover's dream.
But it's the satin tufted palettes accented with a big black bow that spoke loudest to this vintage lover. Fabulousness indeed! From first glance at MAC's mega holiday releases, it was the beautiful Neutral Eyes palette that I instantly set my sights on. It's like MAC snuck into my head and created the palette of my taupe dreams.
I've seen mixed reviews of this online, but I'm in love with this palette. I think the shades are beautifully pigmented and I LOVE that the taupes (and accenting shades) are leaning grey rather than purple.
Blonde Mink (lustre) is a cool light grey with silver micro glitter.
Magical Mist (lustre) is medium taupe with slightly larger (and more) silver micro glitter.
(The glitter can get a bit wayward on these first two, so primer is a must.)
Brun (satin) looks like a standard chocolate brown in the pan, but on it's a dark, sooty brown that makes for an incredible smoky eye. Brun is a permanent shade.
Enviable (veluxe pearl) is a dirty, pearlized sage green. Love is not lovely enough of a word for what I feel about this color. It is utterly divine.
Smut (velvet) is dark grey brown with a red undertone to it and a slight shimmer. I got the least amount of pigment from this on the first pass, but was able to build it up nicely. It's like the infamous MAC Club eye shadow's distant cousin. This is a permanent shade too.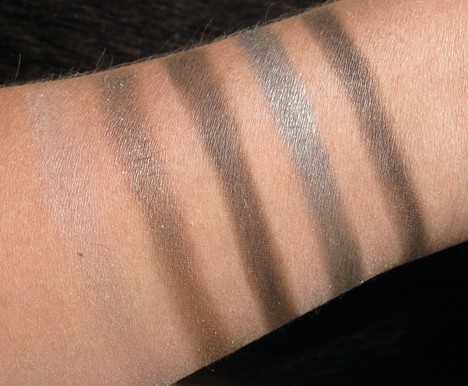 Blonde Mink, Magical Mist, Brun, Enviable, Smut
Blonde Mink, Magical Mist, Brun
A peek of Magical Mist, then Brun, Enviable, Smut
My only complaint? The tiny brush is bit of a throw away for me. It's small size is hard to handle and the bristles splay.
Now let's get back to that packaging, which may just be my favorite MAC packaging to date. It's so feminine and vintage looking. The tufted satin even reminds me of a vanity bench! And that big ol' bow just slays me.
Taupes not your thing? Check out the Warm Eyes palette or hunt down the Smoky Eyes palette in-store (it's sold out on line). And see if they make your heart beat like this does mine.
we heartsters, do you agree that this is the definition of fabulousness?
Click here to shop the Give MAC gift finder where you can shop the holiday selections by color, price or category!
Fabulousness / Warm Eyes
Glamour Light – Soft beige frost (satin)
Sketch – Burgundy with red shimmer (velvet)
Honesty – Pewtered bronze (lustre)
Cognac – Frosty golden bronze (frost)
Retrospeck – Bleached blonde (lustre)
SRP $39.50 U.S./$47.50 CDN
Fabulousness/Neutral Eyes
Brun – Muted blackish-brown (satin)
Blonde Mink – Grey taupe frost (lustre)
Enviable – Cool mint green with pearl (veluxe pearl)
Smut – Muted black with red shimmer (velvet)
Magical Mist – Metallic taupe (lustre)
SRP $39.50 U.S./$47.50 CDN
Fabulousness / Smoky Eyes
Spellcaster – Matte aubergine (matte)
Taupeless – Lavender pink (lustre)
Black Slip – Rich blackened plum with pearl (veluxe pearl)
Satin Taupe – Taupe with silver shimmer (frost)
Love Spice – Mid-tone rosy pink with pearl (frost)
SRP $39.50 U.S./$47.50 CDN
Disclosure: This review includes products that were provided by the manufacturer/PR firm for our consideration. For more info, or any questions, please see our disclosure policy.