This post may contain affiliate links, which means I may receive a small commission, at no cost to you, if you make a purchase.
If you had asked me 10 years ago if I was a dog or cat person, I would have answered "cat" without question. But then something happened. I got some dogs. Four of them, to be exact. And they have brought me more joy than I even thought was possible. Joy and goofy unconditional love, to be exact. They've brought me firmly into "dog person" territory.
So when I learned of the the MAC Haute Dogs collection (a mix of limited edition and general catalog shades), I knew this was a collection for me. The pieces I got to check out may not be goofy, but they sure have brought joy and love.
C'mon, does that palette not bring you feelings of love?
First up, the joy-inducing Posh Pedigree Mineralize Eyeshadow Quad ($46), a smoky olive and taupe beaute. It's a very shimmery palette, bordering on frosty. But unlike some Mineralize shades I've tried in the past, these weren't dry or flakey and the pigment was impressive.
This is my first time I've owned this relatively new Mineralize packaging. Previously I've had the small domes only, with the shades either swirled together like the most beautiful planet you've ever seen, or as trio with strips of color. I like the quads. I will say though, it does seem like a lot of extra packaging for those lil' circles. Really pretty packaging, but it's worth mentioning with a $46 palette.
The shadows be worn wet or dry, but I didn't find the difference to be mind blowing. The darker two shades were noticeably darker when applied with a damp brush, but the pigment was ok when dry too.
Catch My Eye Fluidline, Posh Pedigree Mineralize Quad (applied dry, then wet)
The shades range from a bright white gold, cool light grey, perfect taupe and dirty dark olive with gold shimmer. What's a perfect taupe, you ask? To me, it's a taupe that has equal amount of grey and brown.
Check out the MAC Haute Dogs swatches.
Catch My Eye Fluidline, followed by the two lightest shades in Posh Pedigree (applied dry, then wet)
The two darkest shades in Posh Pedigree (applied dry, then wet)
Posh Pedigree in the sunlight so you can see the depth of shimmer- those two dark shades slay me!
Fluidlines: you know them, you love them. They're probably your favorite crème liners because they're really smooth and last forever. You have them in black, brown, blue, green…but do you have one in shimmery light taupe-grey? How about shimmery light taupe-grey with gold micro glitter? Answer: ya don't. But pick up Catch my Eye ($16.50), and ya could! And ya should, because it's super pretty (albeit, a bit light for my taste as a top lid liner.)
There are only three nail lacquers ($12) in this collection. Maybe that's because dogs aren't known for their love of pedicures. I can't even LOOK at my dog Charlie's feet, let alone touch them. That aside, I think all three shades are really pretty, and so very fall.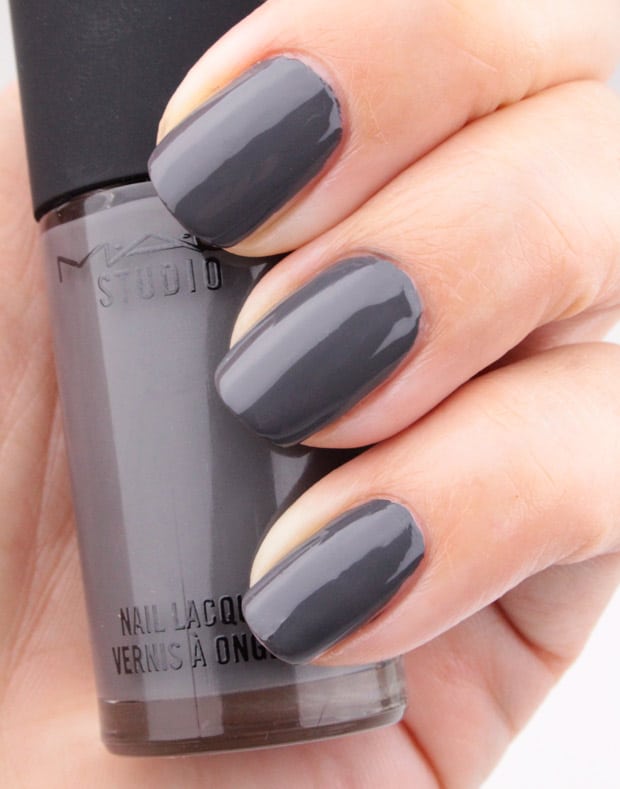 I predict Snazzy Hound will be my go-to shade as soon as the temps drop. It borders on vampy, is less goth than black, and moody (in a good way.)
Very Important Poodle is a caramel colored nude that's warm and rich, and really nice on my NC30 skintone (not a mannequin hand in sight!)
I've seen some rumblings that beauty lovers aren't super excited by this release, that it's not as good as Fabulous Felines was. Granted, Burmese Beauty is my favorite eye shadow quad of all time, but I think Haute Dogs is great. I think it perfectly captures the richness and warmth that you get from dogs, whether it's the colors of a brindle coat or the feeling of nuzzling your face into a doggy neck.
Two paws up from me! Check out Haute Dogs before it scampers away.
Stef is many things. Amongst them: co-editor of we heart this, photographer, condiment connoisseur, Philly girl in the California desert, borderline hoarder and a hardcore beauty junkie.
skin tone: NC 25/30
skin type: oily with a fear of rosacea
favorite beauty product: high end skincare and lip products
MAC Haute Dogs
Mineralize Rich Lipstick
Fashion Pack – pale pink-nude
Rare Breed – mid-tone pinky nude
Barking Gorgeous – light peach
Nose for Style – deep claret red
Labradorable – deep wine
$23 US / $27 CAD
Mineralize Glass
Lap Dog – pale light pink-nude
Sheer Coincidence – mid-tone rosy nude
Modest – soft beige with light frost
Dressed to the K9s – deep burgundy-plum
$23 US / $27 CAD
Lip Pencil
Currant – intense reddish purple
Naked – Liner light neutral
$16.50 US / $19.50 CAD
Mineralize Eye Shadow x 4
Pure Bred – plum, silver cream, tan-gold, deep brown
A Glimmer of Gold – four coordinated colours from soft gold to copper bronze
Posh Pedigree – deep olive green, white lemon, dirty grey, charcoal greenish grey
$46 US / $55 CAD
Fluidline
Blacktrack – solid flat black
Rich Ground – reddened cocoa with frost
Dark Diversion – blackened plum
Catch My Eye – cool taupe-grey with dazzle pearl
SRP $16.50 US / $19.50 CAD
Veluxe Brow Liner
Strawberry Blonde – soft muted beige-taupe
Deep Brunette – muted blackish brown
$20 US / $24 CAD
Mineralize Skinfinish
Soft & Gentle – gilded peach-bronze
Cheeky Bronze – soft coral with golden shimmer
$32 US / $37 CAD
Sculpting Powder / Shaping Powder
Lightsweep – warm beige with fine pearl
Warm Light – clean peach
Shadester – mid-tone leathery brown
Soft Focus – plantain yellow-gold
$22 US / $26 CAD
M·A·C Studio Nail Lacquer
Vintage Vamp – burgundy red
Snazzy Hound – mid-tone grey
Very Important Poodle – warm mid-tone nude
$12 US / $14 CAD
Brush
288SE Duo Fibre Eye Shader Brush
$32 US / $38.50 CAD
209 Eye Liner Brush
$20 US / $24 CAD
139SE Duo Fibre Tapered Face Brush
$42 US / $50.50 CAD
161SE Duo Fibre Face Glider Brush
$42 US / $50.50
Stef is many things. Amongst them: co-editor of we heart this, photographer, condiment connoisseur, Philly girl in the California desert, borderline hoarder and a hardcore beauty junkie.
skin tone: NC 25/30
skin type: oily with a fear of rosacea
favorite beauty product: high end skincare and lip products