This post may contain affiliate links, which means I may receive a small commission, at no cost to you, if you make a purchase.
photos: we heart this
What's red, blue, gold and nude all over? The jaunty new release from MAC: Hey, Sailor! Between the nautical packaging and classic shades it's very easy to get aboard this launch. A tad retro, yet thoroughly modern, it's…
cute outside…
cute inside…
cute all around!
So, drop an anchor and check out the cheek, body and nail products of the launch (and brace yourself, I have list of maritime terms and I'm not afraid to use them.)
Launch Away! and Fleet Fast Blush
MAC calls Launch Away! a true peach. I have to differ (maybe we can have salty fisticuffs down at the dock over it!) While it looks like a light pink peach in the pan, it goes pure pink on me, and way more pigmented than I would have guessed. Pretty, but not at all what I expected.
On the other hand, Fleet Fast was all I expected and more; a coral tinged reddish pink with a golden sheen that adds a beautiful warm glow.
Launch Away! and Fleet Fast swatch
Sun Dipped and Soft Sand Bronzing Powder
Sun Dipped Pro Longwear Bronzing Powder and Soft Sand Bronzing Powder look very similar in their pans. Applied, Sun Dipped is lighter with a slightly pinkish base and a soft shimmer. While Soft Sands is darker with a traditional bronzer look; a golden brown with a fine gold sheen. I think the "longwear" portion of the billing on Sun Dipped also makes it a bit softer and smoother too.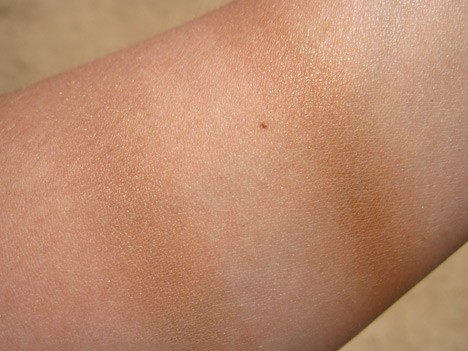 Sun Dipped and Soft Sand swatch
Crew Highlight Powder
Oh Crew, you're so pretty to gaze upon with your golden cream base and lavender, pink and peach stripes. But honestly, you confuse me. You're not quite a highlighter, at least not in the traditional shimmering sense. You're more of a medium pink blush, and sorry, but not a ground moving one at that. Plus, just to add to the confusion, I saw in Temptalia's fabulously thorough review that your golden cream is the overlay rather than the reverse. But even though I'm not totally thrilled with your results, special compacts are like a siren's song to me – hard to resist!
Crew Highlight Powder swatch
Man Rays and Seaside To The Beach Body Oil
I've been a fan of To The Beach Body Oil ever since it was released in the launch of the same name. They're odorless and as moisturizing as you'd expect from an oil. Man Rays looks to be what was simply called "bronze" in the To The Beach launch. It's a bronze base with tons of gold shimmer and it deposits a sheer golden tan. Seaside is a nude pink base with gold and silver shimmer. It doesn't deposit any color, only leaving a slightly glittery sheen behind.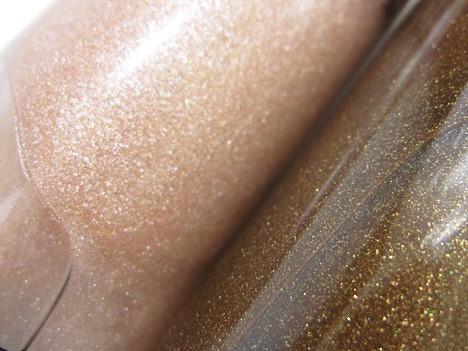 Man Rays and Seaside swatch
Vestral White and Touch of Red Nail Lacquer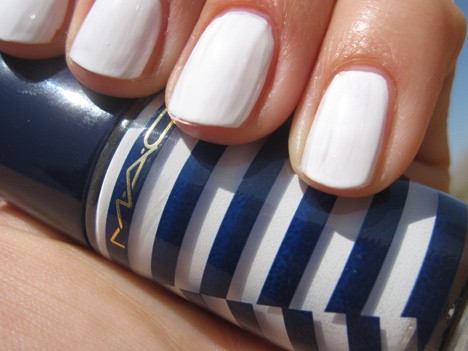 Vestral White is an opaque white cream. If you think opaque white polish is a pleasure to use, then you've never used a opaque white polish! I got close to streak free coverage with 2 coats, but it dries quick and is on the thick side. If you like that stark white look (at it is indeed pretty, especially with sun kissed skin) be prepared for lots of fussin'.
Touch of Red on the other hand is a dreamy polish to use, as well as look at. It's got a thin consistency that's very easy to work with, and streak-free coverage in 2 coats. It's a yellow red that has a brightness to it that almost makes it look like it's back lit or something. Super pretty.
So sailors, what products do you want to throw a life preserver to before this limited edition floats out to sea?
Lipstick
Salute! – Neutral peach (Amplified)
To Catch a Sailor – Highly frosted tan (Frost)
Red Racer – Bright yellow red (Satin)
Sail La Vie – Bright mid-tone orange (Satin)
$15.50 U.S. / $18.50 CDN
Lipglass
Cut Loose – White gold with pearl
Orange Tempera – Pale peach
Blessedly Rich – pale coral
Riviera Life – Bright tangerine
Send Me Sailing – Bright yellow red
$15.50 U.S. / $18.50 CDN
Pro Longwear Lip Pencil
Saunter – Pale nude beige
Throw Me a Line – Bright true red
Shore Leave – Light vibrant coral
$19 U.S. / $22.00 CDN
Eyeshadow
Crystal Avalanche – White with reflects (Veluxe Pearl)
Barefoot – Tarnished gold (Veluxe Pearl)
Jaunty – Light yellow beige (Frost)
Feeling Fresh – Bright green (Frost)
Nautical – Navy blue (Satin)
$16 U.S. / $20 CDN
Pigment
Old Gold – High frosted tarnished gold (Frost)
Naval Blue – Deep smoky blue (Frost)
Powerpoint Eye Pencil
Handforged – Metallic yellow gold
Emerald Sea – Kelly green
Blue Stripe – Dark navy
$16 U.S. / $19 CDN
Bronzing Powder
Soft Sand – Golden bronze with fine gold pearl
Refined – Golden Finely spun golden with soft pearl finish
$23 U.S. / $27.50 CDN
Pro Longwear Bronzing Powder
Nude on Board – Bronzy, yellow tone
Sun Dipped – Dirty red tone
$28 U.S. / $32 CDN
High-Light Powder
Crew – Soft peachy cream with fine shimmer
$29 U.S. / $33.50 CDN
Blush
Launch Away! True peach (Satin)
Fleet Fast Pinky, golden coral (Satin)
$21 U.S. / $25 CDN
Nail Lacquer
Verstral White – Cream white (Cream) (Repromote)
Touch of Red – Bright yellow red (Cream)
Gold Knot – Brass gold (Frost)
$17 U.S. / $21 CDN
MAC To the Beach Body Oil
Seaside – Dirty blush pink with multidimensional sparkle
Man Rays – Glowing tan with multidimensional golden shimmer
$22.50 U.S. / $26.50 CDN
Suntints SPF 20
Sea Mist – Peachy nude with multidimensional pearl
Abalone – See through hot pink with no pearl
Au Rose – Poppy coral pink with gold pearl
$16 U.S. / $20 CDN
Brush
167SH Face Blender
$34 U.S. / $39 CDN
Accessories
Gone Sailing Makeup Bag Set
$35 U.S. / $40 CDN
Gone Sailing Tote
$45 U.S. / $50 CDN
Disclosure: This review includes products that were provided by the manufacturer/PR firm for our consideration. For more info, or any questions, please see our disclosure policy.