This post may contain affiliate links, which means I may receive a small commission, at no cost to you, if you make a purchase.
photos: we heart this
Hey matey, look what just washed ashore, it's MAC Hey, Sailor! A nautical themed launch that has something for all hands; fun limited edition packaging and shades that never go out of style.
Let's jump right into the lip and eye portion of the collection, shall we?
Jaunty
Jaunty is the kind of shade I tend to reach for every day as I can find a place for a warm, light shimmering beige in most looks! It has a frost finish but it's not uber-frosty. It's also not the shade you're going to gasp over, it's more the trusty sort of shade that everyone needs at least one of.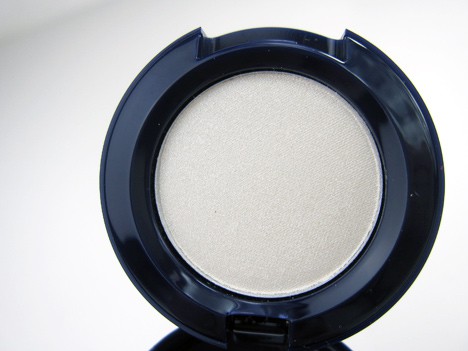 Crystal Avalanche
You may want to call the search party for a perfect highlighter off, Crystal Avalanche is here. This veluxe pearl finish shade is a beautifully pigmented shimmering white.
Naval Blue
MAC must love this shade, as it was just repromoted in the Chenman launch too. It's Naval Blue, a smoky blue with a bright blue sheen. It's billed as a frost, but again, it's a subtle frost. I can't wait to use it for a smoky blue eye.
Jaunty, Crystal Avalanche, Naval Blue swatch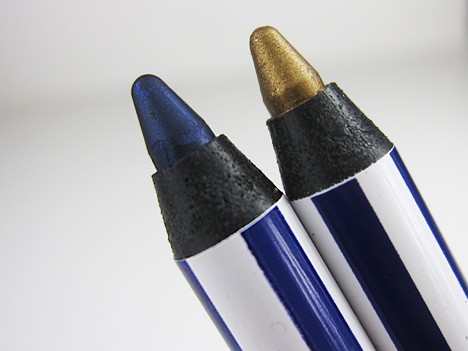 Blue Stripe and Handforged Powerpoint Eye Pencil
I love both of the Powerpoint pencils I got to try from this launch. Blue Stripe is a blackened navy base with a metallic blue sheen. It's Naval Blue pigment's counterpart (and the liner I'll reach for in that smoky blue eye described above). And Handforged is a tarnished gold metallic that sounds like it's Old Gold pigment's first mate (not reviewed). I love the consistency of these pencils, creamy and smooth.
Blue Stripe and Handforged swatch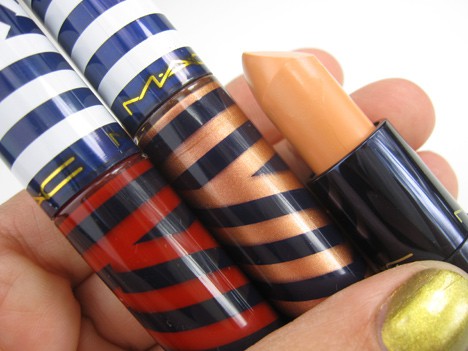 Send Me Sailing and Blessedly Rich lipglass, Salute lipstick
There's a whole bunch of lip goodness in Hey, Sailor! Red and nude seem to be the colors du jour, which suits me just fine.
Send Me Sailing lipglass reminds me of a cherry popsicle. I wouldn't call it sheer, because it has close to opaque coverage. But it does have this almost jelly-like finish that's juicy and gorgeous.
Blessedly Rich lipglass is described a rich, pale coral. As in the cheek, body and nail part of this review, we're going to have to duke it out down by the dockyard over that one. It's a frosty orange peach, I say! But I bet we agree that it's quite pretty.
Salute lipstick is a tough one. It's a light peach nude with an amplified finish that's rather unforgiving on; clinging to any signs of dryness and settling in lines. But if you pat it on lightly and apply gloss, you can be friends.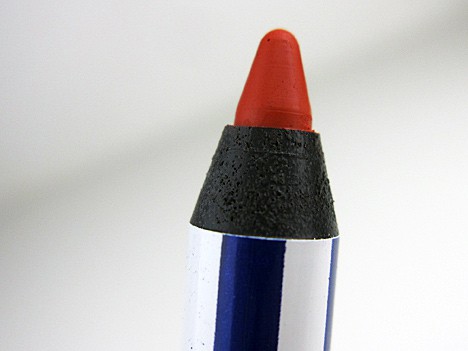 Throw Me A Line Pro Longwear Lip Pencil
I LOVE the Throw Me A Line lip pencil! It's a bright orange-tinged red that just makes me want to break out the tap shoes and sing in my loudest Broadway voice. I've been known to apply lip pencils over my entire lips and cover them with clear lipglass. This one is next up for that.
Salute, Blessedly Rich, Send Me Sailing, Throw Me A Line swatch
Sea Mist and Abalone Suntint
Abalone and Sea Mist Suntint
Abalone and Sea Mist Suntint
Tyna has flipped for the Suntints, so be sure to check in the comments for her ravings. Me? I'm not a huge fan. I swear I can smell the spf (but please note, I'm crazy). But more so, even though they have a thick, smooth and balmy feel that I do like, I prefer my glosses to have much more color. Abalone is a sheer jelly candy pink and Sea Mist is a light milky peach with pearly shimmer.
Any items playing their siren song for you? Let us know in the comments!
Lipstick
Salute! – Neutral peach (Amplified)
To Catch a Sailor – Highly frosted tan (Frost)
Red Racer – Bright yellow red (Satin)
Sail La Vie – Bright mid-tone orange (Satin)
$15.50 U.S. / $18.50 CDN
Lipglass
Cut Loose – White gold with pearl
Orange Tempera – Pale peach
Blessedly Rich – pale coral
Riviera Life – Bright tangerine
Send Me Sailing – Bright yellow red
$15.50 U.S. / $18.50 CDN
Pro Longwear Lip Pencil
Saunter – Pale nude beige
Throw Me a Line – Bright true red
Shore Leave – Light vibrant coral
$19 U.S. / $22.00 CDN
Eyeshadow
Crystal Avalanche – White with reflects (Veluxe Pearl)
Barefoot – Tarnished gold (Veluxe Pearl)
Jaunty – Light yellow beige (Frost)
Feeling Fresh – Bright green (Frost)
Nautical – Navy blue (Satin)
$16 U.S. / $20 CDN
Pigment
Old Gold – High frosted tarnished gold (Frost)
Naval Blue – Deep smoky blue (Frost)
Powerpoint Eye Pencil
Handforged – Metallic yellow gold
Emerald Sea – Kelly green
Blue Stripe – Dark navy
$16 U.S. / $19 CDN
Bronzing Powder
Soft Sand – Golden bronze with fine gold pearl
Refined – Golden Finely spun golden with soft pearl finish
$23 U.S. / $27.50 CDN
Pro Longwear Bronzing Powder
Nude on Board – Bronzy, yellow tone
Sun Dipped – Dirty red tone
$28 U.S. / $32 CDN
High-Light Powder
Crew – Soft peachy cream with fine shimmer
$29 U.S. / $33.50 CDN
Blush
Launch Away! True peach (Satin)
Fleet Fast Pinky, golden coral (Satin)
$21 U.S. / $25 CDN
Nail Lacquer
Verstral White – Cream white (Cream) (Repromote)
Touch of Red – Bright yellow red (Cream)
Gold Knot – Brass gold (Frost)
$17 U.S. / $21 CDN
MAC To the Beach Body Oil
Seaside – Dirty blush pink with multidimensional sparkle
Man Rays – Glowing tan with multidimensional golden shimmer
$22.50 U.S. / $26.50 CDN
Suntints SPF 20
Sea Mist – Peachy nude with multidimensional pearl
Abalone – See through hot pink with no pearl
Au Rose – Poppy coral pink with gold pearl
$16 U.S. / $20 CDN
Brush
167SH Face Blender
$34 U.S. / $39 CDN
Accessories
Gone Sailing Makeup Bag Set
$35 U.S. / $40 CDN
Gone Sailing Tote
$45 U.S. / $50 CDN
Disclosure: This review includes products that were provided by the manufacturer/PR firm for our consideration. For more info, or any questions, please see our disclosure policy.