This post may contain affiliate links, which means I may receive a small commission, at no cost to you, if you make a purchase.
Press Sample Affiliate Link
Be merry and bright with dramatic holiday eyes
Tis' the season, as MAC Cosmetics is back with their always coveted holiday collection! There isn't a year that goes by when these little wonderfuls don't make it to the top of my wish list, or end up in my stocking…even if I have to put one there myself (oh yes, I have)!
The MAC Holiday packaging this year is swoon worthy. Elegant and classy, black and cream sets, lined with pearls and cameos – it's enough to make any girl sigh! I am seriously going to have a hard time picking only one to gift myself this year.
Luckily, I had the chance to test out one of these holiday treats – The Keepsakes Eye Bag ($39.50) which comes in three color combos, Smoky, Plum, and Brown. These gift sets are stuffed in a dazzling, super classy, black sparkle clutch, lined with black pearls and cameo zipper pull. in three words…I LOVE it!
Each Keepsakes Eye Bag comes with an Extra Dimension Eye Shadow duo, a matching Powerpoint Eye Pencil, and MAC's Extra Dimension Lash Mascara. I had the pleasure of trying out the Brown Bag, which if we're being honest, doesn't look too much like brown when you look at the shadow duo.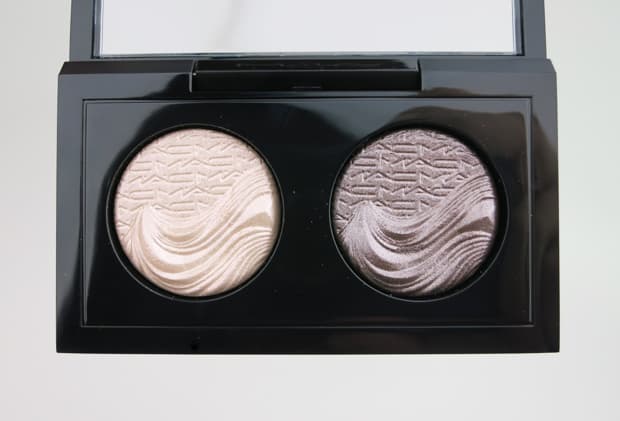 The eye shadow duo contains Just Gleaming, an icy, pink shimmer and it is paired with Stolen Moment, labeled a "mauvey nude" which looks more like a purple-y, taupe shimmer.
I will say after wearing them, the shadow does take on a browner tone when worn with the liner, and I actually really liked the colors together. It made for a cooler, taupy/brown look, and since I wear cool colors well, it looked great!
Extra Dimension Eye Shadows in Just Gleaming and Stolen Moment, Powerpoint Eye Liner in Stubborn Brown – in sunlight
The shadows really do have that "extra dimension" of shimmer and subtle sparkle and add a little pizazz to your lids. I was slightly disappointed, however, with the staying power, the lighter shade faded a little over time, so an eye primer is highly recommended.
The only truly brown item in this gift set is the Powerpoint Eye Liner in Stubborn Brown, which is a matte dark chocolate. This is a a full size pencil and it is soft, creamy and easy to apply. I really like the formula of these and this chocolatey color is really pretty.
The Extra Dimension Lash Mascara in Extreme Black, added some drama, and goes on easy. It is the same full, 0.44 oz., tube of mascara you would get if you were purchasing separately, at $22, so it will last you well beyond the holidays. And made me happy knowing the mascara is valued at over half of the entire cost of the kit. Nice deal!
I was happy with the coverage and lengthening Extra Dimension added, and even though it's not my favorite mascara of all time, it gets the job done.
Extra Dimension Eye Shadows in Just Gleaming and Stolen Moment, Powerpoint Eye Liner in Stubborn Brown – indoors
Pros:
• Fabulous clutch
• Pretty shades
• Full sizes of everything (good value)
Con:
• Eye shadow lacks a little staying power
All in all, I was happy with my new "holiday eye" created from the MAC Keepsakes Eye Bag and I'm anxious to try out another eye bag and lip collection, (the cream compact is beautiful), as soon as Santa makes his way to my house!
So ladies, who's ready for the holidays with these fabulous MAC delights, and which one will you be asking for?
photos: we heart this, swatches shown on NC25/30 skin tone
Erin is a secondary science teacher who adores makeup and fashion. She spends her free time pursuing her other passions which include cooking, antiquing, and decorating.
skin tone: NC30
skin type: oily to normal
favorite beauty product: lipglosses and bronzers
Keepsakes Eye Bags
All: $39.50 US/$47.50 CAD
Smoky Eye Bag
In Extra Dimension Eye Shadow:
Treasure Me – light silver
Tall, Dark & Handsome – soft black with silver sparkle
In Extreme Dimension Lash – black
Engraved Powerpoint Eye Pencil – rich black
Plum Eye Bag
In Extra Dimension Eye Shadow:
Triple Impact – opalescent pink
Round Midnight – rich reddish plum
In Extreme Dimension Lash – black
Permaplum Powerpoint Eye Pencil – deeply plum with dark shimmer
Brown Eye Bag
In Extra Dimension Eye Shadow:
Just Gleaming – peachy nude
Stolen Moment – mauvey nude
In Extreme Dimension Lash – black
Stubborn Brown Powerpoint Eye Pencil – deep rich brown
Latest posts by spitfire77
(see all)