This post may contain affiliate links, which means I may receive a small commission, at no cost to you, if you make a purchase.
MAC Keepsakes – Get glamorous with plum peepers for the holidays
The holiday collections from MAC Cosmetics are always visually stunning masterpieces. The luxurious and beautiful touches to the packaging are incredibly enticing – bows, metallic print, glitter, faux pearl strands, and tufted satin fabric, to name just a few.
And there's always a mix of neutral and bold shades, and products for eyes, and lips, and face, and brushes too, so there's something for everyone. It's no surprise that these limited edition treasures sell out so quickly.
Fortunately Santa's elves Stef and Tyna know that MAC holiday collections are always on my wish list, and sent me a MAC Keepsakes Eyeshadow Palette ($39.50) to review! MAC's 2014 holiday collection has nearly 20 sets/palettes in the Keepsakes collection, and nearly 30 individual products in the Heirloom Mix collection.
The Keepsakes Eyeshadow palette is available in Smoky Eyes, Beige Eyes, and Plum Eyes. The palm sized palette is crusted with glitter, encircled by a string of pearls, and adorned with a cameo. Inside, there's a decent-sized mirror, eight small pans of eyeshadow, and a mini dual sided brush.
I received the Keepsakes palette in Plum, which has six limited edition and two permanent shades. There's a nice mix of finishes and shades in the Plum Eyes palette.
Sensibility – Pale frosty pink (Frost).
Taupeless – Icy pink with silver sparkle (Lustre)
Plum Grand – Dirty frosty lavender (Veluxe Pearl)
Nocturnelle – Pinked-up chrome purple (Frost)
Fashion Beat – Dirty violet grey (Lustre)
Subtly Elegant – Light grey lilac (Matte)
Shadowy Lady – Blackened plum (Matte) (Permanent)
Magic Moor – Rich blackened plum with pearl (Veluxe Pearl)
Although I love to play with all sorts of eyeshadow colors, I love how this plum palette compliments my brown eyes! Some of the colors are more sheer – notably Sensibility and Taupeless – and can't really be built, while others offer more dramatic pigment.
Sensibility, Taupeless, Plum Grand and Nocturnelle
Subtly Elegant and Nocturnelle really stood out for me in terms of being beautiful colors, and also having richer, smoother applications. The color payoff was about average for the other shades, and all of them lasted all day with primer.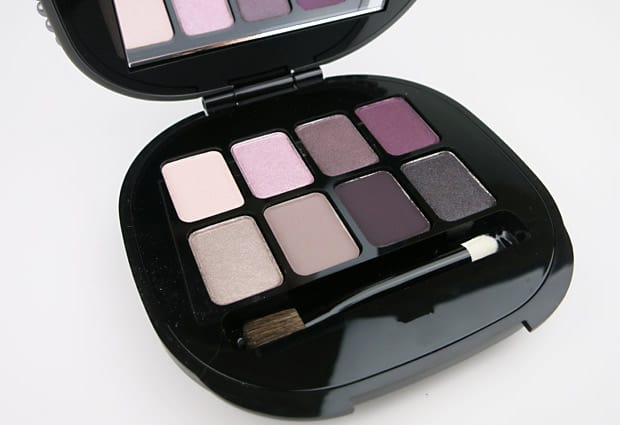 Gorgeous packaging aside, this giftable palette isn't a great deal. This palette contains a total of 0.112 oz of eyeshadow at $39.50. compared to MAC's individual eyeshadows, which are $16 for 0.05 oz in a compact, and $10 for 0.05 as a pan. I didn't use the enclosed dual sided brush
However, the packaging makes this a very nice gift, and the colors work well together, so the price could be justifiable. I really liked how easily I could put together a subtle eyeshadow combination, and also put together a dramatic eyeshadow combination, so I can see myself using this palette frequently.
we heartsters – What shades or packaging details from MAC's Holiday collection do you heart?
photos: Stef and Marilyn for we heart this
Marilyn is a makeup maniac and slow but stubborn runner. She loves color coding her day planner, reading celebrity gossip and drinking good wine. Marilyn blogs about makeup and fitness over at her blog, Lipgloss and Spandex.
skin tone: NC25
skin type: oily, acne-prone
favorite beauty product: eyeshadow
MAC Keepsakes Eye Palettes
All: $39.50 US/$47.50 CAD
Plum Eyes
Sensibility – pale frosty pink (frost)
Plum Grand – dirty frosty lavender (veluxe pearl)
Taupeless – icy pink with silver sparkle (lustre)
Magic Moor – rich blackened plum with pearl (veluxe pearl)
Subtly Elegant – light grey lilac (matte)
Fashion Beat – dirty violet grey (lustre)
Nocturnelle – pinked-up chrome purple (frost)
Shadowy Lady – blackened plum (matte)
Beige Eyes
Her Mistress – soft pastel egg (matte)
Sweet Sovereign – frosty gold champagne (lustre)
Quintessential – dirty olive (frost)
Mystery – muted plum brown (satin)
Omega – soft muted beige taupe (matte)
Tempting – sinfully rich coco (lustre)
Faire Maiden – bright coppering gold (lustre)
Night Whisper – rich black brown (veluxe pearl)
Smoky Eyes
Fancy Dress – chalky white beige (matte)
Kid – soft beige (veluxe pearl)
Satin Taupe – taupe with silver shimmer (frost)
Noble Spirit – warm black brown (satin)
Forgery – sterling silver (lustre)
Honey Lust – bronze dipped peach (lustre)
Divine Rule – frosty grey mauve with silver pearl (lustre)
Carbon – intense black (matte)
Latest posts by lipglossandspandex
(see all)