This post may contain affiliate links, which means I may receive a small commission, at no cost to you, if you make a purchase.
I went to the mall on Black Friday, intending to do some Christmas shopping for friends and family.
Crazy, right?
Just being there was a sensory overload, but things got even more intense at the MAC counter. I was mesmerized by the array of lip color on display.
That's where MAC blew my holiday shopping budget in record time with an updated release of their beyond-brilliant MAC Liptensity Lipsticks ($21) in nine new and three bring-back shades!
I fell in love with MAC Liptensity's creamy, color-packed formula the first time around, and didn't think I could love it more.
We heart this gave me the chance to test four shades, and the formula is so vivid, so creamy, so long-lasting, I know I'll be adding more colors to my makeup bag soon.
You might think I'm going a little overboard considering the endless formulas and colors that MAC already offers.
Here's what makes this Liptensity release something special: not only nine new shades and three old faves of lipstick, but 18 permanent shades of brand new MAC Liptensity Lip Pencil ($21).
Ok, let's get to the shades…
MAC Liptensity Lipstick Review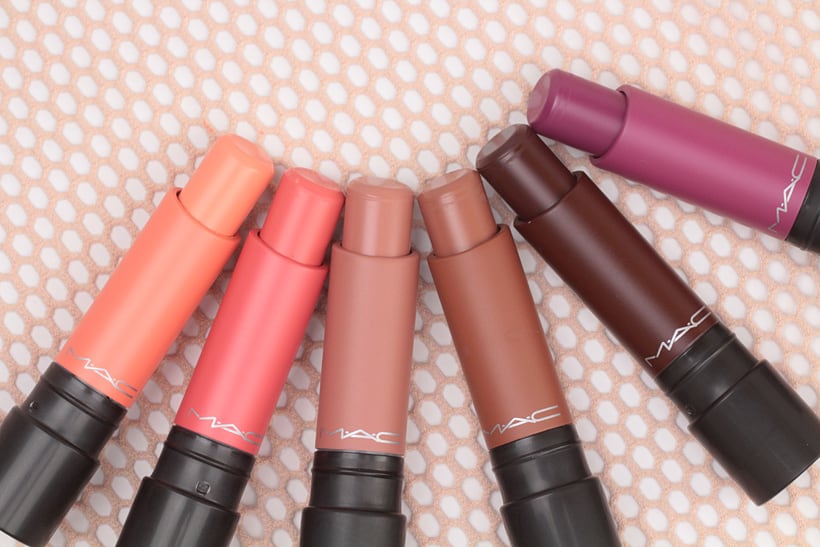 The lipsticks I tested (marked*) ran the gamut from daytime neutral to nighttime high drama.
MAC Bite O Georgia – Light creamy peach
MAC King Salmon* – Creamy salmon pink, extremely flattering for practically any skin tone.
MAC Clouds in My Coffee – Light dusty nude pink
MAC Well Bred Brown* – Light nude, I'm reaching for this one almost every day. One application in the morning and I'm still wearing it when I get home from work.
MAC Double Fudge* – Intense dark brown that reads vampy almost-black on my lips. My inner Goth is really pleased with how dramatic this one looks.
MAC Beetroot* – Creamy lilac purple, a new wave-y throwback that's surprisingly wearable.
MAC Liptensity Lipstick Swatches
The lipsticks glide on creamily and are extremely long-lasting.
Of course, I'd expect this kind of staying power to come with a cost—dry lips–but all things considered, the formula is not very drying at all.
I just make sure to exfoliate and apply a good lip balm overnight for extra moisture.
The MAC Liptensity formula is the best possible version of long-wearing lipstick.
The bonanza of 18 permanent matching lip pencils (excuse me while I swoon) is almost too much for this Liptensity lover to take.
You read that correctly, 18 colors of MAC Liptensity Lip Pencil (available here). The liner has a slanted, chiseled tip that is extremely precise—so easy to use!
The colors are vivid and long lasting.
MAC Liptensity Lip Pencil Review
I sampled three shades (marked*) and have already set my sights on a whole bunch more…
MAC Liptensity Lip Pencil Shades
Habanero – Vibrant Orange, just bright enough and so pretty.
All Dressed Up* – True Bright Red. You won't find a more beautiful classic red liner.
Dionysus – Rich burgundy
Art District – Soft warm pink
Pressed Blooms – Soft cool pink
Fresh Clay* – Mid-tone Rosy Nude. I love MAC's Spice and Nice & Spicy liners, and Fresh Clay is a similar neutral.
Enoki – Dusty lilac beige
MAC Liptensity Lip Pencil Swatches
The formula is so creamy, I'm tempted to wear the liner all over with a little clear gloss on top.
I was already a big fan of MAC's various lip liners, but the Liptensity collection's sharp, slanted tip is extra-nice.
Do you have a MAC's Liptensity review to share?
Post your thoughts in the comments!
Shop The Post

Latest posts by turboterp
(see all)