This post may contain affiliate links, which means I may receive a small commission, at no cost to you, if you make a purchase.
photos: we heart this
We all know MAC limited edition collections go fast, but this one may have set a record. (Word is even MAC was surprised by how quickly it sold out. Though don't despair, there are still pieces to be found.) It's a testament to its namesake, arguably the biggest beauty icon of all time and undeniably the sexiest – Marilyn Monroe.
Last week we had the pleasure of joining MAC on a tour of Marilyn's Hollywood – from The Rainbow Room; where she first went on a blind date with Joe Dimaggio, to three of her homes, to her final resting place; a crypt in Westwood Village Memorial Cemetery. Our tour guide was none other than the uber-fabulous Gregory Arlt, MAC's Director of Makeup Artistry.
Gregory, who designed the lipsticks and collaborated on the entire line, gave us tons of insider scoop on the both Marilyn and the collection. And now we're going to give it to you!
Sealed with a kiss!
I love the packaging. It's classic and striking; almost patent-leather looking shiny black with bright red accents and gorgeous black and white imagery. The images have never been seen before and are from a photo shoot by Marilyn's favorite photographer Milton H. Greene.
Now let's get to those delectable lipsticks, shall we? They really are the stars of the collection.
Scarlet Ibis, Charmed I'm Sure, Pure Zen, Love Goddess
Gregory believes red lipstick is the LBD of makeup and that everyone should have a signature red. He told us that Marilyn's signature red was not just one, but six! She used two very dark reds to outline lips, two bright reds mixed together to fill in lips and two pinks in the center to get a pout with depth.
These lipsticks were not only a tribute to Marilyn, but also to a few current icons that remind Gregory of Marilyn.
Kid Orange, Flaming Rose, Rich Rich Rich, Stage Red
Scarlet Ibis is a repromote (Iris Apfel collection) that's just as gorgeous this time around. It's a bright orange red with MAC's beautiful looking (and feeling) matte finish.
Charmed, I'm Sure is a blue-based, dark berry red with a matte finish. Gregory had Dita Von Teese in mind with this shade (who's a huge fan of Russian Red, a similar shade).
Pure Zen is the other repromote of the launch (from the very recent Cremesheen + Pearl). It's a warm peachy nude in the sheerish cremesheen finish. It's an interesting choice for this launch; maybe it's for when you're being shot in black and white!
Love Goddess is a beautiful pink-kissed red with a satin finish. This lipstick has a bright, shiny, retro look to it, which isn't surprising since Mad Men's Christina Hendricks was also in Gregory's mind when developing it.
Not shown is Deeply Adored, an oxblood red who Gwen Stefani was the modern muse counterpart. (By the way Gwen's favorite MAC lip look is the Cherry Lip Pencil worn all over with MAC Red Lipstick on top.)
Scarlet Ibis, Charmed I'm Sure, Pure Zen, Love Goddess
Kid Orange, Flaming Rose, Rich Rich Rich, Stage Red
I'm also really excited by the nail lacquers in the Marilyn collection, which mostly mimic the lipsticks for that retro, matching-but-not-quite, look.
MAC describes Kid Orange as coral, but it's full on orange-red to me. It has a cream finish and would be lovely accompanying Scarlet Ibis lipstick.
Flaming Rose is a true medium red with a cream finish.
Rich, Rich, Rich is the goldest, sparkliest gold you'll ever see! It's a warm gold base that is just FILLED with glitter. It's an online exclusive for this launch.
I see Stage Red as the Charmed, I'm Sure counterpart. It's a similar deep blue-based red cream (it looks deeper in person than my photo).
And although we didn't test it, Vintage Vamp looks to be the lacquer version of Deeply Adored lipstick.
Little Rock and Phiff! Dazzleglass
I've got a bit of a thing (i.e. obsession) for Dazzleglass, which Gregory calls "lipgloss with an attitude". So that, paired with the fact that these have Marilyn emblazoned on them, makes them a must have for me. But, in all honesty, they're not the most exciting Dazzleglasses I've ever seen. Very pretty, lots of expected sparkle, but not a ton of color. I think these function more to enhance the lipsticks.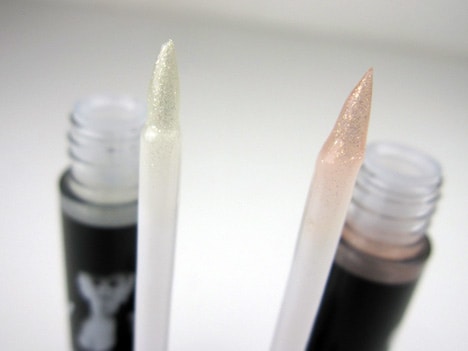 Little Rock and Phiff! Dazzleglass
Little Rock is a white-gold diamond with silver pearl and Phiff! is a warm peachy-gold diamond with gold and magenta pearl (I truly do love this shade!)
Little Rock and Phiff! Dazzleglass
Sadly I have to say the large eye shadows fall a bit flat for me (though I do love the size, about twice as big). I see how MAC went the sparkling, "silver screen" direction, but wouldn't it have been great to have a really great neutral, retro-looking quad? Something to do the natural but sexy heavy-lidded look that Marilyn was so often seen in? These were all very frosty and I was kind of underwhelmed with the pigment.
Preferred Blonde is an icy yet warm ivory with both gold and silver sheen.
Silver Screen is a light silver grey.
Showgirl is a blue steel gray.
Preferred Blonde, Silver Screen, Showgirl
A note on the Penultimate eyeliner that is part of this collection. Back in high school, Gregory and his friends used to use Sharpies to highlight their eyes (!) And this product, with its inky felt tip, is homage to them. Though by the way, Marilyn NEVER wore black eyeliner. She only wore brown liner with white pencil to highlight and define.
Beauty Powder, the prettiest packaging of the whole launch
Finally, there's a lot to be said about Marilyn's epic glow. Though black and white photography and general legend status add to the ethereal quality that photos of Monroe have, there was something more to it – an actual glow. Marilyn used a hormone cream on her face, and as a side result she grew a light peach fuzz all over. Movie directors always wanted her to shave it off, but the peach fuzz gave her face an artificial halo/glow in photographs, so she refused.
The soft and natural face powders in this launch look to mimic that beautiful glow (and are best for light to medium skin tones.)
Forever Marilyn Beauty Powder
Forever Marilyn Beauty Powder is ideal for highlighting cheekbones (and it's especially loved by Dita Von Teese, who wears it under her brow bone to highlight eyes). And like all Beauty Powders, it's super smooth and finely milled.
Maybe if this didn't arrive when I still had a bit of summer color it would have worked a bit better for me. But sadly, it didn't. It's almost white pink shade just didn't work on my NC 30 skintone. I have word though that our zombie-toned tester Krista has officially flipped for this…
The Perfect Cheek blush, on the other hand, may be just that for me. It's a light pink nude, that's very similar to Blush All Day from the recent Office Hours launch. And it's pretty much the baby bear of blush – just right!
The Perfect Cheek Blush, Forever Marilyn Beauty Powder
we heartsters and testers, what are your thoughts on the launch? Do some think it's hot?
Large Eyeshadow
How to Marry – Soft white (Veluxe Pearl)
Preferred Blonde – Pale champagne beige (Veluxe Pearl)
Silver Screen – True silver (Veluxe Pearl)
Showgirl – Dark blue grey (Veluxe Pearl)
$21 US / $25 CDN
Lipstick
Pure Zen – Frosted warm nude (Cremesheen)
Scarlet Ibis – Bright orange red (Matte)
Love Goddess – Mid-tone pink red (Satin)
Charmed I'm Sure – Dark true red (Matte)
Deeply Adored – Deep scarlet (Matte)
$16.50 US / $20 CDN
Dazzleglass
Phiff! – Sheer yellow peach (Frost) (Repromote)
Little Rock – Soft sheer white with pearl (Frost)
$21.50 US / $26 CDN
False Lashes Mascara
Extreme Black – Black
$20 US / $23.50 CDN
Brow Finisher
Clear
$15 US / $18 CDN
Eye Kohl
Fascinating – Intense matte white
Smolder – Intense black
$15 US / $18 CDN
Penultimate Eyeliner
Rapidblack True black
$18.50 US / $21.50 CDN
Penultimate Brow Marker
$18.50 US / $22 CDN
Lashes
35 Lash
$16 US / $19 CDN
Powder Blush
Legendary Pale soft coral (Satin)
The Perfect Cheek Neutral pink beige (Matte)
$22 US / $26.50 CDN
Lip Pencil
Beet – Vivid reddish-pink
Redd Clearly- red
Cherry – Vivid bright bluish-red
$16.50 US / $20 CDN
Beauty Powder
Forever Marilyn – Sheer pale peach highlighter
$28 US / $34 CDN
Nail Lacquer
Rich, Rich, Rich – Glittery gold (Pearl) (Online Exclusive)
Vintage Vamp – Rich deep retro wine (Cream) (Permanent)
Stage Red – Dark berry red (Cream)
Flaming Rose – True red (Cream) (Permanent)
Kid Orange – Coral (Cream)
$17.50 US / $21 CDN
Disclosure: This review includes products that were provided by the manufacturer/PR firm for our consideration. For more info, or any questions, please see our disclosure policy.