This post may contain affiliate links, which means I may receive a small commission, at no cost to you, if you make a purchase.
"My name is Krista and I have problem skin."
It's true, I'm one of those lucky ladies whose skin has been through almost four decades on this planet and has the pleasure of still having breakouts.
On top of that, my skin is sensitive.
Concealer is a must for me.
We're talking desert island necessities kind of must.
I was really excited to try the MAC Matchmaster Concealer (available here), which features the same Shade Intelligence Technology as their Matchmaster Foundation SPF15 (available here).
These MAC products use 'pigment technology' to help to create a more personalized and subtle finish. The end result is just you, being your gorgeous self.
I'm extremely fair and usually require the lightest shade of any foundation or concealer.
We got our hands on three concealers and I tested 1, the lightest shade.
While MAC products sometimes skew too dark on me, I had no problems with this matching my skintone – it's Matchmaster, after all!
MAC Match Master Review
MAC's Matchmaster Concealer ($21) is packaged in a twist tube, much like a lipstick, but with a flat top. The concealer itself is creamy and glides on smoothly.
It contains Vitamin E, which conditions while it conceals. Best of all: this is a full-coverage concealer – this little beauty can hide a lot of sins.
I applied this to blemishes — GONE.
I applied this to undereye circles — GONE.
I applied this to the red areas at the side of my nose — GONE.
I applied this to my laugh lines — GREATLY DIMINISHED.
I'd say "GONE", but those suckers have been deeper than the Rio Grande since I was a teenager.
This concealer is a powerhouse.
MAC Matchmaster Concealer in shades 1, 5, 9
Even better?
You couldn't tell I was wearing makeup.
There was zero caking and the finish on this is satiny, so it matches your skin. There's no telltale shine or delineation of where the makeup meets your skin.
This blends like a dream. Trust me when I say I GOBBED this stuff on and you COULD NOT TELL.
MAC Matchmaster Concealer swatches in shades 1, 5, 9
MAC says these give eight hours of wear, but I did need to reapply on more tenacious blemishes after about four hours, which is really good with my oily skin.
Setting this with a little powder gave me six hours of uninterrupted wear.
MAC Matchmaster Concealer in shades 1 (blended), 5, 9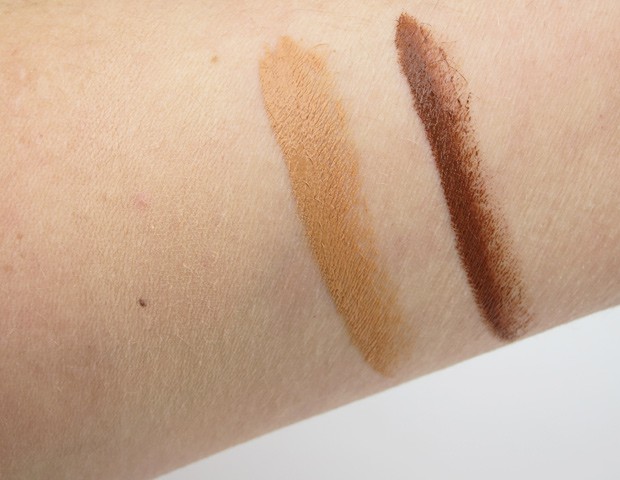 MAC's Matchmaster Concealer is available in 12 shades; from the fairest of them all to the deepest complexion, there is a shade that will match you like it was made for you!
If you're like me and wish you didn't have to wear a full face of makeup, you can easily use this to cover the small problem areas and skip foundation. I'm officially in love!
we heartsters – Am I the only one who'd pick concealer as a desert island item? And have you tried Matchmaster yet?
Let's talk about it in the comments!
photos: we heart this, swatches shown on NC25/30 skin tone