This post may contain affiliate links, which means I may receive a small commission, at no cost to you, if you make a purchase.
Back in the fall, when I heard Proenza Schouler was teaming with MAC, I had a vision of tasteful, muted colors in slightly avant-garde packaging. I expected something understated but cool, just like their fashion line. Never in a million years did I envision the riotous rainbow of color that just arrived in stores and online.
In short, anyone with a packaging hoarding problem (like me) should just throw in the towel and start clearing storage space. Even the boxes of the MAC Proenza Schouler collection are startlingly gorgeous, embossed with an array of mesmerizing metallic hues.
This collaboration is just further proof that there is nothing cooler than Proenza Schouler. The New York fashion line was founded in 2002 by adorable design team Jack McCollough and Lazaro Hernandez while they were still at Parsons School of Design.
Named after their mothers' maiden names (how nice is that?), Proenza Schouler (repeat after me: pro-EN-za SKOOL-er) quickly became the darlings of world fashion. Everything this duos touches – from their womenswear to their bags to their Target collection that caused riots in the street – turns to gold.
Or, in the case of MAC, Proenza Schouler, turns to ombre chrome rainbows of purple, yellow and green. And that's just the packaging! The collection features a whole range of color for lips, eyes, face and nails, and we got to sample a generous portion. Let's start with lips:
MAC Proenza Schouler Lipstick – Limited Edition ($22)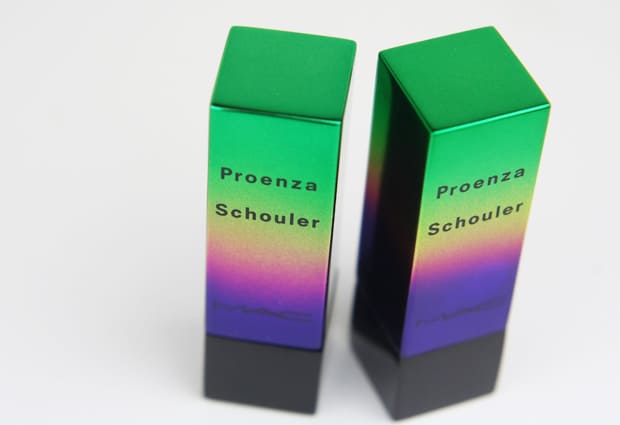 The chunky, squared-off shape of the tube makes it an exact replica of the box, right down to the metallic surface, which just might make it the most stunning lip creation on earth. It's so beautiful, I didn't want to use it, but after taking a peek inside, I changed my mind.
Woodrose (lustre) – cool sheer nude with a hint of pink
Mangrove (matte) – bright red orange
I tested Woodrose, a light pink with beige lustre. Besides giving my lips light nude color and gleam, Woodrose makes them seem fuller and more polished, and it has more pigment than I'd expect from a lustre.
Meanwhile, our resident lipstick hoarder tested Mangrove, a bright clean orange-red matte. Stef reports the color as "hard to resist." Despite how many red orange lipsticks she already hoards…er, has.
Then there's MAC Proenza Schouler Pro Longwear Eye Liner – Limited Edition ($21)
Why does it have to be so beautiful? I'm never going to want to sharpen it and lose an iota of the green-to-yellow ombre outer pencil! Inside, Rich Experience (available without the limited edition packaging in MAC's permanent line) is indeed a "creamy, dense" almost-black brown. This dark and rich espresso liner applies smoothly, dries quickly, and wears for 12 hours.
MAC Proenza Schouler Lipstick in Woodrose, Mangrove, Pro Longwear Eye Liner in Rich Experience
MAC Proenza Schouler Nail Lacquer – Limited Edition ($17.50)
Thimbleweed, a pale nude cream, lives up to its advertised lacquered, high-gloss cream finish. The formula was a little thick and one coat was a bit streaky, but two coats gave me flawless opaque coverage.
MAC Proenza Schouler Nail Lacquer in Thimbleweed
There are three other gorgeous lacquer hues in this line – a color for almost everyone. And while conditioners and UV protection are nice to have, but for me the real draw here is the Proenza Schouler packaging. Just look at that gleam!
129SE Powder Brush – Limited Edition ($38.50)
MAC's famed all-purpose blush brush gets the Proenza Schouler treatment on its short handle, which features the signature color gradient. The dense, fluffy brush does double duty for blush and powder. It's not only beautiful, it's the perfect compact size for a makeup bag.
As a bonus, web shoppers can also score two online exclusive accessories designed by Proenza Schouler – a canvas tote and t-shirt at the MAC site. The "cool cleverness" of MAC Proenza Schouler will be gone in a blink, so be cool enough to give in to these beautiful temptations before it's too late.
we heartsters – Are you sometimes swayed to make a purchase by the packaging alone?
Lipstick
Woodrose – light pink with beige (lustre)
Pinkfringe – vivid flamingo pink (satin)
Mangrove – bright clean orange-red (matte)
Primrose – sheer berry plum (lustre)
$22 US/$26 CDN
Pro Longwear Lip Pencil
Dynamo – bright peony
High Energy – bright orange-red cream
$21 US/$25 CDN
Blush Ombre
Sunset Beach – cool pink ombre into beige
Ocean City – coral orange ombre into beige
$30 US/$35.50 CDN
Pro Longwear Eye Liner
Black Ice – rich black
Rich Experience – true brown
$21 US/$25 CDN
Nail Lacquer
Thimbleweed – pale nude (cream)
Bougainvillea – bright orange coral (cream)
Dayflower – clean plum (cream)
Nocturnelle – black as night (cream)
$17.50 US/$21 CDN
Brush
Proenza Schouler 129se Powder/Blush Brush
$38.50 US/$46.00 CDN
photos: we heart this, swatches shown on NC25/30 skin tone
Latest posts by turboterp
(see all)