This post may contain affiliate links, which means I may receive a small commission, at no cost to you, if you make a purchase.
Looking for MAC Retro Matte lipstick swatches & an honest review? Check out ours below!

There is nothing in the world like a good surprise. I'm not talking a Tiffany-blue box under the tree kind of surprise (though there ain't nothing wrong with that!), I'm talking the sweeter, gentler, quarter-in-the-cup-holder-when-you-need-another-fifteen-minutes-on-the-meter surprise.
The new MAC Retro Matte Lipsticks (available here) are my quarter-in-the-cup-holder surprise.
Based on the hugely popular and widely copied Ruby Woo, Retro Matte seek to capture an era.
These new colors take us back to the age of Tokyo Rose with their intense, almost powdery pigments, while ushering in a new era of smooth finish and long-lasting, even–wearing opaque color.
So what is that surprise?
The surprise is that I was warned that I may not love these.
MAC Retro Matte lipstick Review
Why?
Dry, dry, dry.
The truth is that I do love these…and that they are dry, dry, dry.
The dryness wasn't a big issue for me since my lips rarely chap. If yours do, exfoliate and make sure to use some balm before trying these.
The application can tug and drag a bit, but dimethicone, a silicone-based polymer made for lubrication, is the number one ingredient and serves to facilitate the application process.
I actually found Retro Matte to be less dry and/or drying than some of my other favorite matte lipsticks for this reason.
I also love Retro Matte Lipsticks (available here) because of the intensity of the color. One swipe and you will see color that is bold, intense and will not budge for hours.
There is virtually no transfer (just try to blot) and liquid is actually repelled. MAC Retro Mattes are like a bright raincoat for your lips!
MAC Retro Matte Lipstick Swatches
All Fired Up – bright raspberry
Fixed on Drama – dark wine
Steady Going – bright bubble gum pink
Dangerous – bright tomato orange-red
All Fired Up, Fixed on Drama, Steady Going, Dangerous
Runway Hit – light nude coral
Flat Out Fabulous – bright fucia
Relentless Red – bright yellow red
Runway Hit, Flat Out Fabulous, Relentless Red
One thing that is not retro about Retro Matte is the scent. MAC's vaguely vanilla scent is a million times better than the waxy scent of grandma's lipsticks.
My how lipsticks have grown!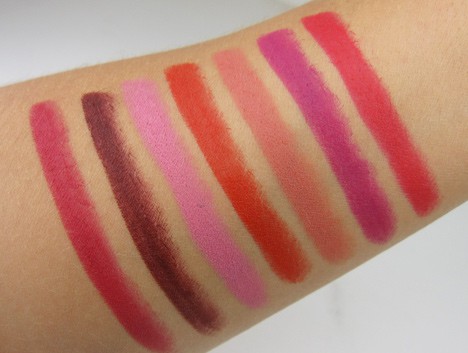 All Fired Up, Fixed on Drama, Steady Going, Dangerous, Runway Hit, Flat Out Fabulous, Relentless Red
I'm digging on Dangerous and Runway Hit in particular right now.
The bright orange toned Dangerous gives the darker fall colors in my wardrobe a real wakeup call. While Runway Hit is just a perfect nude for me—slightly darker than my skin tone and not too pink nor too brown.
Also included in MAC's Retro Matte Collection are Pro Longwear Lip Pencils ($19.50). Like the lipsticks, these are packed with intense color and are truly long-wearing.
Shock Value – brighter bubble gum pink
High Energy – bright orange-red
That's Shock Value lip pencil shown above Steady Going lipstick, and High Energy above Dangerous
Normally, I don't use a lip pencil for lining but I do highly recommend doing so with such intense, highly pigmented mattes such as these.
While I haven't known these lipsticks to bleed, the perfectly sculpted lip is key to the retro look and coloring within the lines is important for a clean finish.
Thankfully, the color I tried was High Energy, a bright orange-red cream that made Dangerous a little less so.
Ladies, do you like to see old styles reinvented or do you think the past should stay in the past?
MAC Retro Matte Lipstick
Steady Going – light pink matte
Runway Hit – light nude matte
Dangerous – orangey-red matte
Relentlessly Red – bright pinkish coral matte
All Fired Up – bright fuchsia matte
Flat Out Fabulous – bright plum matte
Ruby Woo – very matte vivid blue red
Fixed on Drama – rich wine matt
MAC Pro Longwear Lip Pencil
In Anticipation – soft yellow pink
Staunchly Stylish – pink beige
Shock Value – bright pink cream
Dynamo – bright peony
High Energy – bright orange-red cream
Trust in Red – bright cool red cream
More To Love – intense bluish pink
Fashion Boost – bright purple cream
photo: we heart this, shown on NC 25/30 skintone
Latest posts by sherrishera
(see all)