This post may contain affiliate links, which means I may receive a small commission, at no cost to you, if you make a purchase.
"Calling all ghouls and beautiful creatures of the night: YOU HAVE BEEN SUMMONED." Those were the words that beckoned me to the MAC Rick Baker Monster Mash on October 19. I knew the party, held in conjunction for Baker's MAC collection, was going to be something special. Little did I know HOW special.
photo: Charley Gallay
If you've seen a movie, you've probably seen Rick Baker's work. With more than 40 years in Hollywood, creating creatures and mastering prosthetic makeup in over 50 movies, Baker holds the record for the most Oscar nominations for Best Achievement in Makeup (12), as well as the most wins (7). He's got a star on the Hollywood Walk of Fame. He was even a puppet designer for both "Davey and Goliath" and "Gumby." He's legend, damn it! And MAC knows it.
The Monster Mash was held at Rick's own studio, a gigantic space that's an eerie haunted nightmare, complete with a moonlit graveyard, glowing flying buttresses, menacing monkeys and monsters.
And just the right amount of evil clowns…
(I literally gasped when I took this photo!)
That's my niece Emily, visiting from London and my date for the night, along with the sweetest killer clowns you could ever would meet.
Not only were costumes required for this party, but monster chic was suggested. Know what that means? Very few store bought "slutty" anything. Hooray! And because this was a makeup industry party, you know everyone was flawless; from aliens to zombies.
Me and Emily went classic Day of the Dead, an ode to one of the three looks Baker designed for the launch.
Isn't this hat fabulous? Its vintage 40s and one of my most prized thrift shop scores!
In attendance were 2 of the 3 models from the collection; Ashley Sutton as Day of the Dead, Micheline Pitt as the Bride and the Zombie, shown here along with MAC Senior artist (and Mummy) John Stapleton and Rick Baker as a Steampunk Frankenstein.
So, incredible location, amazing costumes, theatrical makeup and of course, signature cocktails and hors d'oeuvres – what could be better? Um, being able to tour Rick Baker's museum, that's what could be better!
Emily and the gracious Rick Baker
That's right. We walked the stairs to the second floor, rounded the corner and were blown away. Life size models from his films fill the space; from a 10+ foot Mighty Joe Young in the center of the room, Martin Landau as Bela Lugosi as Dracula, a bevy of Men in Black aliens, and so much more.
Michael Jackson and a bunch of damn dirty apes
Me scaring Harry
Men in Black (that insect is over 10 feet tall), The Grinch, The Nutty Professor
Vincent D'Onofrio from Men In Black – check out that detail!
You may have gathered by now, the Monster Mash was a Halloween and makeup lover's dream and the best Halloween party I've ever been to. (Scroll to the bottom to see the celebs in attendance too!)
But let us not forget the reason behind the Mash, Baker's MAC collection…
em>photo: Charley Gallay
We got a close up look at a few items from the limited edition collection.
Acrylic Paint in Pure White and Black Black ($21 each). These are true to their names and once dry, don't budge from skin.
Monster FX in Dirt ($22) is a water-based tint designed by Baker himself to "give an ultra-sheer wash of colour on skin." It feels really light on the skin and like the paints, is true to its name in the color description.
Paintstick in Pure White ($21) is what I used on me and Emily's faces for the party. It's super creamy, really pigmented and blends well with very little shine left on your skin.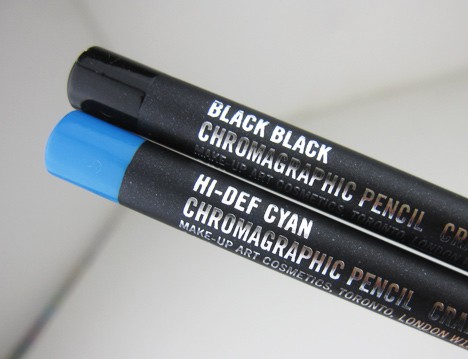 Chromagraphic Pencils in Hi-Def Cyan and Black Black ($16) don't need to wait until your next monster face application to be worn! They're creamy and richly pigmented.
Monster FX; Paint stick in Pure White; Acrylic Paint in Pure White and Black Black; Chromagraphic Pencil in Hi-Def Cyan and Black, Black
For the non monster, there are two amazing 6-color palettes in the launch. And we got a closer look at Spider Queen ($44), an uber-pigmented green and purple beauty.
Lime – bright lime green (matte)
Moss – warm yellow green (frost)
Deep Purple – iridescent purple with a slight blue sheen (frost)
Indian Ink – deep eggplant (matte)
Deep Purple
Indian Ink
Dusty Purple – greyed medium purpke (satin)
Carbon – inky black (matte); a rather good showing of this often chalky colour
I LOVE this palette (and am about to order the other one, The Monster's Bride, too.) Because it's such a unexpected and beautiful color pairing. But…
The 18 piece collection is primarily permanent items except for 2 things; Deep Purple in the Spider Queen palette and the Monster FX (per Temptalia.) Obviously, I would have hoped for more limited edition colors. This isn't your typical launch. I understood I probably wasn't going to get a coral lipglass in it. But I REALLY longed for special packaging. I'm sure there's a whole formula that MAC uses to decide which launches get LE packaging, but I so wish this would have been one of them.
That aside, testing this was a great chance to try things I normally wouldn't have. And the quality is high. I don't think Rick Baker would have been involved had it not been.
Please, oh please, let this not be the last Rick Baker MAC pairing! And let the next one have a monster somewhere on it!
Check out the celebs who were at the Mash, and tell me – who's your favorite movie monster of all time?
Yep, Grumpy Cat was there. And he was not pleased.
(all following celeb photos: MAC/WireImage)

Jason Priestley and his wife Naomi
Slash and his wife Perla
Kelly Osbourne and Matthew Mosshart (yes, he's dressed as Blossom!)