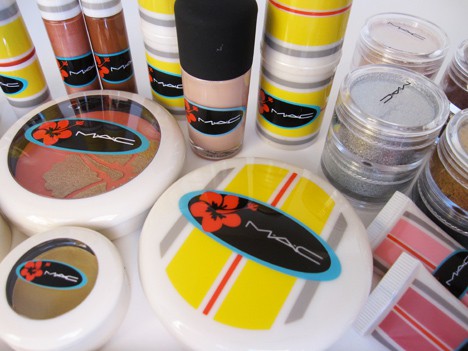 photos: we heart this
MAC's as excited for Summer as we are. What other conclusion would you come to when looking at Surf, Baby! (available May 26 through July 7) – a decidedly laid back California collection with a retro feel.
The white packaging, with chubby stripes and the hibiscus flower graphic, reminds me of vintage 80s OP shirts (and all the cute, tanned boys who used to wear them!) And the shades themselves? Think the ocean, tanned skin and easy, surfer girl color (with pops of glitter here and there).
We're breaking our Surf, Baby review into two posts (eyes & cheeks, and skin, nails, and lips) because this is a BIG collection, 33 pieces not counting brushes and bags!
Ready to ride this wave? Let's dive in!
Naturally Eccentric, Bust Out!
Lipsticks
There are four lipsticks in this launch; each couldn't be more different then the next. I'd like to think that they represent every type of woman who surfs. (It would be good if I had a snappy explanation on each shade to back that up, wouldn't it?)
Naturally Eccentric is a practically white nude in a lustre finish. Applied heavily, it's pretty intense. But blotted onto lips, and with the addition of a gloss, the true nude lover will be pleased. Bust Out! is a medium violet, also in a lustre finish. It's a true, creamy purple that makes me think of an orchid. Hibiscus , you bright orange coral, I'll see you on launch day…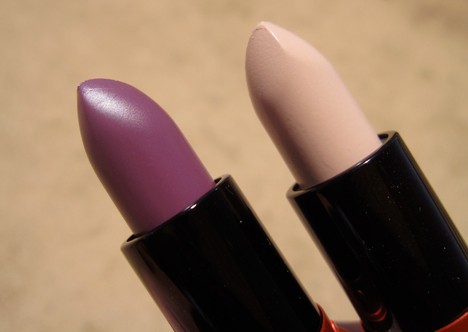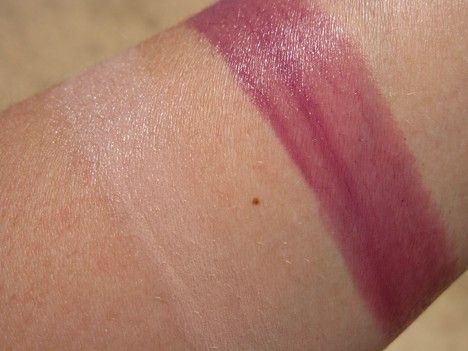 Suntints
I see where MAC was going with these. They're sheer lip balms with spf20 in a handy squeeze tube, something a true surfer would find really usefull! But the shades are SO sheer, that as true makeup lover I felt a bit let down. I also smelled the spf in them (though I am hyper sensitive to it).
Pink Tinge had a bit more color (a pink with gold shimmer) then Lilt of Lily (a creamy white pink) that essentially looked clear on me. Cute packaging through, aren't they Brah? (You're supposed to say that like a surfer).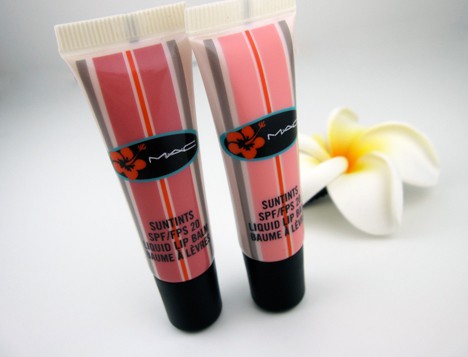 Lipglass
Good Lovin' is a sweet lil' shade, a peachy pink with white and subtle multi-color shimmer. Fans of Prrr (that tired and true staple lipglass) will see a similarity. Krazy Kahuna looks much prettier on then it does in the tube. It's a creamy terracotta brown that I think will only get better the more sun-kissed your skin gets.
And although not shown here, if you don't have Strange Potion, get Strange Potion! First released in Venomous Villains, it's a beautiful shimmery coral pink (and a great way for those wanting to delve into coral to dip their toes in the shallow end).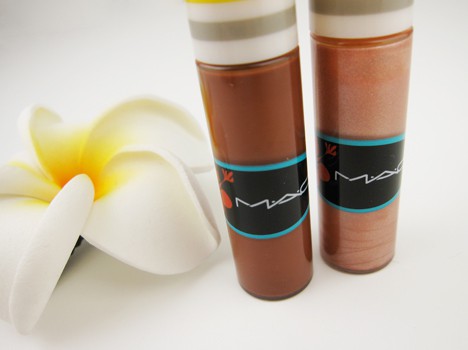 Krazy Kahuna, Good Lovin'
Krazy Kahuna and Good Lovin' Lipglass, Pink Tinge and Lilt of Lily Suntint
Nail Lacquer
We got a look at one of the two lacquers in this launch, Hangin' Loose. It's a light to medium nude. In the bottle there's a white sheen to it, on my nails the sheen was nowhere to be seen! I was kind of underwhlemed looking at this in the bottle, but it's really pretty on. And an easy, natural shade. I got good coverage with 2 coats.
Studio Careblend Pressed Powder MAC has had a lot of bronzers lately, haven't they? 'Tis the season, I suppose! I may have just met my favorite bronzer yet. Gold Go-Lightly is a golden tan. MAC calls it mid tone, I think it leans a bit lighter. All I know if that when I swept this on to my pre summer skin, I looked alive! (See? That's it left, applied to my cheeks and t-zone.) This looks pretty matte to me, but not at all chalky. It's smooth, finely milled and beautiful. And you know my designer self was loving the embossed pattern! Well played MAC.
Skinsheen Bronzer Sticks
Shown above left in comparison to a lipstick, you can see just how big and chubby these are. And wow, does a little go a long way! Look at what a full swipe looks like on your skin…
shown full swipe and blended; left: Billionaire Bronze, right: Tan Tint
Billionaire Bronze is a medium to dark, shimmerless bronze with red undertones. Tan Tint is a soft, shimmerless tan. They're very creamy and blend very well. If you're serious about getting some safe color, these are worth a closer look.
Here are all the skin, nail and lip products, plus accessories too!
Lipstick
Naturally Eccentric – Creamy white nude (Lustre)
Hibiscus – Bright orange coral (Cremesheen)
Bust Out! – Dirty mid-tone violet (Lustre)
Mocha – Peachy yellow-brown (Satin)
$15.50 U.S./$18.50 CDN
Lipglass
Girl On Board – Pale white gold
Good Lovin' – Soft peachy pink
Strange Potion – Soft coral pink
Krazy Kahuna – Warm mid-tone brown
$15.50 U.S./$18.50 CDN
Suntints spf20 Liquid Lip Balm
Full of Grace – Soft sheer rose
Pink Tinge – Clean bright yellow pink with gold pearl
Lilt of Lily – Soft creamy pale pink
$15.50 U.S./$18.50 CDN
Nail Lacquer
Hangin ' Loose – Dirty pink nude
Ocean Dip – Mid-tone creamy aqua
$15.00 U.S./$18.00 CDN
Bags (two – in store only)
$28.00 and $32.00 U.S./$33.50 and $38.50 CDN
MAC Skinsheen Bronzer Stick
Tan -Tint – Soft suntan bronze
Billionaire Bronze – Warm golden tan
Gilty Bronze – Coppery bronze with gold shimmer
$29.50 U.S./$35.50 CDN
Brush
129SH Powder/Blush Brush
$34.00 U.S./$41.00 CDN
Bronzing Powder
Refined Golden – Finely spun golden with soft pearl finish
Solar Riche – Mid-tone deep orange brown
$24.00 U.S./$29.00 CDN
Studio Careblend Pressed Powder
Gold-Go-Lightly – Mid-tone golden tan brown
Lush -Light Bronze – Mid-tone rosy pink brown
$28.00 U.S./$33.50 CDN
Be sure to check out part one: eyes and cheeks. we heartsters, what products have you ready to cruise to the beach?
Disclosure: This review includes products that were provided by the manufacturer/PR firm for our consideration. For more info, or any questions, please see our disclosure policy.
Stef is a plethora of things. Amongst them: co-founder of we heart this, photographer, condiment connoisseur, Philly girl in the California desert, borderline hoarder and a hardcore beauty junkie. She also has a touch of wanderlust and, arguably,
the cutest dog in the whole world
...
skin tone:
NC 25/30
skin type:
oily with a fear of rosacea
favorite beauty product:
high end skincare and lip products