This post may contain affiliate links, which means I may receive a small commission, at no cost to you, if you make a purchase.
It's another masterful collection from MAC…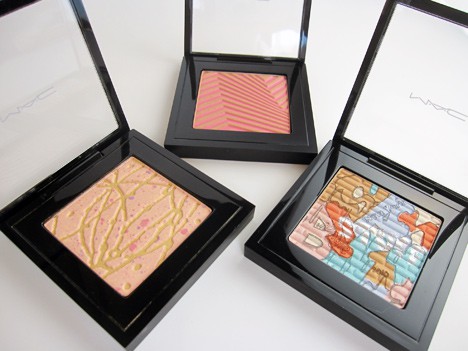 photos: we heart this
I'm not a gal known for subtlety – not in my makeup nor in my opinions. Sometimes that's a good thing, sometimes not. MAC isn't exactly known for their subtlety either, throwing down bold new collections faster than I can collect a paycheck. Good thing for both of us that we can still manage a little softness, a slight shimmer of reality, in our theatrical world.
Behold MAC's Art of Powder collection inspired by Masters and modern art movements, a gorgeous collection that looks audacious in the package yet translates to pure, refined elegance.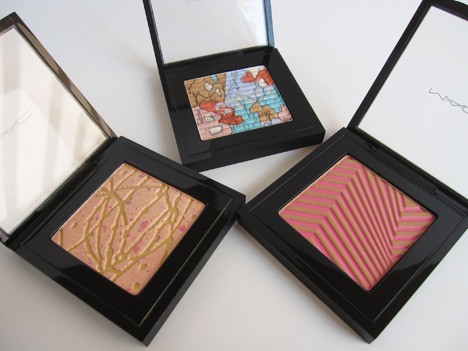 The Art of Powder collection consists of three art-inspired compacts:
Optical Bronzer ($38) – an Op Art influenced design with gold pearl and neon pink
In the Abstract Highlighter ($38) – an abstract design with a soft pink base run through with yellow gold veins and speckled with lavender and pink dots
Street Art Eye Shadow ($38) – a graffiti design with light brown, white, pastel pink and blues and warm orange colors
How to choose? First off, all three of these look spectacular. You'll want to spend some time just gaxing at the pretty. (And just how great would it be to find these beauties in the Museum gift shops? ~ Tyna)
At first glance, the X-ray glasses-meets-Deco wallpaper look of the Optical Bronzer appealed to – neon pink AND gold pearl!? I love it. How pretty would that be swirled together?
Optical Bronzer
Super pretty, it seems! This bronzer has a sheer consistency that can be layered. While the pigment is light, the depth of the hue is surprisingly rich.
Next I was struck with The Street Art graffiti eye shadow palette; it is such a beautiful combination of randomness and intent in urban street colors. Though I was confused as to how this is applied – swirled all together or individually?
Street Art Eye Shadow
But this art, right? There are no right answers. You can easily pick out each single color from the palette (as seen above) and use them individually. And if you can stand the thought of marring the beautiful design of the palette, go ahead and swirl – see what you get.
My choice, though, was the In The Abstract Highlighter, its lyrical abstraction showcased in peachy pinks and golds. I die for gold – any gold – shimmer to glitter. From In the Abstract I expected more gold but what I got was a barely-there sheen. Somehow, my gold glitter-loving self was not disappointed.
In the Abstract is a finely milled powder that adds a subtle peachiness to your skin with just the barest hint of gold depending upon how the light hits. The only other product I've used that strikes me as similar in texture, color and results (though without the gold) is Benefit's Dandelion. I used this everywhere that I'd normally wear bronzer (forehead, nose, chin, cheekbones), only avoiding my jaw line.
The fine mill of the powder evens out the texture of the skin as good as any finishing powder. This powder is nothing that I would have expected it to be from looking at it, yet everything I never knew I wanted.
My brutally honest, unsubtle opinion? Rock Star Awesome. 5 Stars.
I'm curious to see if the other MAC masterpieces were equally and pleasantly as surprising in performance. It may be the art of design that beckons us to buy, but if In the Abstract is any indication, The Art of Powder collection is as inspired by Masters of Illusion as it is the Masters of the Arts.
Sherri is co-author of What Would You Do With This Room?
My 10 Foolproof Commandments to Great Interior Design, and of course, a wht writer!
Disclosure: This review includes products that were provided by the manufacturer/PR firm for our consideration. For more info, or any questions, please see our disclosure policy.
Latest posts by sherrishera
(see all)